We're taking July off of The Bare Marriage Podcast, so I have some other podcasts to share with you today!
Even though I'm not recording my own (I just need a bit of a rest!), I've been doing non-stop interviews on other people's podcasts since January.
So I thought every Thursday in July I'd share a few of them with you!
1. The New Evangelicals
So many of the podcasts that invite me on are talking about getting back to the essentials of faith and finding Jesus again after being burned by the church. That's the story of The New Evangelicals podcast and Instagram account.
This was a wide-ranging discussion where I told the story of the blog and the book, as wel as some of our big findings, and Tim and I had a great discussion. He also at one point called Kristin Du Mez (author of Jesus and John Wayne) and Beth Allison Barr (author of The Making of Biblical Womanhood) and me the trinity taking down these lies, and I loved that because Beth and Kristin and I are hoping to do a big webinar in August where we interview each other!
Keith and I listened to this podcast yesterday on a long drive and quite enjoyed it, and I hope you will too.
The Great Sex Rescue
Changing the conversation about sex & marriage in the evangelical church.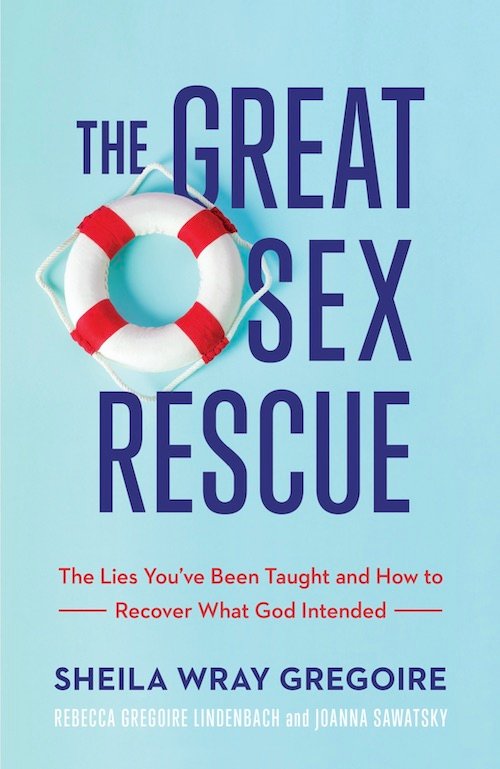 What if you're NOT the problem with your sex life?
What if the things that you've been taught have messed things up–and what if there's a way to escape these messages?
Welcome to the Great Sex Rescue.
3. Gravity Leadership Podcast: Exposing the Lies We Believe about Sex
Gravity Leadership is all about talking about the things affecting the evangelical community today and how they relate to those in leadership, especially in the workplace. They were doing a series on how women are treated, and asked me to join that series.
BONUS: Bare Marriage & Feeling Spiritually Homeless
I like to share one of my own podcasts too that you may all have missed. So many people have told us how much this podcast meant to them. It's from last December, and it was one of our top 10 podcasts from 2020. But I thought some of you may appreciate our conversation, because it fits in with this idea of desperately wanting a new experience of faith where it's based on everyone being focused on Jesus, rather than on power.
---
It seems to be a lot of "new evangelical" type podcasts that keep inviting me on.
That's wonderful! I love doing them.
I've recorded over 120 podcasts I think so far, but I hope that more mainstream ones will start to talk about this stuff, too. We need to change the conversation across the evangelical world, and it should not be controversial to simply say that sex should be intimate, mutual, and pleasurable for both, and that women are not responsible for men's sin. This is common sense. This is biblical.
The book is selling incredibly well (thank you all! Keep talking about it!) and it's resonating with people. So I hope that more mainstream podcasts will be open to talking about this soon. There have been some–and I'll focus on those ones next week! But let's keep them coming, because this is a conversation we ignore at our peril.
And let me know–do you have a recent podcast you've really enjoyed? Which one should I feature next week?

Sheila Wray Gregoire
Founder of To Love, Honor and Vacuum
Sheila is determined to help Christians find biblical, healthy, evidence-based help for their marriages. And in doing so, she's turning the evangelical world on its head, challenging many of the toxic teachings, especially in her newest book The Great Sex Rescue. She's an award-winning author of 8 books and a sought-after speaker. With her humorous, no-nonsense approach, Sheila works with her husband Keith and daughter Rebecca to create podcasts and courses to help couples find true intimacy. Plus she knits. All the time. ENTJ, straight 8
Dads shouldn't need their adult daughters to give them adulation and affection. That's called...
Let's talk about the echoes of menstruation. Yesterday on the podcast, we were discussing how...
This has been a week of great thrills and great disappointments. Thankfully, the thrills were...