What if talking to your daughter about sex didn't have to be so AWKWARD?
Now it doesn't have to be. 
A Video-Based Course to help YOU give your daughter The Whole Story about Sex, Puberty, and Growing Up!
Do you find talking to your daughter about sex, puberty, and boys 
to be one of the scariest parts of parenting?
 …Afraid you'll say something wrong?
…Not sure how to get the conversation started?
…Just plain find it uncomfortable?
You're in the right place!
We've created a course that can help YOU have those conversations with your daughter–
without it being so scary.
Most parents feel woefully unprepared to talk to their daughters about sex.
And because we feel so scared, too often we make it uncomfortable for our daughters, too.
But what if you had HELP starting that conversation?
What if your daughter could hear about the hard stuff from "funny big sisters",
and then you could continue the conversation in a much more stress-free way?
This video based course features two young people teaching your daughter about everything they need to know about sex, puberty and growing up…
And then has discussion questions, checklists, and mother-daughter activities so that you can keep that conversation going!
Because this is too important a conversation to leave up to chance.
Meet Your Mentor as You Guide Your Daughter Through Puberty
Sheila Wray Gregoire is an award-winning author, blogger, and speaker who specializes in parenting, marriage, and healthy sexuality.
Every month, over half a million readers land on her blog to read about creating healthy families, and 40,000 women receive her emails.
Sheila has been featured on:
Meet Your Daughter's Guides to Sex, Puberty, & Growing Up!
(They're like funny big sisters!)
Rebecca Gregoire Lindenbach
Age: 22     Married: Yes!
Rebecca is a Psychology graduate and the author of the book, Why I Didn't Rebel: A 22-year-old explains why she stayed on the straight and narrow and how your kids can too! 
Thank you so so sooooo much for making the whole story program, as you said it would work with both my daughters at once – so I am working through the program with my 2 daughters aged 10 and 11. We are all loving (especially me!) how easy and how thorough it makes everything, please thank your daughters so much too who make it so fun and accessible.
Katie Gregoire Emmerson
Age: 20    Married: Not when she filmed the course!
Katie started a YouTube channel at 16 to get a boy's attention. She's now forgotten who he is–but she has 40,000 fans who tune in to hear her thoughts on what it means to live out your faith authentically in today's culture. She's now a military wife, loving living in small-town Ontario.
I am so happy because I was extremely uncomfortable talking about these things as a child/teen and I too want better for my daughter. The course really helped us to make open and honest discussions on these subjects a part of our relationship.
Sheila, I'm amazed at how Rebecca and Katie have taken after you…your courage and thinking beyond the surface! They are influencing and shaping this generation.
The Whole Story comes geared towards two different age groups:
The younger version is information based about the changes her body is going through.
It includes everything your daughter needs to know about:
Her period, including why it happens, how to handle it, and how to make it most comfortable.
Other body changes she will be experiencing, including breast development, hair growth, and body odor.
What sex is and how babies are made.
How to handle boys and peer pressure in the preteen years.
How to take care of your body to manage all of these changes.
Yes! I want the younger version!
The older version is more world-view based about the social changes she's going through.
It includes everything your daughter needs to know about:
How to troubleshoot issues with your period that aren't often talked about.
Navigating relationships with guys in the teenage years.
Discussions about how to handle social issues like when friends make mistakes, bullying, and online peer pressure.
Candid conversation about the highly sexualized world we live in and how to honor God in the midst of that.
Learning the skill of styling yourself to send a message–a message that honors God and shows respect for yourself and others.
Yes! I want the one for teenagers!
Do you find yourself asking:
WHEN do I tell her WHAT? What's age appropriate?
How do I even start the hard conversations about puberty or sex–let alone say words like "menstruation" or "penis"?
How can I make sure she knows everything she needs to know?
What do I do when SHE seems embarrassed to talk about things?
Or worst of all,
What if she knows what her father and I are doing now?
The younger version covers all of this!
Enroll in the Younger Version now!
Or do you find yourself asking:
How can I teach her the real meaning behind sex?
How can I help her withstand peer pressure and deal with pornography and body image issues?
How can I help her have healthy relationships with boys?
And most of all….
How do I keep her talking to me at all?
The older version covers all of this!
Enroll in the Older Version now!
The course isn't a REPLACEMENT for you.
It's a RESOURCE for you
to start those conversations in a natural, unintimidating way–
so that you can continue them for years to come.
I sure didn't handle talking to my daughters about sex and puberty well!
I took Rebecca, my oldest, away on a weekend when she was 10 1/2 and listened to another course. Its emphasis was on teaching purity–getting girls to promise not to have sex until they were married.
She was so grossed out she would have promised never to look at a boy again in her life!
My youngest asked for details when she was 8, and I guess I didn't explain it well, because the next day she hugged me and said, "I'm so sorry you had to go through that to get me, Mommy, but thank you."
Whoops. 
I also forgot to teach her to shave. Forgot to get them emergency kits in case they "leaked". Forgot to warn them about porn. Forgot to teach them what to do when their friends started getting into trouble.
I was teaching about sex from the stage, but it was so hard when it was my own daughters!
As they got to be older teenagers we all got much more comfortable, and we're really open now.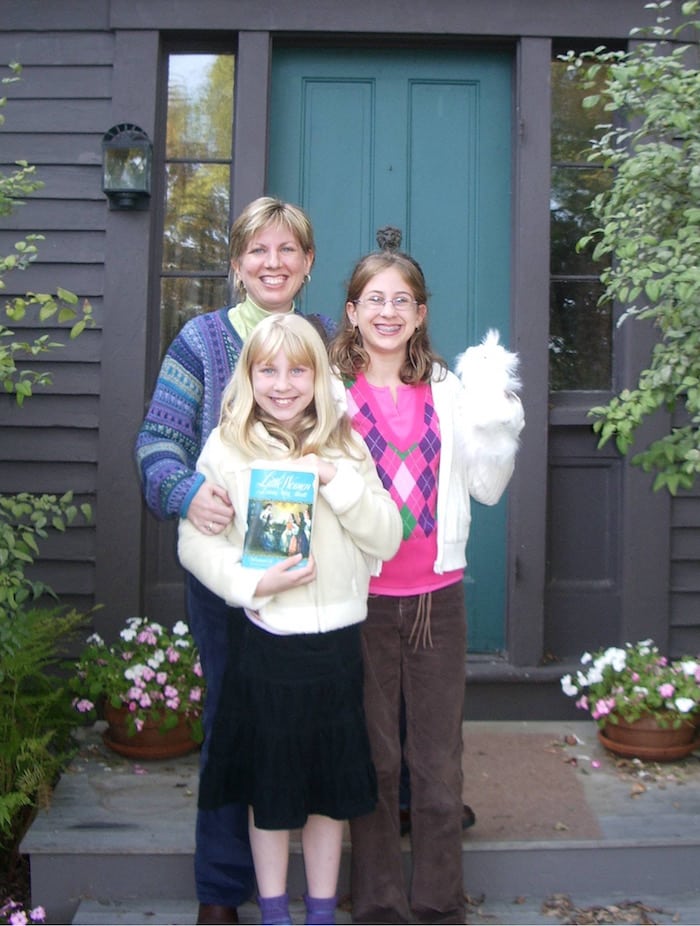 But we wanted to create for you the course that I wish I had had when my girls were younger–
So that you can avoid all the mistakes that I made!
(and here we are joking about it)
I believe that your daughter's video is the best one I've seen on [how we teach modesty]. My 17 yo daughter and I have been having these discussions lately. I showed her the video and she thought it was right on as well!
Many thanks to you and your daughters for all your insight and knowledge…..on a very touchy subject!
Thank you! My oldest is 14 and we're just treading these waters. I grew up in a "sex is bad" house and it took me a long time and a some mistakes to get over it. Praise God for His grace! Anyway, this is exactly the message I want me kids to get. Sex is wonderful and beautiful in the right context.
With mobile-friendly video lessons and an option to print out your course guide!
The Whole Story is here–ready to take the stress out of having "the talk" with your daughter!
Get a single level if you have one daughter at a certain age level and you'll just be working through one course with her (though the all level is a better deal, and will grow with your daughter!)
24 Videos featuring Rebecca and Katie in the younger version, 23 in the older
Audio guides from Sheila taking moms through the course
30 checklists, pdfs, and printables for each course with discussion questions and mother-daughter activities
Choose the Younger Version (10-12) or the Older Version (13-15)
12 months access
$29 USD
The only way to access your classes forever – teach any number of daughters, and the course grows with you!
Both levels 

49 videos for daughters, 63 downloads and printables with checklists, lessons, and discussion questions

2 audios from a physician about what to look for during puberty

12 audios from Sheila guiding you through the courses

LIFETIME access
Exclusive Facebook group support 

EXTRA parenting advice taking you through the younger years, including how to talk to younger children about sex and good touch/bad touch
$39 USD
YES! I want the VIP Package!
The Lifetime Access VIP membership is our most popular option. Start when the kids are young, watching the videos on teaching kids about sex slowly. Then preview the puberty ones so you're ready! Then the course grows with your daughter–or daughters. And there are extra resources, extra mentoring videos, and more. And we'll keep adding to it, too! 
With the Lifetime Access VIP Version, you'll also get:
Unlock the Mystery of Talking to Younger Kids about Sex
Get a mentoring video from Sheila about how to talk to younger children about sex–plus lots of extra resources that you can read at your leisure to prepare you for those awkward questions from your kids!
Learn from a Physician So You Know When Something's a Problem
Ever wondered if your daughter's cramps are normal–or over the top? What if she's skipping periods? Or having ones that last too long? What if your daughter is 13 and nothing's happened yet–or she's 9 and there's tons happening already!
Sheila's husband Keith is a pediatrician, and he'll reassure you about what things are normal, and when you need to go and talk to a doctor.
Receive Extra Mother-Daughter Activity Ideas, and More!
The VIP access contains extra ideas for mother-daughter conversation and fun, so that you can work on growing your relationship even after you've watched The Whole Story videos.
Our VIPs really are VIPs! We'll talk in Facebook, we'll consider your questions when we're writing more blog posts or hosting webinars, and we're here to help! And you will have access to any future updates the course goes through as we add new material. It's a chance for you to get all my parenting help–forever.
What are you waiting for?
Wow, how spirit-filled! A friend and I were talking yesterday about how to broach this topic with our children as they reach puberty and I am so grateful for Katie's insights.
Thank you for your ministry.  I have been following a little while and your views on changing how we teach purity has greatly helped me in rearing two beautiful girls. Thank you for your ministry and for empowering your daughters with truth, I pray I will pass on the wisdom to my girls as well.
Are You Ready to Tell Your Daughter The Whole Story?
Each unit includes ready-to-watch videos that you can start with no preparation–right away!
Grow your relationship with your daughter, while you know that she's learning everything she needs to know–with a biblical worldview.
I found it easier to tell my girls the basics about the facts of life than I did to add the personal element to it as they grew into teens.
I told them about their periods, but talking about porn? Masturbation? Peer pressure? I wasn't as good at that.
And I was also really frustrated with the way that the resources that I did have available were slanting the whole conversation.
The guide I used when Rebecca hit puberty was all about purity–teaching her why sex was only for marriage. But at that age (she was 10), the thought of actually doing that wasn't even on her radar.
She didn't need to be convinced to wait until marriage. She needed to be convinced that it was a good thing at all!
And so we didn't really delve too much into purity, because I thought the lessons would backfire. And then, when she was 14 and 15 and actually ready for those lessons, we had moved on.
That's why we've arranged this course so that, for the younger girls, it's more information based. We tell them what is happening and why, but we leave the emotional part until the older version. That's when we delve into those hard topics that affect teenagers.
I found that so many girls today hit puberty when they're still really young and before sexual feelings really start. Yet often that's the last time moms talk to their daughters–when they hit puberty.
And then, when they really need us, we've forgotten how to have those conversations.
With The Whole Story, you can keep having those conversations!
But we don't aim to replace you. This is just a resource to START those conversations.
Rebecca, when writing her book Why I Didn't Rebel, found again and again that it was parents' expectations of their children that made the biggest difference. When parents were authentic with their kids about their faith, and expected their kids to be authentic, too, then kids tended to follow Jesus easily. But when parents expected the worst, or didn't tell the kids what they expected at all, kids tended to flounder.
Our philosophy in this course is that we'll tell your kids the information and in general terms what God wants, but then we have discussion guidelines, checklists, and activity ideas so that you can have the real heart-to-heart with your daughter, in a stress-free way, about what guidelines you want her to have.
It's what YOU think about modesty that matters. It's the guidelines YOU have about dating and sex that matter.
I'm not raising your daughters, and my girls certainly aren't raising them, either!
It's YOUR values that matter.
So let us start those conversations at just the right ages, and then YOU can guide those conversations home.
The Whole Story's chatty, big-sister feel will take the pressure off these important conversations
Younger Version (ages 10-12)
Unit 1: What is your period? And how do you handle it?
Unit 2: How Your Body is Changing: What to expect (Including acne, breast development, hair growth, and more).
Unit 3: Boys & Friends: Handling crushes, bullying, and peer pressure.
Unit 4: The Sex Talk: How babies are made and what is sex, anyway?
Unit 5: Taking Care of Your Body: How to take care of yourself now that you're becoming a young woman.
Older Version (ages 13-15):
Unit 1: Troubleshooting Your Period: When is something wrong, dealing with PMS, and methods to manage your period.
Unit 2: Puberty 2.0: Developing a Woman's Body & What Boys are Going Through
Unit 3: Relationships in the Teenage Years: Navigating dating, friendships, and peer pressure without sacrificing your values.
Unit 4: God's Design for Sex: Why God made sex the way he did and how to live in our highly sexualized culture in a way that pleases Him.
Unit 5: Becoming a Woman: How to dress classy and respectful and how to stay healthy in the teenage years.
Rest easy with lifetime access to all of this important information with the VIP version.
Can be used with multiple kids, as your subscription never runs out.
Includes ALL materials for both ages (including any updated material we add!)
Podcasts to give you confidence when younger kids ask uncomfortable questions
A Doctor speaks about how to know when you need to see a physician
Extra mother-daughter activity ideas
Access to bonus units including one to help you prevent video game or social media addiction.
Every parent hopes all their hard work will pay off. Sheila Gregoire's has. Her daughters are now joining her voice to share and teach other women like me who need to know what works and what doesn't when it comes to navigating this parenting relationship, the good, the bad and always for the better.
Because your daughter deserves to know The Whole Story–in a safe way.