God Made Sex to Be Awesome.
Don't miss out on it!
The Good Guy's Guide to Great Sex–written with Sheila's husband Dr. Keith Gregoire!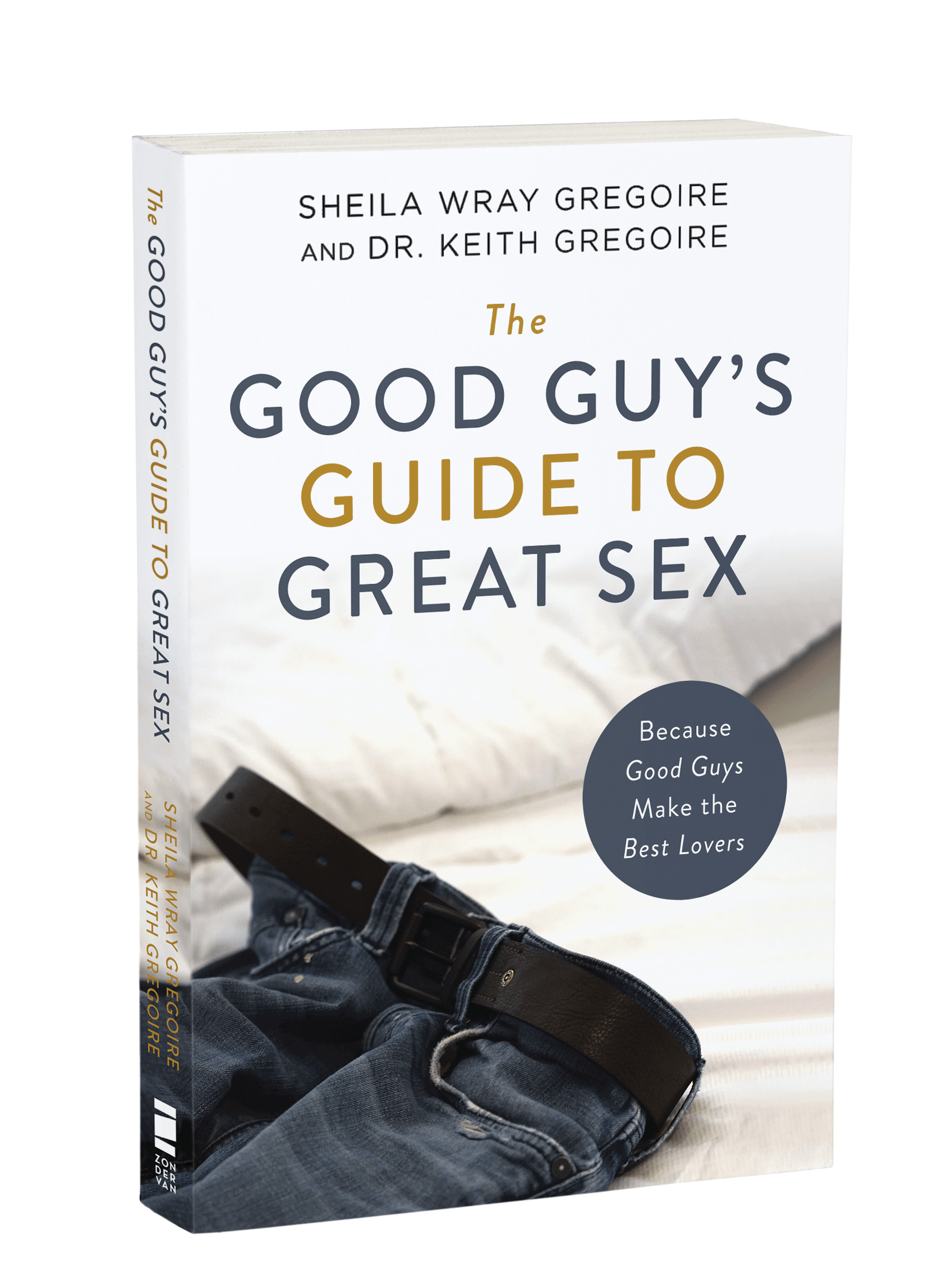 The New and Totally Revamped Good Girl's Guide to Great Sex (with all our recent research!)
Your go-to guides for every Christian couple for everything you wanted to know about how to make sex AMAZING in your marriage!
Finally, a book that can guide us, men, into becoming what we have long pretended to be. A wildly good lover! This book is radically helpful on the journey toward becoming sexually healthy and fully embodied. Sheila and Keith have written a must-read for anyone who has previously had sex, is currently having sex or would like to have sex in the future! Thank you for this wise guide!
Sheila Gregoire is basically the "Dr. Ruth" for the church. And what a gift she is! Sadly, there is a lot that Christian women need to unlearn about sex from what they've been taught in the church or in Christian books. Gregoire offers a thoroughly researched, biblically informed guide to great sex that is possibly more practical than conversations with your closest girlfriend. And she recaptures the meaningfulness, intimacy, and fun that sex is designed to offer to your marriage. Every engaged and married woman needs a copy of this book!
Do any of these sound familiar?
You're about to get married, but…
You're new at this and you're not sure what to expect!
You're wondering if your sexual baggage will impact your marriage.
Or you're just plain nervous that you won't be a good lover!
Or maybe you're already married, and…
You–or your spouse–never seems to be in the mood
Sex doesn't feel that great
Or maybe, instead of being this awesome thing that unites you, it's become a source of tension.
Who wants tension when you could be experiencing the physical, emotional, and even spiritual intimacy God meant for you through sex?
Enter The Good Girl's Guide to Great Sex
and The Good Guy's Guide to Great Sex!
The Good Guy's Guide to Great Sex is a life (in the bedroom) changing resource to help couples close the gap between what they hope for from sex and what they actually experience. Written by a bestselling sex expert and her physician husband, this hope-infused, medically savvy book will empower men to love their wives as equal partners in all things amorous, as well as help them understand what's really going on between the sheets of sexual passion and sexual struggle. Here you'll find fresh perspective and compelling rationale for why so much of what we've been taught about sex is as unhealthy as it is unhelpful. It may make you mad (when you realize you've been misled), but it will bring you joy. It may make you blush, but it will heal your shame. And best of all, it will deepen your marital intimacy at every level—emotional, spiritual, and physical.
I just got done reading this book and I loved it. The entire time I kept thinking, "I wish I had this book to read while growing up." I was completely clueless for my honeymoon and early marriage years. After reading this book, I was able to use all of the advice to help my sexual relationship with my husband. He was thrilled!
Practical and Down-to-Earth Help for Your Journey to Great Sex–with some laughter thrown in!
Maybe you've got the tux on order and your vows memorized, but you have questions about how to rock your beloved's world that you can't exactly ask at the rehearsal dinner.
Maybe you're about to put on that white dress and walk down the aisle, but you're worried about what comes next. Will you know what to do? Will it be awkward?
Or maybe many anniversaries have come and gone, and you're wondering if you'll ever really be able to "let go" and relax about sex. It was supposed to be breathless and passionate–and EASY–but it's not. Is there something wrong with you? Or maybe you've been married for a bit and your wife's libido has dropped off, and you don't know why. How can you find that passion you always dreamed of?
Whether you're just getting married, or you've had years of ho-hum behind you, let these Guides put your fears to rest and give you confidence!
These highly practical, researched-based books show you why God made sex the way He did, what often gets in the way of a great sex life, and how you can experience sex to its fullest:
Learn the secrets of the sexual response cycle—and how to work WITH her body.
Understand your unique sex drive–and how to keep it revved
Reject the myths about porn and lust that have kept so many stuck, and discover the key to real freedom
Redefine sex so it encompasses more than just physical release
Embrace all three aspects of intimacy—and see how they feed each other.
And even avoid the #1 mistake couples make on their honeymoon that sets them up for disaster (and even can trigger sexual dysfunction).
In her groundbreaking book The Great Sex Rescue, Sheila shared the results of her study of
20,000 women

, showing how the evangelical church has often gone off track when it comes to sex advice.
Now Keith joins Sheila as they add the men's side of the equation. These are your guides to a HEALTHY, EVIDENCE-BASED, BIBLICAL sex advice as you discover true passion.
What makes these guides different from other sex books?
We aren't just telling you what we think makes great sex. We're telling you the results of our studies!
These books are chock full with charts and research, and will help couples understand:
The 47 point orgasm gap—and how to bridge it
Why 22% of evangelical women experience vaginismus (a rate twice as high as the general population), and how we can reduce that
How our incorrect definition of sex leads to 71% of men and 52% of women thinking he does enough foreplay—even when she doesn't orgasm
The impact of 49% of Christian men currently using porn—and how we should deal with it.
AND MOST OF ALL: What ingredients of great sex the 48% of women who orgasm regularly share!
It's time to discover what God meant sex to be!
We're Sheila and Keith Gregoire, and believe us--we get you.
In the first few years of our marriage, sex was a huge issue. He wanted it. I didn't. I felt used. He felt unloved.
But then something happened: I asked myself, "If sex is so great for so many people, and God created it to be part of marriage, what if the problem is actually that I don't understand sex?" 
And that started my journey of research that led to this book. Our marriage has never been the same since.
I'm the "Christian sex lady", and World Magazine says I write like your "funny big sister" when the original version of The Good Girl's Guide to Great Sex was published in 2012. Since then, I've led research studies to understand what evangelical teachings can cause sexual and marital satisfaction to plummet–and which ones lead to passion! Along the way, my husband Keith has joined me on the Bare Marriage podcast, and now writing the male counterpart to the totally revamped and expanded Good Girl's Guide to Great Sex. We want to rebuild Christian sex advice from the ground up, focusing on what we know works!
It was the first book that empowered me. It was the first time I learned I was a sexual being, I deserved pleasure as well. I could take ownership of my sex life. It's something that I can be vested in. That was the first time that thought was taught to me.
Most couples disconnected and hurting sexually in marriage lack the tools and the language to process what is going on and the guidance to know what they can do about it.  Not anymore!
For most couples, sexual bliss takes time. But that doesn't have to be your story!
I surveyed over 2000 women for The Good Girl's Guide to Great Sex, asking them everything about their sex lives.
And do you know when the best  years for sex are in marriage? Years 16-24. It takes a while for things to work like clockwork.
Not just that, but only 20% of women had fireworks on their honeymoons! It can take a while to figure things out.
But it doesn't need to–when you're able to silence all the voices from our society telling us that sexy is skanky, and all the voices from church that can too often fill us with shame, and just listen to what sex was meant to be.
When you "get" what sex is supposed to be, your whole marriage blossoms.
Instead of waking up 12 years later wondering if sex will ever get better, you'll start marriage with having honest conversations about what feels good.
Evening will come, Netflix will shut off. But instead of pulling out the holey grey flannels, you'll curl up under the sheets naked, excited at what's to come!
You'll wake up to a lazy weekend morning, remembering what you did last night. You'll flirt. You'll steal kisses. Marriage will be where your sexuality blossoms.
What to expect from these Guides to Great Sex:
A No-Nonsense Sex Education
We lay it all out for you–all the answers to the questions you felt too awkward to ask, whether it's about orgasm, the sexual response cycle, contraception, and more.
Super Practical Help to Get You Where You want to Go!
Whether it's understanding how to help her reach orgasm, help with overcoming sexual dysfunction or even past baggage, or a roadmap for dealing with past or present porn use, these books will show you how to work towards the sex life you've always dreamed of.
A Well-Rounded Approach that Values BOTH of You
Sex is meant to be mutual, which means learning to prioritize your spouse AND stand up for your own needs. And you can rest assured that your spouse, reading the companion book, will learn and understand what makes you tick, too.
What are you waiting for?
The Good Girl's Guide and The Good Guy's Guide lay out how sex works emotionally, spiritually, AND physically…while helping you navigate potential roadblocks, and spice things up along the way!
Your book "Good Girl's Guide" was SO helpful during our engagement and early marriage! I feel like I went into marriage with reasonable expectations and didn't put so much pressure on myself because of the wisdom in your book.
It's your road map to a sex life that is Mutual, Intimate, and Pleasurable for Both.
First understand the big picture: That sex is physical, yes, but it's so much more than that! (which is why we need a new definition of sex!)
Next, learn all about the sexual response cycle–including the element that people often skip (BIG MISTAKE!). Then learn how we can Mind the Gap (the Orgasm Gap, that is).
Then we dive into the three aspects of great sex–physical intimacy, spiritual intimacy, and emotional intimacy.
You'll get answers to your questions on what's okay to do in the bedroom–and what should be avoided. Plus a complete guide for newlyweds, including the keys to a great honeymoon! Finally, discussion questions help open the doors to real communication–whether you're about to walk down the aisle, or whether you're reading this on an anniversary getaway!
Who Were These Guides Written For?
Newlyweds Who Want to Start Well
Worried about your honeymoon? Sheila and Keith give you amazing tips to avoid the #1 pitfall couples often face–and help you relax and enjoy yourselves instead. But what if you've got tons of baggage? They help you work through that, too, so that you can start your marriage fresh with a ton of excitement! Best of all, the guides teach you how to start well to set your marriage up for decades of great sex in front of you!
Young Married Couples
Maybe she's never been able to reach orgasm. Maybe you've got major libido differences and sex has become a source of tension. But no matter what you may worry–Sheila and Keith show you how you are not broken–and you can discover that passion you were promised.
Couples With Questions
Can we get over porn use? What if my spouse is pressuring me to do something I don't want to do? Why do I still feel like sex is dirty–even after we've been married for 12 years? If he's the one with the lower libido, is there something wrong with us? We've got the answers from medical research, in-depth focus groups, and studies of over 25,000 people. You've come to the right place!
What are people saying about the book?
What a refreshing message for today's Christian woman.  A Good Girl's Guide to Great Sex gives a Christian woman a Biblical permission slip to desire and experience sexual pleasure in her body and be a godly woman and wife. Woven throughout are deep Biblical truths about healthy marriages, mental and physical roadblocks that derail good sexual intimacy, tips to keeping it safe and fun, as well as some red flags signaling when a marriage may be unhealthy or toxic.
I've worked with thousands of husbands, and this book answers so many of the questions they've asked about how to have great sex. If you want intimate connection and you also want research-based answers, do your marriage a favor and get this book.
Many men receive unhelpful messages about their sexuality and few are taught how to build a great sex life. This book changes all of that! I hope the principles taught in The Good Guy's Guide to Great Sex become the new standard for faith-based sex education in the home.
This is a desperately needed book and one I wish I had 25 years ago! The authors skillfully connect the emotional, spiritual, theological and physical aspects of sexuality, all in layman's terms. For guys who want to love their wives well, this book lays the foundation for a lifetime of growth together in love, mutual joy and intimate connection. I will be passing it out in all of my marriage counseling.
If you want GREAT in your marriage, these Guides to Great Sex are for you!
God wanted more for your marriage.
Don't settle for less than what your marriage was created to be. Sex SHOULD be a fun part of your marriage. If it's not, please read the book. Your marriage will thank you!