Your daughter deserves better than to grow up with a faith that will keep her small.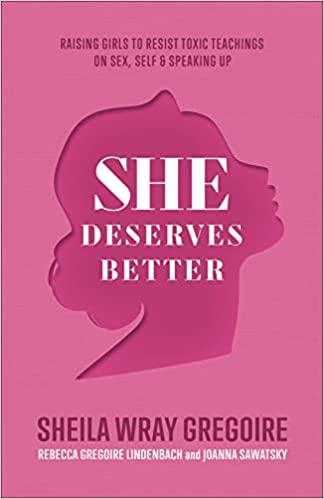 We're so focused on protecting our girls from the dangers outside the church. But what if some of the messages she can hear in Christian circles can:
make her feel ashamed

make her feel like boundaries are bad

make her ripe for abuse?
Millennials grew up in the height of purity culture, and they're paying the price with lower sexual satisfaction; more sexual shame; lower self-esteem. But that leaves today's parents in a pickle: How can we raise our girls in a hypersexual culture without purity culture messages?
And how can we reparent ourselves to hear what we should have been told in the first place?
Based on all new study of 7000+ women, looking at how experiences in church as teens affect women long-term, She Deserves Better reveals (bulleted list):
The dating rule that works best—except when it doesn't (and why we need nuance)
How we can talk about clothing choices without causing body image issues or blaming girls for boys' thoughts
How to talk about saving sex without idolizing virginity or creating sexual anxiety
How we can protect our daughters from a church hurt that could send them fleeing the faith
Finally, a book I can recommend to parents who want better re- sources to talk about sexuality with their daughters! Sheila, Re- becca, and Joanna are an all-star team, confronting the harm done to our daughters in both the church and the world. The title says it all. Our daughters deserve better! Full stop. This book is full of thorough research, refreshingly commonsense biblical wisdom, and practical help on how to talk with our daughters and prepare them for confidence and maturity.
In this book steeped in research and wisdom, Sheila, Rebecca, and Joanna unwind the false, shaming gospel of outward appear- ance and point our daughters to a true and confident faith—one rooted in a good Father who delights in his beloved and deems her worthy of healthy esteem and relationships. But perhaps one of this book's greatest contributions will be the bold conversations it sparks between parents and daughters. If you have a daughter or are a daughter, your soul needs this book.
You taught her to look both ways when she crossed the street. you cut up her bananas and blueberries so she wouldn't choke. You've worked your whole life to keep her safe. Now let's make sure her faith keeps her safe–so that she doesn't have a faith that leaves her vulnerable.
You can be your daughter's best advocate.
Let She Deserves Better teach you how to recognize toxic teaching–and equip your daughter to do the same!
Our book The Great Sex Rescue, based on our survey of 20,000 women, has set women free.
"Validating" is the most common word we hear. Women need to know we matter; that we're not an afterthought. Now it's time to pass that along to our daughters, so that we break the shame cycle. Our girls are not sin management tools for boys; girls do not have to make themselves small so boys can be big.
Our girls need our permission to have a big faith. And maybe you need that permission, too.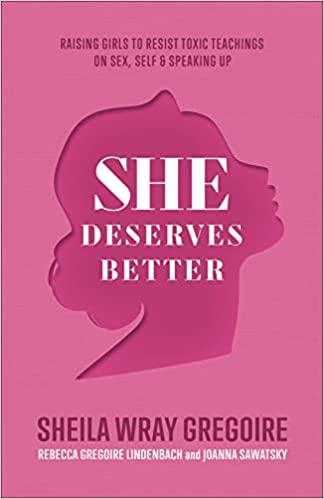 She Deserves Better covers:
boundaries

identifying toxic people

consent

dating rules

sex ed

modesty

and more, we debunk toxic teachings and point to a faith where Jesus–not boys–are centered, and where girls can thrive.
As a psychologist, I am confident in this book's sound research, evidenced-based teachings, and emotionally healthy advice. And as a mother of a girl, I am looking forward to reading this with my daughter to create new teachings for her as I reconstruct them myself.
You want Your daughter to have a personal, impactful relationship with Jesus.
You want her to have confidence in her worth as a daughter of Christ that leads her to turn her away and reject anyone who would treat her poorly; for her to have the opportunity to have a faith that is so healthy and life-giving that she doesn't have to deconstruct.
and you want that for yourself, too.
With discussion questions, role play scenarios, and fun quizzes moms, dads, guardians or youth leaders can do with girls, She Deserves Better helps you teach her discernment skills and equip her for a big faith.
She doesn't need to grow up with shame. She can learn how to spot abusers. She can learn she doesn't have to defer to someone who wants to keep her small.
Because She Deserves Better. And so do you.