WE SURVEYED 20,000 WOMEN TO DISCOVER
WHAT MAKES SEX GREAT FOR SOME
AND TERRIBLE FOR OTHERS.
We'd like to tell you what we found.
What if the evangelical books you've read about sex and marriage have made it:
More likely that your spouse won't trust you.
More likely that you'll have mismatched libidos.
Less likely that sex will be mutually pleasurable.
More likely that sex will be painful.
More likely that your marriage will end in divorce.
Because we asked 20,000 women what they believed–and we looked at how it impacted their marriages and sex lives. And let us tell you–a lot of our best-sellers are offering a very different bill of goods than what is being advertised.
It's time for a book that's not based in opinions, but in actual scientific data about what makes sex so great for some–and a struggle for others.
We asked 20,000 women over 130 questions about their marriage and sex lives–and what they grew up believing about marriage and sex.
We found out what's healthy, and what's not.
Then we created The Great Sex Rescue, because the church deserves better than bad sex advice.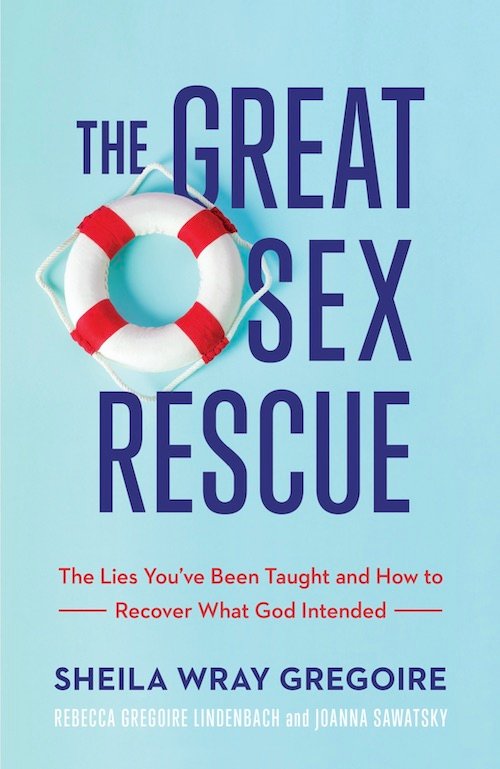 Healthy, Evidence-Based, and Biblical advice to help you build a sex life that is MUTUAL, INTIMATE, and PASSIONATE.
This book is a groundbreaking look into what true, sacred Biblical sexuality is intended to be, and the root causes and ideas that damage a couple's intimacy in marriage. Going straight to Scripture, the authors dig deep into ideologies that draw couples away from God-designed intimacy, and seek to construct a framework for sexuality that truly rooted in Scripture and God's beautiful design, elevating sexuality and marriage to the glory and sacredness it was intended to have. This is a must-read.
Let The Great Sex Rescue point you towards true passion and freedom by helping you ditch spiritual sexual baggage.
Our research included an in-depth analysis of current best-sellers. When we found that the most harmful teachings to women's sexuality are present throughout the majority of our best-sellers, we were shocked.
The evangelical church has a sexual culture that leads to lower orgasm rates, less marital satisfaction, and even higher rates of sexual pain. We need to change the culture, because we need resources we can recommend without saying, "Hopefully this won't hurt you." We need evidence-based, Christ-centered sex advice.
It's no wonder that for so many women, sex is disappointing when they've been taught:
Boys will push girls sexual boundaries, so you need to be the gatekeeper!
All men struggle with lust, it's every man's battle.
A woman is obligated to have sex with her husband when he wants it.
Sex is mostly about a husband's need for physical release.
He has a need that she doesn't have.
You should have sex with him so he doesn't watch porn.
Yikes. Doesn't sound very enticing, does it?
Each chapter of The Great Sex Rescue includes check-ins, rescuing and reframing exercises, as well as "explore together" challenges to help you overcome the lies you've been taught and recover what God intended.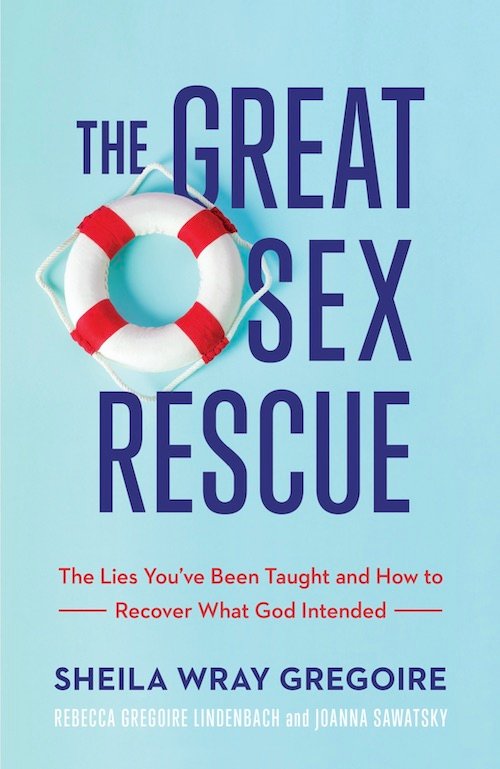 If you've ever read a Christian book on sex and marriage, you owe it to yourself to read this one. Armed with extensive survey data and equipped with compassion and common sense, the authors dismantle the devastating myths long promoted by Christian leaders that have caused untold damage to generations of Christian women. Equal parts distressing and liberating, this book is desperately needed in this moment.
It was like talking to a reassuring friend and a therapy session all in one.
We believe that sex is meant to be:
Personal. Sexual fulfillment requires emotional security, safety, and intimacy.
Research says: Women who feel like their opinions matter in marriage as much as their husbands are 6.74 times more likely to say their husbands make their pleasure a priority!
Pleasurable. Sex should feel good. Like, really good. And sex should feel good for both people involved.
Research says: We have a 47 point orgasm gap–where 95% of men say they reach orgasm almost always or always, compared to just 48% of women.
Paired. Both spouses desire each other and make sex a priority in the marriage.
Research says: Not all husbands have the higher libido! Our survey found that while men have the higher libido in 58.5% of marriages, in 22.3% they're the same, and in 19.2% she has the higher libido.
Pressure-free. Sex should be free of manipulation, obligation, or coercion in your marriage.
Research says: Women who believe "a wife is obligated to have sex with her husband when he wants it" are 39% more likely to experience primary sexual pain.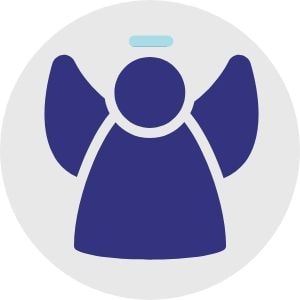 Pure. Each spouse is responsible for keeping pure of sexual sin and keeping sexual sin out of their sex life.
Research says: Women who believe "all men struggle with lust; it is every man's battle" are 79% more likely to engage in sex only because they feel they have to.
Passionate. Sex was designed to give us great freedom–which means God made sex to be really hot!
The Great Sex Rescue walks you through God's design for personal, pleasurable, paired, pressure-free, pure, and passionate sex. So what are you waiting for?
This book should be required reading for all married Christians. Growing up in the evangelical Christian world taught me very little about what a healthy sexual dynamic should look like, other than "don't do it until you're married. Then do it all the time!" It's time we deconstruct the destructive and harmful teachings that have gone unchallenged for so long, and embrace a truly cross-centric view of sexuality, and for that I can think of no better resource than this book.
Each chapter contains "Rescuing and Reframing" exercises to help you shed the old, toxic teachings and reclaim God's design for sex.
It's the healing journey you may not even know you need!
This is a life-changing book, and trust me when I say I am not overstating this. Get it, read it, give to a friend. This message needs to be shared as far and wide as possible!
I devoured this book in 4 days and I'm left reeling. I have no idea how to sum it all up! I plan to buy at least 10 more for giving away. This book is revolutionary.
The Great Sex Rescue will help you reclaim sex from something ugly, stress-inducing, or just plain boring, so you can experience real passion.
If you're wondering why you've never been able to reach orgasm.
If you're desperate to want and desire sex–or for your wife to want it!
If you want to purge unhealthy ideas before sex before you tie the knot.
Or if you simply want to make the church a safer place when it comes to sexuality.
The Great Sex Rescue is a crash course in healthy, evidence-based, biblical sexuality–and help you rescue and reframe sex to be what God intended.
It's like a giant therapy session to undo the damage of so much of what we've been taught by the evangelical church.
If you grew up evangelical, or if you've read evangelical books about marriage and sex, then you've been in a culture where the conversation about sex was incomplete, wrong, or even downright toxic.
Maybe shame has become so associated with sex that it's hard to disentangle it.
You were told that:
A wedding ring is the ticket to great sex. Just wait until you're married, and fireworks will follow! But they haven't.

Sex in marriage will cure a whole bunch of other problems. But you're still drawn to porn–or your spouse keeps returning to it.

Sex is something that he needs that she doesn't. And then she's never experienced real pleasure, and you both think she's broken. Or maybe she wants sex more than he does, and you're left adrift.
What if none of that is true?
Let The Great Sex Rescue help you peel back the lies, and find a Jesus-centered biblical sexual ethic.
We want to rescue the church from terrible, horrible, no good, very bad teachings.
And offer the evidence-based, biblical sexual ethic we should have had all along.
Just thinking about the impact this book is going to have on the lives of desperately hurting women makes me emotional. This is the information we have always known in our hearts but denied in our heads. To those women who have suffered in silence for so long I say do not delay, pick up a copy, grab some tissues, and let the hot tears of validation and healing flow. The Great Sex Rescue will change the way you view sex forever, and, more importantly, enable you to start to trust your instincts again.
I cannot think of a more important book (okay, outside of the Bible) that you must read. This book is the authentic gut punch that the Evangelical community needs. This exposes our historic dismal handling of sexuality and gives us a clear path forward to sexual maturity, wholeness and health. I already want to read it again and will surely be telling my network to purchase this vital guide. Thank you for such a seminal work!
Church, it's time for better.
Let's bridge the 47 point orgasm gap.
Let's awaken dormant libidos.
Let's shed the shame.
Together, we can change the evangelical conversation about sex.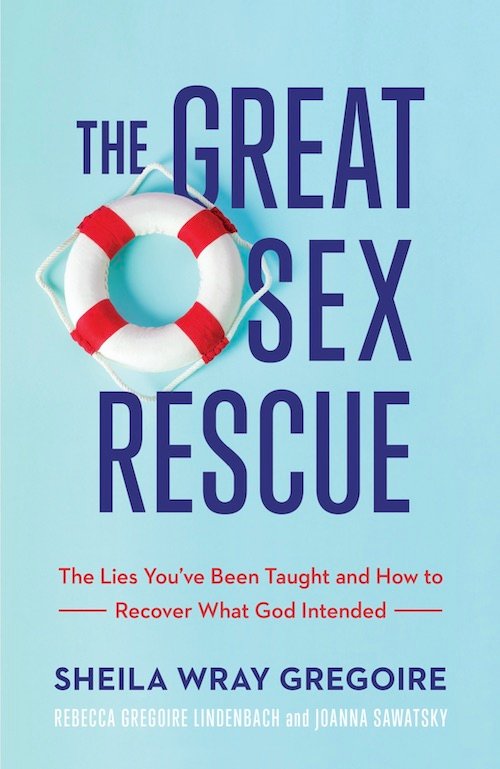 As I read the book I found myself wanting to scream in anger, cry in frustration, and laugh with joy shouting "AMEN, SISTER!!!" "The Great Sex Rescue" will always be part of my freedom song.
Buy The Great Sex Rescue at your preferred book retailer: