Plan the honeymoon (and the wedding night!) of your dreams
You want to make his toes curl.
You want to know what real intimacy and passion feel like. 
But most of all, you want married life to feel like coming home. 
Well, I wanted that too. And my honeymoon turned out to be an utter disaster.
Sex was awkward, it hurt, and I felt like a failure.
I was busy rushing myself so that I could say that I had "done the deed" and succeeded.
I didn't know that it was okay to relax and take your time.
And I didn't know that I would be so exhausted!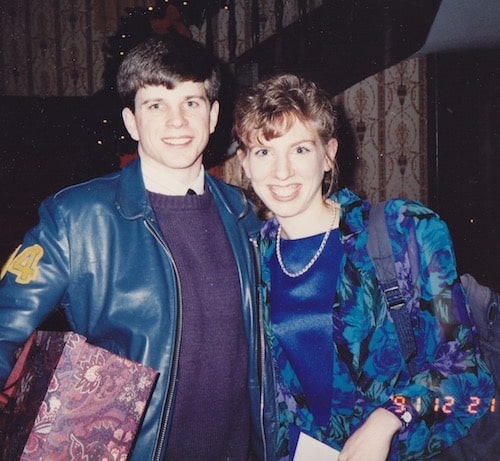 Me and my husband on our honeymoon
And it turns out I'm not alone. I surveyed over 2,000 women and found this:
20% of couples had a horrible honeymoon
60% of couples had an OK honeymoon
Only 20% of couples had the honeymoon they really wanted!
I found that 4 out of 5 couples don't have the honeymoon of their dreams.
But most people also don't set themselves up for success!
Be prepared with real-talk about the nitty-gritty of sex so you aren't asking yourself,
"
Am I doing this right

?!"

Start your honeymoon with anticipation–not anxiety–because you know you have all the information you need to start your married life together.
Sheila's writing helped me feel prepared for sex for the first time (my wedding night), and for us to feel free to explore each other within marriage.
I read your book, The Good Girls Guide to Great Sex, before marriage and I can't even begin to say what an AMAZING resource that was for me. THANK YOU!!!
The Honeymoon Course is the ultimate how-to manual for people who don't want to google "how to have sex."
Or don't want to google other questions like,
"What is an orgasm exactly?"
"What do we do if something goes wrong?"

or
"How do I get rid of sexual baggage before my wedding day?"
The Honeymoon Course is a video-based curriculum designed to help Christian couples prepare for an awesome honeymoon and wedding night through activities, discussion questions, and tons of awesome checklists!
10 activities to bring you closer & make your honeymoon sizzle!
13 videos to prepare you with the secrets you need to know before the wedding night
8 challenges and checklists to make sure you don't forget anything you'll need on your honeymoon!
Equip yourself with what other couples wish they knew before the honeymoon:
The 5 honeymoon types,
and which is best for you
What you need to know about your body so that sex works as planned–and what to do if it doesn't
How to choose the best family planning option for you
What you simply must take on your honeymoon—including the one thing nearly everyone forgets!
Plus, learn about the
 

ONE big mistake

people make on their honeymoon that can hold your sex life

 

back

 

for years–and the one little mindset shift that makes all the difference.
That one mind-shift (that nobody talks about)

can help you have great sex in year 1 rather than year 7 of marriage.
I wish someone had given me this sort of permission before I got married, or that I'd known to have this conversation with my husband beforehand.
Put that all together, and you'll create a low-stress honeymoon that you'll remember for a lifetime.
From the author of the #1 Christian book about sex for engaged women, who has helped thousands of women have better sex in their marriages.
As a writer on sexual intimacy in marriage, Sheila Gregoire has been such a positive and needed voice!
Sheila's book- A Good Girls Guide to Great Sex has transformed my life. I am getting married in August and had a ton of fear and was really in the dark about a lot of things when it came to sex. As a single woman in her 30's I've spent my whole adult life directing my thoughts away from sex and avoiding the topic because I wasn't sure if that was ever going to be a part of my life. This book is Christ centered, funny, and full of good mechanical answers and awesome "Good Girl Dares".
She gave me the language to use and permission to begin to discuss these things with my fiancé and other women. Sex is no longer something I fear but, with a much better understanding of God's design physically, emotionally and spiritually, I can honestly say I'm looking forward to sex with my future husband. We've been able to start communicating about sex in a really healthy way.
I'm so glad you've helped me begin to make the 180 turn in this area of my life long before our wedding night. Thanks Sheila for your faithfulness to the Lord and to women like me who you don't even know!
Get rid of your nerves about the wedding night and get EXCITED for sex
It's good to be excited–it's better to be excited AND prepared because you broke the ice and had these conversations well before the wedding night.
As you work through the course with your fiance, here's what you'll discuss:
MODULE 1: Starting Off with a Fresh Slate
Learn to communicate some of the difficult but necessary conversations about sex so you can build trust, support each other, and leave baggage behind as you enter into marriage. 
MODULE 2: Planning the Perfect Honeymoon for YOU
Ditch the pressure to just have an instagram-ready honeymoon and instead fiure out the perfect getaway for you and your fiance! Avoid common mistakes people make when booking their honeymoons, learn about out-of-the-box honeymoon ideas, and save a lot of money by narrowing down what exactly for you makes the perfect honeymoon! 
MODULE 3: Sex Education for Adults: How Sex Works & Preparing for a Great Sex Life
No matter if you feel you already know what you're doing or if you have never had sex before, here are the basics everyone needs to know before starting their married sex lives! Including some of the most frequently asked questions on the blog, incredibly important sexual hygiene tips, an in-depth look at birth control methods, and how to know when you should see a doctor, this unit will help you prepare for great sex by getting the basics in order.
MODULE 4: Making Sex Feel Great!
Want to know the key to great honeymoon sex? You'll find it in this unit! Here's what every couple should know before their honeymoon to make sex amazing for the both of you. Including some sexy dares to try on your honeymoon, this one's boun to be a lot of fun. 
MODULE 5: Starting the Journey
You're on your honeymoon! But the learning doesn't stop there. Now comes getting to celebrate your spouse and your new marriage! This module is jam-packed full of activities, brainstorming exercises, worksheets and more to help your honeymoon be a time where you truly connect on multiple levels–physically, spiritually, AND emotionally. 
Because your marriage is worth it.
You're madly in love, starting your life together, planning your perfect wedding day–
doesn't your wedding night deserve some attention, too?
The average couple spends $4,466 on their honeymoon.
Isn't it better to invest $39 FIRST to make that honeymoon awesome?
You put so much planning into your wedding.
And The Honeymoon Course costs just 0.0013% of the average wedding budget. 
That's less than 1% of your wedding budget to get the secrets that countless couples learned after it was too late.
Invest in your marriage--not just your wedding.