Raise your girls to resist toxic teachings on sex, self, and speaking up!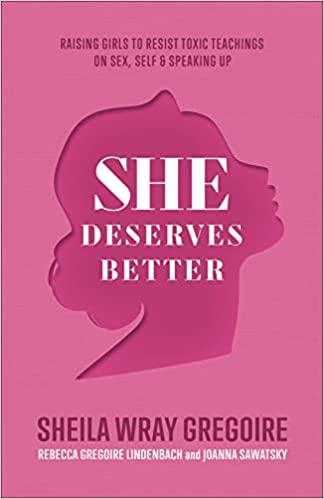 Sheila, Rebecca, and Joanna are releasing the brand-new book, She Deserves Better on April 18 2023!
And they are inviting you to be a part of their launch team! How do you do that?
And then you'll get an email with pre-order bonuses!
What are the preorder bonuses? 
Our Pre-Order Bonuses
A modesty report hand-out you can give whenever anyone wants to impose shaming dress codes on your girls.
Plus a special jam-packed report on what's REALLY going on with deconstruction in the evangelical church. Who is deconstructing? Why? And how can you raise your daughter with a faith that doesn't need to deconstruct? All information that didn't make it into the book!
Early Access to the Book
Want to read the books RIGHT NOW? When you pre-order, you'll also receive an email invite to our launch team! In exchange for pledging to write an honest review, you can get access to an ebook RIGHT NOW!
Access to an exclusive Facebook Group
Our Facebook group is now full, but don't worry–we're also throwing in a free audio book version of She Deserves Better as soon as the audio book is available to everyone who pre-orders and sends us their receipt with the instructions above!
Where can I pre-order?
You can pre-order She Deserves Better at any of your preferred book vendors, including: 
No matter where you order from, simply forward your receipt using the button below to get your pre-order bonuses and access to the facebook group! 
Writing She Deserves Better was like Great Sex Rescue 2.0.
We surveyed another 7000 women to find out what toxic teachings given as teens end up hurting women long-term, and how we can reframe the conversation into something healthy.
We originally weren't planning on doing another study this big, but people kept asking for help with their kids.
And our results are staggering–especially on modesty and sex ed. Quite simply: we need to change how we teach about this in church, because our girls do deserve better.
We really have so much hope that these books can be a part of changing the evangelical conversation about sex. Our hope is that with more healthy materials available for parents, or even just women who want to work through their own religious trauma, that nobody will need The Great Sex Rescue in ten years!
We are so excited to hang out with you for these next 5 weeks, we will see you around!
Sheila, Rebecca, and Joanna