It's the one year anniversary since The Great Sex Rescue was published!
So Rebecca and i want to talk about what we've rescued and how it's been rescued–plus Elizabeth Fisher Good joins us to talk about fighting sex trafficking.
Or, as always, you can watch on YouTube:
​
Timeline of the Podcast
0:50 Knix bras have changed Sheila's life!
3:30 Happy birthday to us!
8:10 Joanna joins with her thoughts
13:30 Encouragement from the book's readers/sales
20:00 What surprised us?
30:00 Our visions for the future
34:45 Interview with Elizabeth Fisher Good
55:40 Closing Encouragement
I Love Knix Bras!
Like seriously love them. They fit amazingly well; they're so comfortable. They look better than my underwire bras, but there is no underwire! I bought three over Christmas and NEVER wear my underwire ones anymore.
I'm an affiliate for Knix, and when you buy their bras or underwear or clothing I get a percentage. I want to make enough to start paying to transcribe this podcast! And I'm only promoting stuff I absolutely love myself.
Main Segment: We're Celebrating The Great Sex Rescue!
Rebecca and I talk about what delighted us, what surprised us in the last year since The Great Sex Rescue was out, and what we hope for the future (as in we'd love for the book to be obsolete in ten years because all the harmful teachings have been eradicated!).
And I share how the saddest moment for me in 2021 was the publication of Married Sex. Gary Thomas read The Great Sex Rescue a year before it came out, and he read it while he was writing his book.
And he used so many of our phrases and wording (without attribution, by the way), to make him seem healthy. But then the anecdotes and teachings said the opposite. So he'd say that porn is bad, but then he'd tell an encouraging story of a woman who sent nude photos so that "neurologically" her husband would be drawn to her nude body instead of other women's nude bodies. Like really? And he'd say how obligation sex is bad, but then he'd say that sex should feel like a sacrifice, as if you're feeding a newborn baby.
So we felt like we taught him how to sell toxic ideas using "safe" language that dresses it up.
That's why we still have more work to do. Many in the Christian marriage space don't get it yet (in fact, of all the marriage bloggers I used to hang around with and guest post for and vice versa, only Ngina Otiende from Intentional Today gets it. Everybody else is still supporting Love & Respect type teaching).  (See our podcast featuring Ngina!).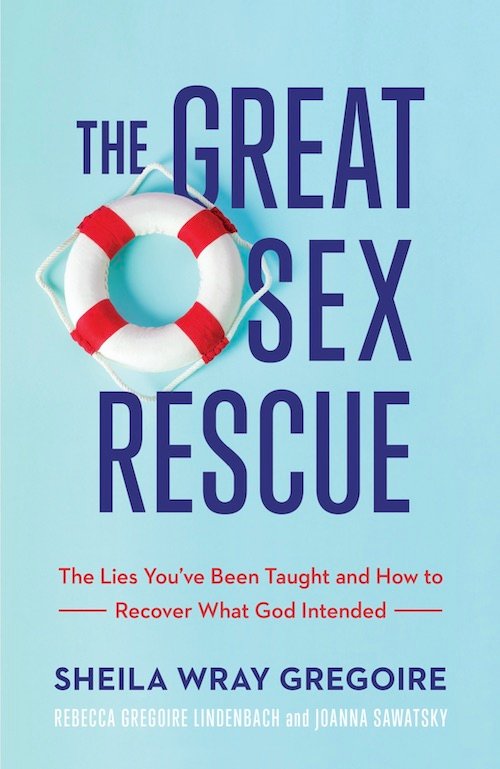 What if you're NOT the problem with your sex life?
What if the messages that you've been taught have messed things up–and what if there's a way to escape these toxic teachings?
It's time for a Great Sex Rescue.
What Can We Do to Fight Sex Trafficking?
Elizabeth Fisher Good is simply an amazing woman. She spent years building up a foundation that helped fight sex trafficking in the United States and helped rescue those trapped, and now she's also turned to creating church curriculum to help churches recognize sex trafficking and stop the underlying messages that contribute to the problem.
She's adamant about defeating shame in the church that makes us push these things underground. I love her passion, and check her out at Free with E!
Things Mentioned in This Podcast:
How can we raise awareness about sex trafficking? And how are you celebrating the one year anniversary of The Great Sex Rescue? What's most encouraging to you? Let's talk in the comments!

Sheila Wray Gregoire
Founder of To Love, Honor and Vacuum
Sheila is determined to help Christians find biblical, healthy, evidence-based help for their marriages. And in doing so, she's turning the evangelical world on its head, challenging many of the toxic teachings, especially in her newest book The Great Sex Rescue. She's an award-winning author of 8 books and a sought-after speaker. With her humorous, no-nonsense approach, Sheila works with her husband Keith and daughter Rebecca to create podcasts and courses to help couples find true intimacy. Plus she knits. All the time. ENTJ, straight 8
It's a new year of podcasts--and Lucy Maud Montgomery joins us for the first one! In her book The...
What's Wrong with Vanilla Sex? Valentine's Day is coming up just around the corner, and that means...
It is not just that the book Love & Respect contains toxic teachings. It is also that the book...