Have we made sex–and marriage–into a "Yes Space" for men?
And if so, how does this affect libido?
It's been a while since Rebecca and I recorded a podcast where we just talked about what we wanted to talk about, rather than having everything all planned out. So welcome to our conversation about something Rebecca's passionate about–yes spaces!
In parenting, a "yes" space means creating an environment for your toddlers where you're not constantly telling them to stop, or saying "no". So you get the dangerous stuff out of reach, you fill the room with all kinds of stuff they're allowed to play with, and then they can explore and you can relax because you're not always saying "no".
What if we've made marriage and sex a "yes space" for men? We've got some funny examples including makeup brushes and testicles, wet towels, and kids who only belong to the mom.
And how does all of that affect women's libido? Listen in!
Or, as always, you can watch on YouTube:
Timeline of the Podcast
0:45 What is a 'Yes' space?
3:20 The 'Yes' space with Christian sex lives
12:10 Our goal should be growth
33:30 Where is the slant in the advice?
40:20 "But isn't this unfair to men?"
43:15 The oral sex debate
51:45 So how are we called to sacrifice?
Let's Talk Yes Spaces!
We cover:
The makeup brush on his testicles advice from Gary Thomas' book Married Sex
The slanted oral sex advice–where it's always pressuring HER to give it to HIM, even though she's far more likely to find orgasm easier through oral sex. (Like to him it's a bonus; to her it's more the main thing).
The idea that "Erica has four children" while her husband Timothy "helps" her
How we can tell if mental load is slanted too far in one direction
More evidence that the debate is slanted in the way Married Sex talks about how we sacrifice with regards to sex: she sacrifices by having more sex she doesn't want; he sacrifices by having as much sex as he wants, but making sure she enjoys it and also talking to her more and helping out a little bit at home
The priority of male orgasm vs. female orgasm in how we talk about what's fair with adventurousness and sex
To explain what we mean by Yes Spaces, let me tell you about the makeup brushes.
This is advice that's given by Gary Thomas in his book Married Sex, which he co-wrote with Debra Fileta (this particular advice is in his chapter). He's explaining how to manually stimulate a man, and in very erotic language he talks about using a silk scarf or makeup brush on the guy's testicles.
Now, we're not against this in the least. But to assume that it's okay to take her makeup brush–which needs to be sanitary in order not to spread a staph infection, and can be quite expensive–and just use it on his testicles is a little much. It shows that he thinks anything she owns is fair game for his sexual pleasure.
If he had said, "head to the dollar store and buy some cheap brushes and have some fun!" that would be great. But to not even think about how that advice will affect women shows that women's perspectives and experiences aren't being considered. And why use her silk scarf on his testicles instead of his silk pocket square or silk tie? Again, nothing wrong with using her silk scarf. But remember that some are expensive and require dry cleaning!
We just laughed at this in the book, and explained how we see this throughout so many books.
And then we ask: Can we change this?
This month we'll be looking at what kills women's libido. And we wanted to have a fun conversation where we just rant about some stuff that's been bothering us to get the ball rolling!
The Orgasm Course is Here to Help You Experience Real Passion!
Figure out what's holding you back. Open the floodgates to orgasm.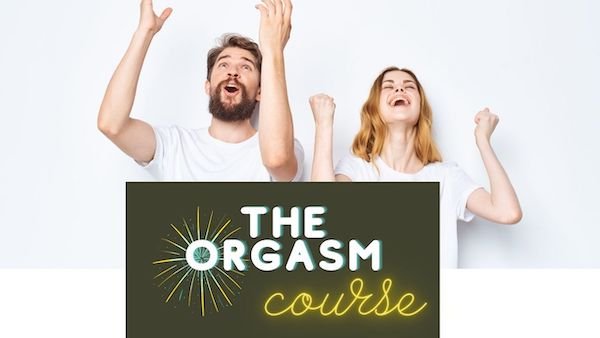 Things Mentioned in This Podcast:
I truly think we can change this "yes" space idea just by talking about this more. What do you think? Do you have hope? Have you seen this phenomenon? Let's talk in the comments!

Sheila Wray Gregoire
Founder of To Love, Honor and Vacuum
Sheila is determined to help Christians find biblical, healthy, evidence-based help for their marriages. And in doing so, she's turning the evangelical world on its head, challenging many of the toxic teachings, especially in her newest book The Great Sex Rescue. She's an award-winning author of 8 books and a sought-after speaker. With her humorous, no-nonsense approach, Sheila works with her husband Keith and daughter Rebecca to create podcasts and courses to help couples find true intimacy. Plus she knits. All the time. ENTJ, straight 8
It's a new year of podcasts--and Lucy Maud Montgomery joins us for the first one! In her book The...
What's Wrong with Vanilla Sex? Valentine's Day is coming up just around the corner, and that means...
It is not just that the book Love & Respect contains toxic teachings. It is also that the book...