Do you have to have sex with your husband whenever he wants it?
In our survey of 20,000 women, the results of which are out in our new book The Great Sex Rescue, which launches March 2, a full 43% of Christian women report being taught this as they were growing up–and almost all of those women believed that before they were married.
What does this "obligation sex" message do to women's sex lives? And is this an accurate picture of how God made sex–that one person owes sex to the other on demand? 
Or, of course, you can watch on YouTube!
Timeline of the Podcast
1:00 What does research say about the 'Obligation Sex' message?
7:35 The difference between biblical sex and duty sex
11:05 Why frequency isn't the problem, and why we have authority of OUR OWN bodies
18:35 RQ: "Do I owe my husband Valentine's Day sex?", with guest Andrew Bauman
27:37 RQ: "My husband wants it TOO much!", + a discussion on consent
35:50 Benjamin Young joins us for a grea discussion on consent and marriage
51:10 Join 'The Great Sex Rescue' launch team!
52:30 Sheila shares her personal story of how the obligation message hurt her
Main Segment: Obligation Sex Isn't Sexy
The idea that "a woman is obligated to give her husband sex whenever he wants it" has hurt sex and marriage. It causes orgasm rates to drop, but perhaps most importantly, it causes sexual pain rates to skyrocket (I talked about this before in my post on how The Body Keeps the Score). Our bodies actually interpret the obligation sex message as trauma.
In today's podcast we explore why talking about sex as if it's something that women owe men sets us up for terrible sex lives, and destroys intimacy.
If she can't freely say no, she'll never be able to freely say yes. And passion requires that she's freely saying yes!
Our Guests: Andrew Bauman and Benjamin Young
We talked with counselor Andrew Bauman, who has been on the podcast before, about why we shouldn't talk about Valentine's Day sex as something that she "owes" him just because he bought her flowers or took him to dinner (despite what some other blogs may say). And then I invited Benjamin Young on to talk about an epic Twitter thread where he was talking about consent!
My Story: The Act of Marriage & the Obligation Sex Message
At the end of the podcast I shared how reading The Act of Marriage before my wedding really wrecked my honeymoon–and the first few years of my marriage. I never realized exactly how or why until we did the survey and we found so many women with almost identical stories. I had been so excited about sex until the obligation sex message changed everything for me. And that made the chances of vaginismus that much greater (so my own issues were hardly surprising).
Obviously I got to the other side, but I hope we can stop framing sex in this way, so that no other women have to go through what I did.
God made sex to be an intimate knowing between two people, which means that both people matter.
Sex can never be something that one person owes another; sex should be an intimate, life-giving thing. In The Great Sex Rescue, we show how far too often sex has been depicted as something really ugly for women–and it shouldn't be that way! We can do better.
(And we're loving the reviews that are coming in from Goodreads from our launch team, who sent in their receipts so they could read it early!)
"A groundbreaking look into what true, sacred biblical sexuality is intended to be. A must-read." - Rachael Denhollander
What if you're NOT the problem with your sex life?
What if the messages that you've been taught have messed things up--and what if there's a way to escape these toxic teachings?
It's time for a Great Sex Rescue.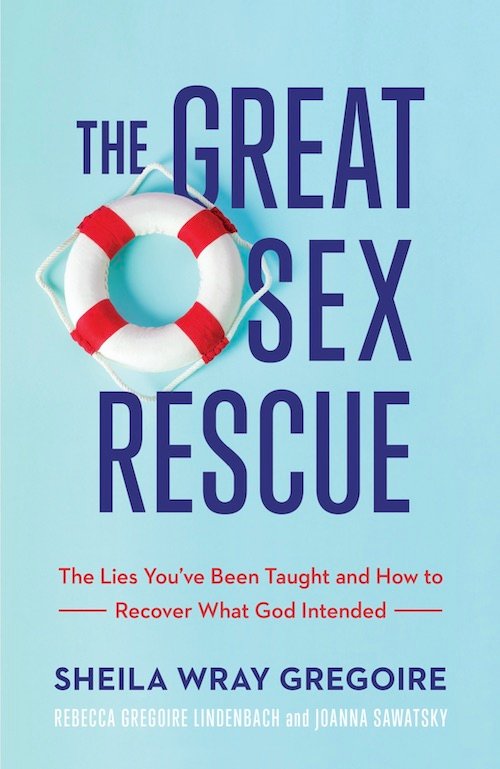 The Obligation Sex Debunking Posts
Some posts that have also dealt with obligation sex and coercion
5 Steps to Get Over the Obligation Sex Message
And check out The Great Sex Rescue–with two chapters looking at where the obligation sex message has been taught, what our survey of 20,000 women told us about how it affected us, and what we should teach instead.
Things Mentioned in This Podcast: