Can we have a church with a goodness culture?
This week on the podcast Scot McKnight and Laura Barringer, father-daughter duo co-authors of A Church Called Tov, joined Rebecca and me to talk about what it means to create a healthy church rather than a toxic church.
Given all the work I've been doing with The Great Sex Rescue trying to address toxic teachings, I was so excited to have them on the podcast!
Or, as always, you can watch on YouTube:
Timeline of the Podcast
0:36 Scot & Laura join us!
2:05 Experiencing the Willow Creek/Bill Hybels scandal
5:30 Signs of Toxic Church Cultures
13:30 The concerning misuse of Matthew 18 in churches
28:15 How to foster a 'goodness' church culture instead
36:05 How it was to work together as father/daughter!
40:00 RQs w/ Keith!
49:30 Encouragement from a new listener!
Main Segment: What Makes a Church "Tov"?
We looked at 7 marks of toxic churches; why church leaders often preserve reputations rather than dealing with the issues; what we should be doing, and more!
Plus Scot McKnight helped us immensely by talking about what Matthew 18 really means! I often get accused of critiquing authors in the "wrong" way because I should have gone to the authors in private first. Here Scot McKnight shows how that perspective doesn't apply at all, and is an incorrect reading of the verse. I really appreciate that!
Reader Questions: How do we confront our pastors when we think books he recommends are toxic?
Keith and I then tackled two reader questions, both along the lines of this one:
I'm a youth pastor. I've sped through just about every podcast since my wife introduced me to it. We are working together to introduce healthier resources, more productive conversation, and better information to our teens and youth leaders. We have had very deep and in depth conversations about redefining sex, viewing people as people made in God's image and not objects, etc…with youth leaders. And then our men's ministry has an event and the speaker "strongly recommends" every man's battle, talk about men not being able to control themselves and men being more visual than a woman will ever understand. And I am just sick. I need help knowing as a youth pastor (have a voice and part in church direction, but low man on the totem pole for the most part) how to encourage and promote change and growth. I'm frustrated and frankly, disgusted. 
The Great Sex Rescue
Now Available!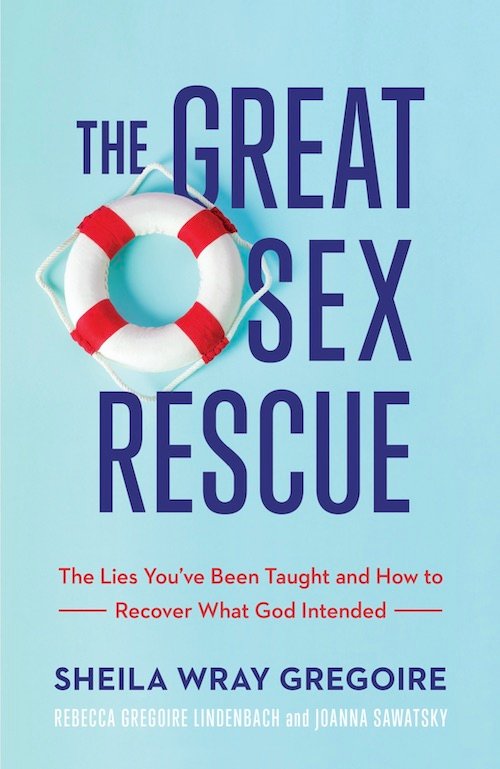 What if you're NOT the problem with your sex life?
What if the things that you've been taught have messed things up–and what if there's a way to escape these messages?
Welcome to the Great Sex Rescue.
Things Mentioned in This Podcast:
What do you think? Have you found a Tov church? Let's talk about it!
Sheila Wray Gregoire
Founder of To Love, Honor and Vacuum
Sheila is determined to help Christians find biblical, healthy, evidence-based help for their marriages. And in doing so, she's turning the evangelical world on its head, challenging many of the toxic teachings, especially in her newest book The Great Sex Rescue. She's an award-winning author of 8 books and a sought-after speaker. With her humorous, no-nonsense approach, Sheila works with her husband Keith and daughter Rebecca to create podcasts and courses to help couples find true intimacy. Plus she knits. All the time. ENTJ, straight 8
Love and Respect by Emerson Eggerichs is a best-selling, but problematic, book. Love & Respect...
When my eldest was thirteen months old, my parenting research brought me across the concept of a...
Emerson Eggerichs does not handle Scripture appropriately in Love & Respect.  So many people...