How can you tell if a book, website, or even a church is healthy when it comes to sex teaching, or harmful?
My inbox fills up with people asking me what I think of this book, or what I think of that book. And chances are I haven't read it! I don't have time to read everything.
But I understand why people are asking. As we've been talking so much over the last few years about how many evangelical books actually spread messages about sex that are harmful, people want to make sure they avoid them.
Today I want to give you a tool that will help you uncover whether a resource is healthy or unhealthy when it comes to sex.
I ran a version of this post back in February, but we've got the scorecard and rubric live for everyone now, so I wanted to run it again!
Our book The Great Sex Rescue is based on four different types of research:
Our survey of 20,000 women
Follow-up intensive interviews and focus groups
A look at peer-reviewed research in the field
A review of our top evangelical best-selling books on marriage & sex and seeing what messages they give
The hypothesis that we were testing with our survey was, "Are there teachings that are common in evangelical circles that hurt women's sexual and marital satisfaction?" So we asked  ton of questions about women's marriages and sex lives, and then asked if they had been taught, or if they believed or had believed, a wide variety of messages.
From that, we were able to identify which messages were really toxic!
Then we combined that with data from other studies, and we now had a picture of what healthy teaching about sex looked like.
So we created a 12-question rubric–a scorecard, so to speak–of healthy teaching when it comes to sex.
Here are the questions that we used:
12-Point Rubric on Healthy Sexuality
Infidelity and Lust:
1. Does the book acknowledge that the blame for a husband's affair or porn use lies at the feet of the husband, or does it, at least in part, blame the wife?
2. Does the book acknowledge that porn use must be dealt with before a healthy sexual relationship can be built while acknowledging that very few porn habits begun in the internet age are caused by a wife's refusal to have sex, or does it suggest that the remedy to a porn habit is more frequent sexual activity?
3. Does the book acknowledge the effect of pornography on men's self-perception, sex drives, and sexual function, or does it ignore porn's harm to marriages?
4. Does the book frame lust as something both spouses may struggle with, even if men tend to struggle more, or does it state that since all men struggle with lust, it can't be defeated, and the only way to combat lust is for wives to have sex more and women to dress modestly?
Pleasure and Libido:
5. Does the book acknowledge women's orgasm and women's enjoyment of the physical aspects of sex, or does it imply that most or all women do not enjoy sex?
6. Does the book frame sex as something a woman will anticipate and look forward to, or does it frame sex as something she will tend to dread?
7. Does the book describe men's sexual appetite as healthy but also containable and controllable, or are men's sexual needs portrayed as ravenous, insatiable, and constant?
8. Does the book acknowledge that in a large minority of marriages, the wife has a higher libido than her husband, or does it oversimplify, implying that virtually all husbands have higher libidos than their wives?
Mutuality:
9. Does the book explain that sex has many purposes, including intimacy, closeness, fun, and physical pleasure for both, or does it portray sex as being primarily about fulfilling his physical need?
10. Does the book stress personal appearance and hygiene equally for both parties, or is far more expected from wives than from husbands, and is it implied that if she does not maintain a level of attractiveness, he may have an affair?
11. Does the book discuss the importance of foreplay and a husband's role in his wife's pleasure, or does the book ignore a husband's responsibility to help his wife feel pleasure?
12. Does the book include reasons why a woman may legitimately say, "Not tonight, honey," and discuss the concept of marital rape, or does the book say that a woman refusing sex is a sin or fail to recognize rape within its anecdotes?
That's our starting point. But then what do you do with those questions?
Well, we also created a scoring sheet that helps you score each of the 12 measures on a scale of 0-4.
We've got that scoring sheet, plus the scorecard of how all the books rated, available as a free download!
Get your rubric and scorecard now!
The rubric is available as a .pdf download, and the scorecard of 14 books (and counting) is a live Google sheet that we'll be updating frequently (we hope!).
Want to know how Love & Respect scored? His Needs, Her Needs? The Act of Marriage? Sheet Music? Find out which resources scored the worst, and which ones scored the best (and there were some really good ones!).
And as you're looking at the rubric and the scorecard, just a reminder that, even after being warned, Focus on the Family called Love & Respect a "biblically sound and empowering message for wives." Check out my statement in response to theirs–their statement is linked in it. 
The scorecard and complete scoring sheet aren't even in the book–so these are genuine extras you won't get there, but we want to make available. And they're just fascinating to look through.
Our goal is that people will be empowered to look at resources with a discerning eye.
By showing you what healthy and unhealthy look like, hopefully people will be able to judge marriage books and sex books for themselves. And if a book doesn't get a "healthy" rating, then you shouldn't be using it or recommending it or studying it in a group study. (And, again, several did get healthy ratings!).
---
You may also enjoy:
---
The Great Sex Rescue
Changing the conversation about sex & marriage in the evangelical church.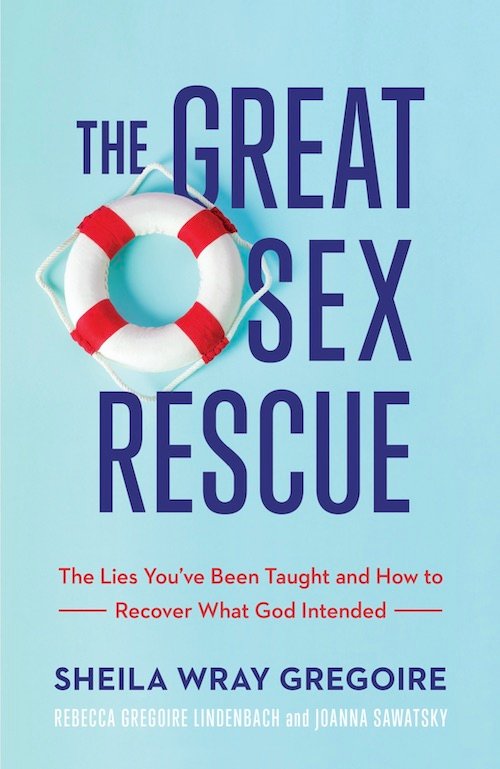 What if you're NOT the problem with your sex life?
What if the things that you've been taught have messed things up–and what if there's a way to escape these messages?
Welcome to the Great Sex Rescue.
Who should use this rubric?
Anyone who wants to make sure the stuff they're reading and recommending is healthy! But here's how we're hoping it will be used:
Church librarians will laminate and post the rubric so people can be made aware of what healthy teaching looks like
Women's Bible study leaders won't suggest a book to study before looking at whether it's healthy or not
Pastors will use the rubric to vet the materials they recommend
Counselors will use the rubric not only to vet materials, but also to teach those they counsel how to identify harmful/helpful messages
Youth group leaders will make sure the messages they spread are healthy, like we talked about Monday on our post on how to ensure youth groups talk about sex in a healthy way
Marriage teachers/speakers will make sure their messages line up with what's healthy
Regular people will use the rubric to be discerning about the books they study and recommend, and to help identify where they've been believing harmful messages, too.
Let's all get in the habit of being discerning, and asking: "does this book actually treat women's sexuality in a healthy way?"
Here's how the scorecard works:
When we were offering the scorecard as a pre-order bonus, we made it a .pdf download. We've decided that we'd rather just let you see our live Google sheet, where we can make changes and add new books. So consider this a work in progress! We're hoping to add more books as we read them as well.
We also added quotes from the books so that you can see why we scored the books on each of the 12 points the way that we did, and so that you can go back and check for yourself.
In general, what I've found is that books that are heavily gendered (talking about how men are one way and women are another) scored quite poorly, while books that allow for nuance and for a wide range of experiences tend to do better. So that's a good thing to look out for when you buy books in the future! Do they pigeonhole people, or do they acknowledge that there is a wide range of "normal"?
Church, it's okay to demand better.
It's okay to ask publishers and authors to teach about sex well, in a way that doesn't harm.
This is a deeper invitation to do this better. This is a call for health. Jesus came so that we may have life to the full. He wants abundance for us. So there is absolutely no reason, and  no excuse, for resources that claim his name to end up stealing great sex from couples. It's time to demand more.
It's time to change the conversation.
I hope this rubric can be one tiny step towards that goal!
Sheila Wray Gregoire
Founder of To Love, Honor and Vacuum
Sheila is determined to help Christians find biblical, healthy, evidence-based help for their marriages. And in doing so, she's turning the evangelical world on its head, challenging many of the toxic teachings, especially in her newest book The Great Sex Rescue. She's an award-winning author of 8 books and a sought-after speaker. With her humorous, no-nonsense approach, Sheila works with her husband Keith and daughter Rebecca to create podcasts and courses to help couples find true intimacy. Plus she knits. All the time. ENTJ, straight 8
Dads shouldn't need their adult daughters to give them adulation and affection. That's called...
Let's talk about the echoes of menstruation. Yesterday on the podcast, we were discussing how...
This has been a week of great thrills and great disappointments. Thankfully, the thrills were...