Every week I try to create awesome content for you all on the blog and the podcast–and even my social media! But I've got to tell you–some of the best content coming out of Bare Marriage is our Friday email that goes out to 46,000 people every week.
And I don't write the copy. Rebecca does.
The Friday emails have the round-up on all the posts that dropped that week, including which ones were talked about the most. But then Rebecca expands on something that she and I have been talking about. 
 So many people open the emails to see what she has to say (since she started writing them, my open rate has skyrocketed!)
And I wanted to share a recent one with you. Remember—you can sign up for our emails, too!
Why are so many women willing to use birth control that makes them feel horrible because their husbands just don't like how condoms feel?
This is the question I (Rebecca) talked about in a recent podcast and I thought I'd expand upon it today in the newsletter. 
Now, here's something I want to make clear: this is not an "anti-the-pill" article. Not at all, and we'll talk about how the pill can actually seriously HELP marriages if it's a good fit!
But I want to go through this common scenario with you. 
Wife wants to go off the pill. It's messing with her libido so she never wants sex, she can't really get lubricated anymore, and she's just not feeling herself. She thinks it might be due to the pill so she asks him to start using condoms so she can go off it.  He says he doesn't want to wear condoms because it makes sex not feel as good, so she should just stay on the pill. 
But why is that an acceptable solution? 
She's taking a birth control that is impairing her so much that she actively does not want sex anymore. Loss of libido is a common side effect of the birth control pill, as are changes in mood and difficulty with arousal. He is refusing to wear a condom because it may decrease his pleasure–but not to the point that he can't orgasm. 
Not to the point that he doesn't want sex at all. 
Not to the point that he would actively choose to not have sex rather than have sex with a condom on. 
No, it's just inconvenient.
What I see so often is the conflation of "impairment" and "inconvenient," but with a gender swap. For men, we so often label "inconvenient" as "impairment." He can't have sex with a condom because it wouldn't feel as good. But that's not actually true–he totally can, it won't really affect his sex drive, he's just being inconvenienced. 
But then we tell the woman on the pill that's making her feel depressed and completely bottomed out her libido that she needs to overcome this small hurdle and not elevate her own experience over her husband's. But it's not about just "experience." She's being impaired, this is not merely inconvenient.
But we call things that impair women inconvenient, and things that inconvenience men impairments. 
Why? I think it's because we actually don't expect women to enjoy sex, while men are expected to be sexual beings, so an impairment to her is seen as less bad as an inconvenience to him. And to that I say… well, a lot of choice words. 
Many conversations about sexuality and marriage in the church talk about "serving" your spouse. But what if that mentality actually backfires while we still have a male pleasure bias? Of course we should each serve each other! Absolutely! If we have a "tit for tat" mentality, frankly, we can get petty really quickly. 
But if we get rid of all ideas of equity and justice, that can get ugly, too. 
I think we need to get back to the actual idea of mutual submission, the idea that neither of us is more important than the other, but also that both of us are called to goodness, holiness, and justice as we walk in Christ. 
So what does that mean? 
"A groundbreaking look into what true, sacred biblical sexuality is intended to be. A must-read." - Rachael Denhollander
What if you're NOT the problem with your sex life?
What if the messages that you've been taught have messed things up--and what if there's a way to escape these toxic teachings?
It's time for a Great Sex Rescue.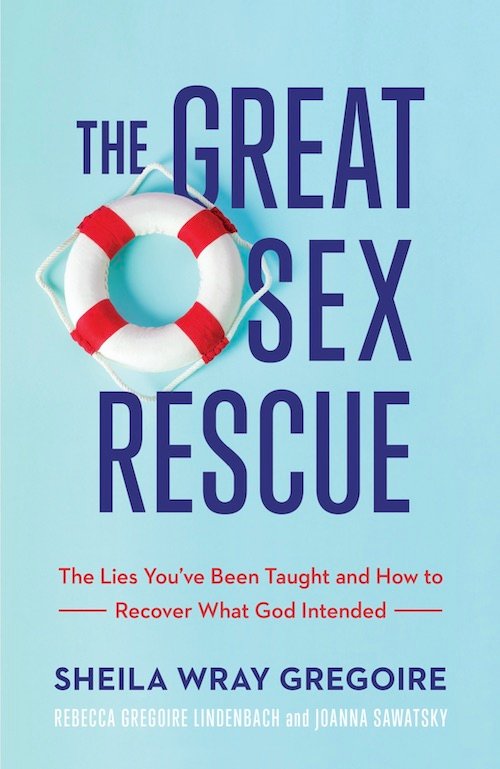 It means we stop seeing it as "husband vs. wife" and start seeing it as "husband and wife optimizing the relationship together." 
Let's go back to birth control here. A woman taking a medication she does not want to take, that is making her feel ill, killing her libido, and is yet another daily mental checklist task for her to keep track of no longer wants sex.
Sex feels like a chore, and she hates that because she loves her husband and wants to love sex but she's just so TIRED and just so DONE with it because it's horrible to keep having to push yourself to have sex you don't want and your body won't respond to. 
If she has a maximum "pleasure" score of 100, she's like at a 37 right now. She's depressed, exhausted, and her sex drive has evaporated plus she finds it stressful to remember to take the pill every day at the same time and she worries every time she is a day late for her period that she messed up at some point and it didn't work.
For her, this is not a viable option. But her husband is having sex he loves. It feels good for him, except that he hates that his wife doesn't seem to really like it that much. So he's at like a 92/100.
Combined, they're at a 129/200. 
What happens if she goes off the pill and he uses a condom instead? Well, if her problems are caused by the pill then she's going to have an increase in libido, her moods are going to feel better, she'll have less stress that she'll get pregnant without wanting to, and over time sex will likely get much easier. Maybe she ends up at around an 86/100. 
And he's wearing a condom now, so he's finding that sex doesn't feel "as good" for him. But it doesn't do what the pill did for his wife and make him completely lose his libido entirely. He doesn't dread sex.
It's just a dampened experience (again, inconvenience versus impairment). So he's like at an 79 maybe, assuming that the condom makes sex WAY worse (which, frankly, I find difficult to believe. I think likely it would only drop a few points, we are really stretching here to believe that the condom is truly a penis house of horrors).
Become a part of the movement
Join 40,00 others and let's change the evangelical conversation about sex
But overall, they're still doing way better as a couple.
Overall, they're at a 165/200. They actually HAVE a sex life that both of them enjoy. No one is feeling pressured or obligated to have duty sex. They both actually have a libido again. He's not scared she's going to just choose one day that she's done with sex because she actually enjoys it, so why would she? Both of them are getting well over a "passing grade" for enjoyment. 
And if you're a couple where she has endometriosis, then the pill may skyrocket that score, too! Her cramps get better, the pill would mediate a ton of horrible symptoms, and it may even improve their sex life as a result. Or you could be a couple where the woman doesn't really have many side effects from the pill but she really enjoys the freedom of being able to plan a period around when you have big romantic getaways, and both of you enjoy getting to have sex without any barriers. 
So no one is saying what any couple should or should not do in terms of birth control, I could not care less, truly.
My only concern is that we do not allow women's impairment to be an acceptable substitute for male inconvenience.
It's not that either person matters more than the other. But neither person matters less than the other, either. 
Even the wife.
What do you think? Does she have a point about impairment vs. inconvenience? Let's talk in the comments!