Can I just be super excited–like super-jumping-up-and-down excited, today?
I have something really fun to share with you all, and I've been trying to figure out how to share it, because it really can't be a post, in and of itself.
But I couldn't wait anymore, and so I decided to combine it with a bunch of other things I have to share with you and just make a newsy, breezy post.
And there are some affiliate links below!
So here it is.
Are you ready?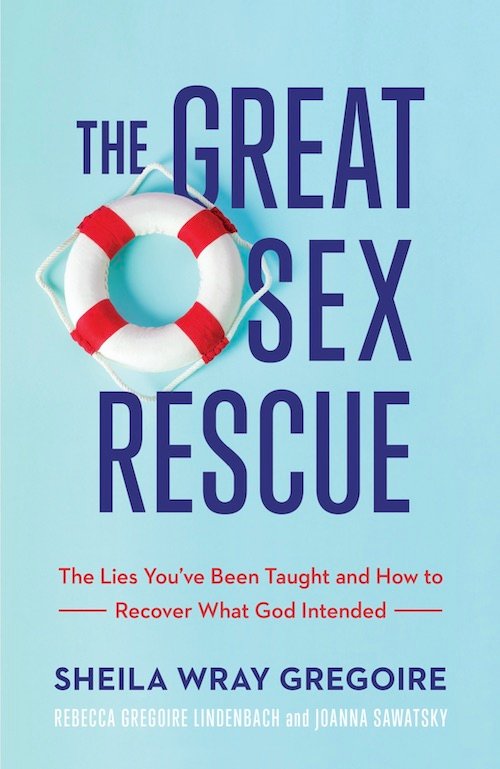 THIS is what has been taking most of our time in the last year. So many of you participated in our survey of 20,000 Christian women–and so many of you helped me recruit even more people to take the survey!
And THIS is the book I've always wanted to write–all the teachings and beliefs that have wrecked sex for couples, and how we can reclaim what God intended.
You'll read it and it will be like a breath of fresh air, a validation, a relief. You'll see that you're not alone, that the reason that sex has been difficult for you is rooted in what we've been taught. And also–that you don't need to stay stuck!
And you want to know something else I just discovered?
It's coming out in hardcover, too!
Along with the normal paperback, kindle version, and audio version (that I get to narrate!), they're also releasing a hardcover version. That means the publisher really believes in this book.
And you can pre-order it now and you're guaranteed to get the lowest price. When you pre-order, you really help me. The more pre-orders there are, the more Amazon will stock it and the more bookstores will see that Amazon is buying it, and then they will stock it, too.
And today is Amazon Prime Day, so it's a great day to shop!
So many deals are available, so while you pick some of them up–pre-order The Great Sex Rescue, too! (And let me know that you did in the comments, too!)
Today's a great day to get ANY of my books from Amazon, when you're also shopping the deals: 
While you're at Amazon, pick up the two parenting books we've been talking about on our podcasts!
People often ask us for recommendations for books that we recommend, and we do have a hard time giving them because we've spent so much time the last year looking at the best-selling resources that were actually HARMFUL (and we included why in The Great Sex Rescue). I'm looking forward to finding healthy books, especially by authors who aren't as well-known, to start recommending.
But the two parenting ones that we talk about again and again are Discipline that Connects with Your Child's Heart, an amazing book that focused on what godly discipline is, rather than punishment, and Rebecca's book Why I Didn't Rebel, in which she interviewed a ton  of millennials to find out commonalities that had some leaving the faith and some sticking with it. It's a book full of stories that will resonate, and show you how some of the things you assumed were necessary actually work directly against kids developing their own relationships with God.
Here they are–and again, today's a great day to pick things up on Amazon!
And, hey, if you already have all my books, or you're just going shopping at Amazon for Prime Day–when there are TONS of specials–remember to use my link to help support the blog! 
Going shopping?
Use my link to support this blog!
Can you pretty please follow me on Instagram?
I'd really like to grow my Instagram following, because once I get to 10,000 followers it's easier for me to add links to my stories. So I've made it my goal that I want to get to 10,000 followers by the time The Great Sex Rescue launches, so that I can get the word out about what healthy teaching on sex in marriage looks like. I'm about 58% of the way there. So can you follow me?  I do post about my blog & podcasts, but I also put lots of personal stuff in, like this:
Thank you!
Over 300 of you have downloaded the Intimately Us "fun and sexy" app!
That's awesome! I talked about Intimately Us in a post earlier this month, and how it helps you spice things up, try new things, but especially helps you discover each other's preferences (and even discover your own). It's really all about growing intimacy.
Well, in the comments yesterday I was talking to Trevor about it, and told him that my take was that what made this app stand out was the emphasis on discovery. He downloaded it, and wrote back:
After downloading it and paying the one-time payment yesterday, I have to say I'm really impressed it with it. We went through all of the questions and love the interface between devices. We haven't gotten into everything yet, but I would have to agree that it's much more comprehensive and focused on getting to know each other. I'm quite impressed and love the variety that has been implemented into this new app. Thank you for sharing it.
It really is a great app–if you haven't downloaded it yet, check it out.
Finally, can I just ask for prayer for dizziness? 
I've been suffering for the last three weeks with Benign paroxysmal positional vertigo (BPPV). It's caused by a build-up of calcium on the follicles of the inner ear, which make you INCREDIBLY dizzy, feeling as if the whole room is spinning. I've had it worse than a lot of people get it, I think. I have done the exercises they recommend, and it has helped. But it hasn't completely resolved, and it got worse again this week after getting better for a bit.
It means I can't work for very long every day, and I'm trying to finish up the filming for our Orgasm Course. I'm spending longer at Katie's filming than I anticipated because we're trying to go slowly. 
But it's very hard to sleep, because it's often worse at night. So if you could say a prayer for me, that would be great. This is relatively harmless. It isn't going to kill me, and it doesn't mean anything's really life-threateningly wrong. But it's very hard to live with, and I'm afraid I'll never be able to do yoga again (which I love). I'd just like the room to stop spinning!
Incidentally, we do have a prayer email that we send out periodically, because we need a LOT of prayer, especially as the new book launches. We're going to get a lot of pushback. So if you're interested in being a part of that, just sign up! I'd so appreciate it. 
Sheila Wray Gregoire
Founder of Bare Marriage
Sheila is determined to help Christians find biblical, healthy, evidence-based help for their marriages. And in doing so, she's turning the evangelical world on its head, challenging many of the toxic teachings, especially in her newest book The Great Sex Rescue. She's an award-winning author of 8 books and a sought-after speaker. With her humorous, no-nonsense approach, Sheila works with her husband Keith and daughter Rebecca to create podcasts and courses to help couples find true intimacy. Plus she knits. All the time. ENTJ, straight 8
Dads shouldn't need their adult daughters to give them adulation and affection. That's called...
Let's talk about the echoes of menstruation. Yesterday on the podcast, we were discussing how...
This has been a week of great thrills and great disappointments. Thankfully, the thrills were...