Quitting porn needs to be something that changes you–not just something that allows you to avoid what you find really enticing.
Last week on the podcast we were talking about how women are not methadone for their husbands' sin addictions. They can't just have sex with wives and then think that the porn addiction will go away.
First, that teaching dehumanizes women, treating us like objects (and second class ones at that; we're a dismal substitute for what men really want).
But second, it doesn't even work. We know from our survey and others that having sex with your wife does not stop a man from wanting to see porn. And, in fact, many times watching porn causes men to stop wanting to have sex with their wives!
So wives putting out more cannot be the solution to porn addiction.
Our guest, Michael John Cusick, summed this up so well that I want to take a minute and reiterate some of what he said.
Quoting Dallas Willard, he said: "We need more than a gospel of sin avoidance."
I'm going to paraphrase Michael here, but his main message was this:
Jesus doesn't just save us. He heals us. He binds up our wounds. Jesus' first sermon was to bind up broken hearts and set captives free.
We tend to see the gospel as: "Jesus died for my sins, I ask Him into my life, and then I try to be a good person until I go to heaven."
But that's not the gospel! The real gospel is about  transformation and restoration; that I'm made whole so that my cup overflows into the world and the kingdom comes.
If the gospel can't address porn, let's go home.
Most Christians are caught between ceaseless striving and indulging brokenness, but the restorative gospel of Jesus is a third way, that makes us free through restoration and transformation.
We need to stop focusing on sobriety–get men to stop sinning. The goal is not sobriety. That's the doorway. The goal is freedom and healing.
And freedom is not the ability to do whatever we want, but the ability to do what we most need to do.
We are looking for freedom and restoration and transformation when it comes to porn use, not just striving to stop watching porn.
And what so many men (and female porn users) need is to have a real transformation with how they see intimacy. With porn use, often men's negative emotions are channelled into porn. Bored? Watch porn. Frustrated and angry? Watch porn, It will make you feel better; more in control. It will give you that rush. Stressed? Watch porn. It will help you forget and help you escape. Lonely? Watch porn. It will make you feel that rush of hormones, and also make you feel like somebody wants you.
Now, let's back up a minute. Do you remember a while ago I shared about the five levels of communication–cliches, facts, opinions, feelings, and needs/fears/dreams? Well, we get more vulnerable as we move down that chain. 
Many couples never get beyond opinions, only rarely sharing feelings, and even more rarely sharing needs or fears. 
The problem with porn is that many men have taken those needs and fears and transferred them to porn. 
This means the very basis for real intimacy has been stripped out of the marriage, and has been directed towards pornography. Many men (and female porn users as well) have ended up short-circuiting their own ability to enjoy intimacy because it's all been transferred to pornography, and they have no experience becoming vulnerable with anyone.
They don't know how to bond or form attachments in the same way because the very impetus for that bonding–the very thing we share as we grow intimate–has been triggers for porn use rather than bonding with the wife.
Then what's happened? When they're stressed at work, worried about money–conversations that in a healthy marriage would cause a couple to bond closer together and be there for each other–the porn user has often just gotten grumpy and prickly and angry because the stress makes them really "need" to watch porn, but the wife's presence or the kids' presence makes that too difficult.
So these moments that could be bonding moments instead are moments when he just pushes her farther away.
Quitting porn without learning how to become intimate will not fix a relationship.
That's what Michael Cusick was talking about! We need a gospel of transformation, that changes a porn user from the inside out and helps them heal and become vulnerable again. Helps them so they don't have to hide.
Just this morning I woke up to yet another comment from the wife of a porn user (I usually wake up to several comments on various older posts, every single day). She writes:
How do I forgive when my husband had no intention of confessing? I found out and he stopped the porn use but he said he planned to do it forever until I found it. Now he feels like a new man but I'm devastated and don't feel I will ever trust him again. He planned to deceive me for the rest of our marriage.
Exactly. You can't move on until the porn user has shown that they're committed not just to quitting porn, but to addressing the underlying intimacy issues. 
That's why simply vowing that he'll never do it again and he'll try harder isn't enough. How does the wife know anything has changed? If he's still not sharing emotions with her; if he's still acting distant; how does she know?
She needs to feel close to him. She needs him to be vulnerable and real with her.
She needs him to be restored and whole. 
That's what Jesus does. Jesus binds up our infirmities. He carries our sorrows, our hurts, the things that made us run away from real intimacy in the first place. 
On the cross, He shows us that the most powerful One in the universe allowed Himself to be hurt for our sake–not only so that our sins would be forgiven, but to show that sacrifice and vulnerability are the key to the kingdom of God. That it's not about bravado and false fronts and pretending to have it all together. It's about humbling yourself. 
And then He gives us the power of the Holy Spirit to make this real in our lives. 
Just saying you'll quit porn is not enough. 
Phil, one of our long-time commenters, has been drilling down on this in the comments for years, and I so appreciate his tenacity. When he quit, he also needed help. He needed a recovery group. He needed to address his own issues. He needed to understand what real intimacy looked like, and to be able to open up to his wife. 
So many women are shattered because their husbands have promised change, and then told the wives that they should accept that on faith, but nothing is changing in the way they relate to their wives. They don't open up. They're still angry. They're still distant.
The gospel must be more than just sin avoidance.
That's why Every Man's Battle doesn't work. That's why we need a bigger conversation about this. We need to see both how big God is, and how vulnerable Jesus allowed Himself to be.
And then we need to let that change our lives. 
---
This is the conversation we want to start with The Great Sex Rescue. 
Our book launches in just three weeks now, and the 400 people on our launch team have been incredible and so encouraging! If you've pre-ordered, you can join the launch team and get access to the book right away. Just send me your receipt (the details are lower down on this page) and you'll get an invite to the Facebook Group. We've already done two Facebook Lives with more to come!
Here's just a little bit about what they've told us so far:
I'm about 4 chapters in and soaking in everything I'm reading. This book reads like a best friend over coffee and I don't want the conversation to end. Thank you for meeting women where they are. I'm carving time out of my day to sit and read!
We just want to help change the conversation in the evangelical world.
Our resources have treated women as the solution to men's porn addictions–or else they've told men they just need to try harder. 
Those aren't the solutions. 
Let's get back to the real gospel of Jesus. 
The Great Sex Rescue
Launches March 2!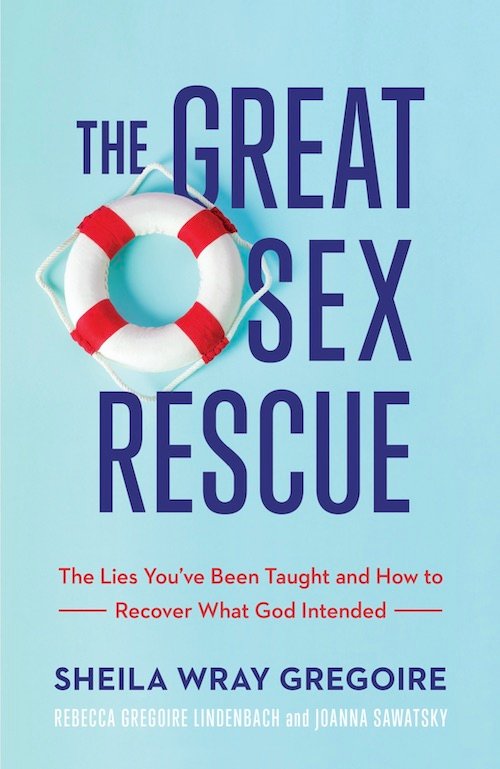 What if you're NOT the problem with your sex life?
What if the things that you've been taught have messed things up–and what if there's a way to escape these messages?
Welcome to the Great Sex Rescue.
Pre-Order Now! (Helps us out a ton)
And if you email your receipt, we'll send you a special pre-order BONUS
If porn is the story of your marriage, know that we are so, so sorry.
We've seen so many people struggle with this–and so many female porn users struggle as well.
But please know that the gospel is big enough to help you through this. But it won't help if you only focus on stopping watching porn.
It will only help if you allow Jesus into those deep recesses where you're scared to go.
Vulnerability and intimacy are the real transforming power, and they come through the healing work of the One who binds up all our wounds.
If you're having trouble, please seek a licensed counselor who knows about sex addictions and betrayal trauma, because there is a way through.
---
You may also enjoy:
Sheila Wray Gregoire
Founder of Bare Marriage
Sheila is determined to help Christians find biblical, healthy, evidence-based help for their marriages. And in doing so, she's turning the evangelical world on its head, challenging many of the toxic teachings, especially in her newest book The Great Sex Rescue. She's an award-winning author of 8 books and a sought-after speaker. With her humorous, no-nonsense approach, Sheila works with her husband Keith and daughter Rebecca to create podcasts and courses to help couples find true intimacy. Plus she knits. All the time. ENTJ, straight 8
Christian leaders should not be trying to convince women to send nude photos. This doesn't seem...
Every Young Man's Battle is the only book I ever reviewed that made me weep. Perhaps it's because...
Please hear me on this: Not all men have lust problems. In fact, while it may be common, it is not...