You cannot defeat porn by becoming methadone for your husband's porn addiction. 
And yet that's exactly what Every Man's Battle tells women to do!
"Your wife can be a methadone-like fix when your temperature is rising."
"Once he tells you he's going cold turkey, be like a merciful vial of methadone for him."
On today's podcast we're going to look at how prevalent the idea that "women should have sex to stop their husbands from watching porn" is in our evangelical best-sellers–and how to have discernment so we see how wrong this is. 
Listen in!
Or, of course, you can watch the podcast!
Timeline of the Podcast:
2:05 Saying "Just put out more or he'll watch porn" definitely,100% will for sure get your wife in the mood
4:03 Research: What happens if people believe the 'porn message'?
8:16 The Church needs to STOP blaming women for men's sexual sin
11:45 An example from Sheet Music
18:19 Every Heart Restored is just GROSS
26:50 Porn use makes the Christian advice physically impossible
29:20 Transfering your lust doesn't make it right
34:38 Michael John Cusick joins in for a conversation on restoration and healing from pornography use
51:22 Finishing off with some good news
New Research: How does this methadone idea affect women?
We shared some of our data from The Great Sex Rescue, our book that launches March 2! We had such fun this week on our first Facebook Live for people who have pre-ordered.
And if you're going to buy the book anyway (which you should; it's awesome); why not pre-order now, and then get our bonuses, including the scorecard we talked about in the podcast? Plus you'll be invited to join our exclusive Facebook group! All the info is here.
The Great Sex Rescue
Launches March 2!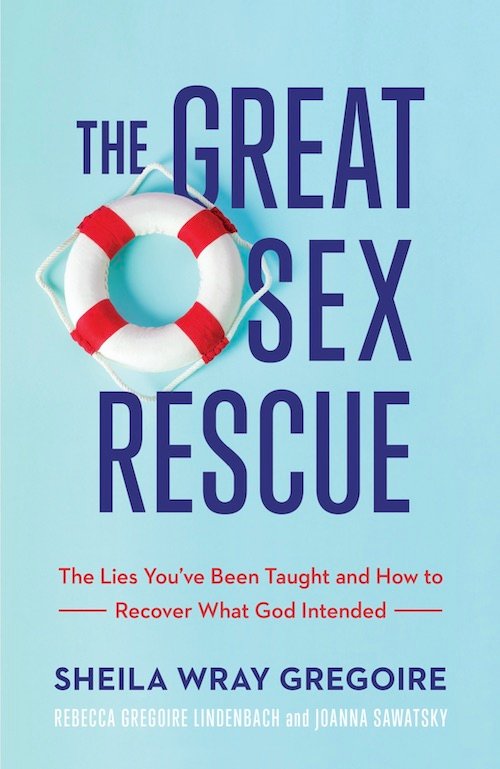 What if you're NOT the problem with your sex life?
What if the things that you've been taught have messed things up–and what if there's a way to escape these messages?
Welcome to the Great Sex Rescue.
Pre-Order Now! (Helps us out a ton)
And if you email your receipt, we'll send you a special pre-order BONUS
We read a bunch of excerpts from problematic books in this podcast, like Sheet Music, Every Man's Battle, and Every Heart Restored, that all told women that they had to have sex so their husbands would stop watching porn.
All of them made sex about a husband's ejaculation rather than about intimacy.
All of them ignored how you can't defeat lust by lusting after your wife; you need to deal with the way that you have seen sex in a selfish way and how you have run away from intimacy.
Warning: Some of the quotes we read were really disturbing.
In fact, they were so disturbing that Baker Books made us take them out our original manuscript for Great Sex Rescue. They were just too awful.
We agree–they were. And yet they were in our evangelical best-sellers. 
Can we please start to read with a more discerning eye? Please listen in! This is very illuminating.
And then remember: porn use often causes sexual dysfunction and a lack of libido. 
The advice to "just have sex" is such a slap in the face for so many women married to men who can no longer perform, or no longer want to perform, because of porn, as these questions show:
My husband will not stop watching porn and I am absolutely devastated.
I have told him at least two dozen times it is a deal breaker for me and he keep promises it won't happen again.
Before he met me it was the only thing he watched but that ended when I moved in. Married a year later and he gave all his movies away. We had four years of great marriage until he got his first cell phone and a friend of his started sending him porn videos on Facebook. 
I am so sick to my stomach. I have offered to watch porn with him but he says he finds that very weird and won't have it. I have found he has friended women on Facebook who run sex chat lines and send out porn pictures of themselves. He saves pictures onto his phone as well.
Every time I catch him he brushes it off while I shake and feel nauseous.  He wonders why I now have such low self esteem and insecurities with him. I can no longer stand listening to him talk about other women especially comments of how pretty they are. Oral sex used to bring him to orgasm. That is no longer happening. He can only reach orgasm by looking at my from behind now.
I loved and trusted him so much up until six months ago and now my feelings are all screwed up. Our sex life had been good, 3 to 5 times a week, now he is claiming the high blood pressure pills are not allowing him to get erections anymore.
I don't want to explode but I feel like I am imploding.
My husband is unbeliever addicted to porn, we hardly have sex, he is hardly interested. My sexual drive is too high I beg him so much to please have sex but he says No. He says he doesn't want to and he'll approach me when he wants it. When he does it's over in 2 minutes. 
What do I do?  
Finally, we brought on Michael John Cusick to help a woman move forward after a husband's porn addiction
Michael John Cusick has done a lot of work in the field of sex addiction, and he found me on Twitter when I was talking about why the Every Man's Battle philosophy is so bad.
He agrees. He thinks it's putting a band-aid on something. What we need is healing and transformation, which means looking at the root issues, not just trying to "bounce your eyes".
It was a great talk! Michael is the author of Surfing for God, a book that helps men discover the root of porn addictions.
Things Mentioned in this Podcast:
Have you heard the "have sex so he doesn't watch porn" message? Or have you ever read any of these books? Let's talk in the comments!
Plus don't miss our findings on lust in our survey of men, all in The Good Guy's Guide to Great Sex!