Usually on Thursdays I post the new episode of The Bare Marriage podcast.
But we've taken July off to get a bit of a break (we'll be back next week!), and so instead I've been posting links to episodes of OTHER people's podcasts I've been on.
Seriously, I've recorded about 150 or so podcasts with others these last few months, so there are a ton to pick from.
Today I thought I'd start with something different:
The Folding Chair Theology Podcast Reviews The Great Sex Rescue
I found this one because they tagged me on Instagram (thank you!). It's a podcast normally done by two guys, but this time they had their wives join them as they talked about their takeaways from reading The Great Sex Rescue. 
It was so fun to hear other people's perspectives! They told the story of premarital counseling, where the pastor told them he would come home and announce to his wife, "I'm going to need it tonight," so that she has the evening to prepare. This was presented as a good thing. 
And they concluded, "It sounds simple, but it gets ingrained in your head. You're not told that it's supposed to be mutual, and good for everyone, and loving." Yep. 
Lots of great stuff here! Thank you, guys, for reading the book and talking about it.
The Naked Gospel: Let's Talk Orgasm Gap
The Naked Gospel is a podcast aimed mostly at millennials to get back to authenticity about faith and struggles. I had a lot of fun with this one, and it became one of their most listened to podcasts, so they invited me back and we recorded another one on Tuesday (it's not released yet). 
Here's how they describe this episode: 
"Sheila Gregoire joins us to talk about the sexual disconnect between men and women, and what it looks like to for men and women to actually know and be known by one another. Sheila and Shane talk through the orgasm gap, erectile dysfunction, vaginismus, and so much more!"
The Great Sex Rescue
Changing the conversation about sex & marriage in the evangelical church.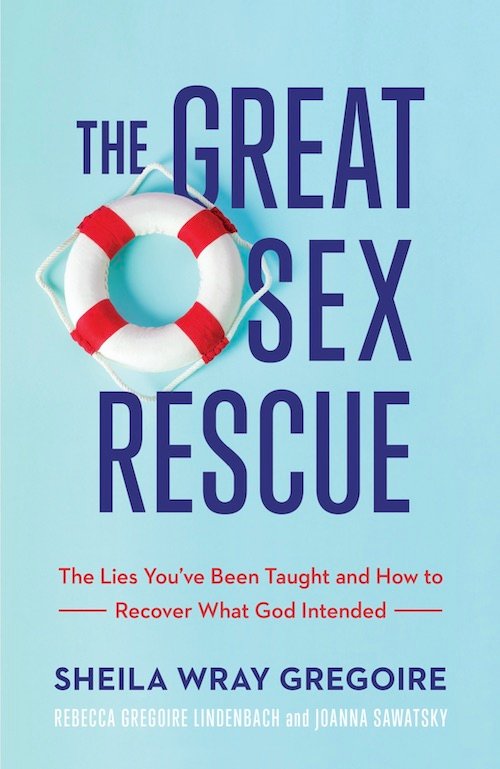 What if you're NOT the problem with your sex life?
What if the things that you've been taught have messed things up–and what if there's a way to escape these messages?
Welcome to the Great Sex Rescue.
And then today I thought I'd highlight more Bare Marriage podcasts, since people keep telling me their favourites!
Bare Marriage: Let's Talk Periods
We did a series last summer on periods, and one person told me that that was their favourite! So here's a podcast on periods f you missed it!
Bare Marriage: Episode 79–Can We Stop Talking about Lust & Stumbling Blocks?
I was going to link to this episode where Rebecca and i get super passionate and talk about how we need to stop talking about girls' bodies being stumbling blocks for men. And then I got a bunch of emails from people telling me to link to episode 79. I went and looked it up—and it was the one I was already planning on talking about! So I guess people really loved this one.
Have to admit–this is one of my favourites, too.
Bare Marriage: Episode 83–Talking Back to Purity Culture
We had so much great feedback on this episode that featured Rachel Joy Welcher talking about her book Talking Back to Purity Culture. We've all become great mutual fans of each other since talking on this podcast, and we're together on twitter all the time now, too! So I thought I'd share this one:
So there you go! Lots to listen to.
As I said, we'll be back next week with a new Bare Marriage season. I've got several themes planned, including some for singles, mental health, mindfulness (and how that affects sex), and so much more. 
Again, let me know what your favourite podcasts are. And if you have a podcast you listen to where you think I'd make a great guest, be sure to suggest me to the host! 

Sheila Wray Gregoire
Founder of To Love, Honor and Vacuum
Sheila is determined to help Christians find biblical, healthy, evidence-based help for their marriages. And in doing so, she's turning the evangelical world on its head, challenging many of the toxic teachings, especially in her newest book The Great Sex Rescue. She's an award-winning author of 8 books and a sought-after speaker. With her humorous, no-nonsense approach, Sheila works with her husband Keith and daughter Rebecca to create podcasts and courses to help couples find true intimacy. Plus she knits. All the time. ENTJ, straight 8
Dads shouldn't need their adult daughters to give them adulation and affection. That's called...
Let's talk about the echoes of menstruation. Yesterday on the podcast, we were discussing how...
This has been a week of great thrills and great disappointments. Thankfully, the thrills were...