One of the reasons women often struggle with sexual confidence is that we think that sex is something that we give to men.
We think that sex is primarily a male need (after all, in Love & Respect, Emerson Eggerichs said, "If your husband is typical, he has a need you don't have."). And if we think of sex as something that he needs and we give, then it's hard to speak up for what we want or need to feel good. Our needs are secondary. We're being selfish if we speak up.
But knowing that we matter just as much–that sex was created for us too, and that sex is supposed to be mutual–that helps get rid of those weird guilt feelings when sex isn't working well and turns it into a shared issue to be learned from.
When we see sex as something he needs, then when sex isn't working well for whatever reason (you can't figure out orgasm; sex hurts; you rarely want it), it becomes a problem that you need to solve. It's your issue.
But when we see sex as a shared thing where both of us matter, then when there's an issue, the solution is shared and the responsibility is shared. It's not one person letting down the other; it's an issue we address together.
I received a letter recently from a woman who is dealing with vaginismus that illustrated this perfectly, and I'd like to share it today.
I've changed some details so she can't be identified, but she writes:
I was a virgin when I got married. Before getting married, many friends told me how much it would hurt "for a while."
So I went into our wedding night totally freaked out.
No surprise, I was not mentally ready and yes, it did hurt. No surprise, I developed vaginismus. Fast forward of years of doctors and friends telling me I was making it up, nothing was wrong.
Years into marriage (5-6?)I self diagnosed myself with vaginismus and found a resource on the internet of women who had gone through the same stuff. I sobbed when I read their stories because someone finally understood.
I still didn't get better though even with the resource, carrying all kinds of shame and it was shoved down my throat that sex was for men and I was depriving my husband. Not a great motivator. Especially when you are already wracked with guilt. Too much mental damage and no idea how to deal with that.
One of the women in my church I went to for advice told me if I didn't get over myself and give my husband sex he'd leave me for "someone prettier than me."
Anyway- Christian resources around this didn't exist, no one acknowledged this and made it even worse. I didn't know who to go to and what to do.
Through a very painful conception after  years of marriage, we got pregnant. After extremely painful vaginal and cervical checks, I had my baby. But then I had horrible back pain. No surprise: my pelvic floor was completely screwed up.
I heard about pelvic floor physiotherapy. She validated my vaginismus self diagnosis and helped me a ton. I finally understood about those muscles and learned some control. She referred me to a sexual health gynecologist (after almost a decade of marriage!). She diagnosed me with vaginismus, extremely thin vaginal tissue and eventually lichen sclerosis. For who knows how long I had LS! I had massive fusing and cut vulva skin. Gosh, validation! And explanation!
We still have some pain, but having validation and help has really really helped me be able to work through it.
I also started trauma therapy for some other things, but we did cover all this trauma around my sexual history.
Nowadays I read your stuff and I'm so so so thankful you've taken up our fight and story. Me and my husband feel championed and heard by the things you post every day. We both were so hurt by Christian resources which we desperately read when we were hurting.
Even recently I was at a small group and we told our story at a high level.
One man said "your husband must have been a saint not having sex that long!"
Years ago I would have agreed with him. But now I'm like "listen, if that's your definition of sainthood, then we both deserve it. Sex was made for man AND woman! We were BOTH robbed! You are really approaching sex completely wrong if you can only think about what he was going through."
My husband was so upset. Cause he was like "and I wasn't in pain every time I tried to do something that was supposed to give us pleasure and connectedness! She went through way more than I did physically and saying anything else is completely missing it."
Again, the guy was shaming women. Like I was choosing to withhold from my husband cause I was…unwilling? Not wanting sex? No, sir, you are just wrong. Go repent to Jesus for how you approached this.
Anyway- I just want to thank you. I know you guys take all kinds of crap and hate. And I honestly don't get it. Your message is that in marriage, sex is awesome and wonderful and should be enjoyed by all! So let's stop pointing fingers or saying "I need it worse than you" and just try to figure out how to make it a time of connection, love, and pleasure as God intended for BOTH parties. Even secular people get this right more often then Christians. I got WAY more compassion from non -Christians than I did from my trusted Christian friends. How sad.
I just love how they both realized that HER struggle with vaginismus was even worse than his.
They were BOTH missing out on sex, which was something that God created for both of them. But she was also having to see doctors; have really invasive procedures; and experience the pain!
I know when I had vaginismus at the beginning of my marriage, the people that I sought help from were mostly concerned about Keith. How was he going to get through this? We have to fix Sheila so that Keith doesn't suffer. That made everything so much worse.
But this couple has realized that she matters just as much as her husband, and that sex was created to be for both of them. And that has freed her to seek help both from trauma counselors and from physiotherapists and sexual health experts.
When you're seeking help because you have to fix this for your spouse's sake, there's a guilt and desperation associated with it. But when you're seeking help because you're missing out on something too, then the guilt dissipates. And guilt is never a healthy motivator.
Instead of seeing vaginismus (or other problems) as his loss, see them as a shared loss. That perspective changes everything!
Even if you're not dealing with problems this extreme, realize that your sexual satisfaction matters too.
Sex is not just for the man. When we start valuing our own sexual experience, then it's easier to speak up and ask for what we want–even if it's just more foreplay and help for orgasm!
The Orgasm Course is Here to Help You Experience Real Passion!
Figure out what's holding you back. Open the floodgates to orgasm.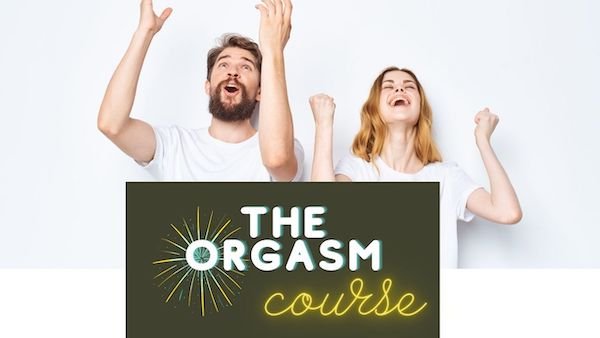 Also, in chapter 4 of The Great Sex Rescue we talk to several women who experienced very similar wedding nights to this reader, and discovered they had vaginismus. We show how certain teachings we grow up with make that more likely, and what to do to make it less likely. Throughout the book, too, we put a lot of emphasis on sexual pain, since Christian women suffer at twice the rate of the general population. In fact, our findings on sexual pain are so significant that we're speaking at the American Physiotherapist Convention in February with them!
So if vaginismus is part of your story, you'll really appreciate The Great Sex Rescue even more!
What do you think? Is it hard to prioritize our own experience during sex because we've been taught it's less important? How do you speak up? Let's talk in the comments!
Other Posts in the Sexual Confidence Series:
How to Feel Confident when You're Married to a Porn User
Accepting Your Sexuality as the Higher Drive Wife
Feeling Sexually Confident as You Go Through Menopause
Let's Talk Vulvas! Feeling confident about your genitals
You may also enjoy:

Sheila Wray Gregoire
Founder of To Love, Honor and Vacuum
Sheila is determined to help Christians find biblical, healthy, evidence-based help for their marriages. And in doing so, she's turning the evangelical world on its head, challenging many of the toxic teachings, especially in her newest book The Great Sex Rescue. She's an award-winning author of 8 books and a sought-after speaker. With her humorous, no-nonsense approach, Sheila works with her husband Keith and daughter Rebecca to create podcasts and courses to help couples find true intimacy. Plus she knits. All the time. ENTJ, straight 8
If we had had these Great Sex Guides before we got married, there would be no Great Sex Rescue. No...
Let's talk about the echoes of menstruation. Yesterday on the podcast, we were discussing how...
Everyday I get more questions about our survey, and about our data, and what we'll be studying...