How do you have a Christian marriage?
And is a healthy Christian marriage different from a healthy marriage of two non-Christians?
I had this comment after our podcast last week looking at the quest for a biblical marriage:
You guys do a wonderful job showing what biblical marriage is NOT but sometimes I'd love just a clear and concise discussion on what a good Christian marriage actually looks like. My daughters are starting to get to the age I need to have these conversations about what to look for in a future husband and I'm having a hard time articulating it.
I think that last sentence is so interesting:
She has a hard time articulating what a Christian marriage is.
Let me tell you a story. Back in 2001, a sociologist named Sally Gallagher decided to do a huge study on how evangelicals actually do marriage. She reviewed the big Christian marriage books of the time, plus used comprehensive survey data and focus groups. (sound familiar?)
What she found was that the vast majority of evangelicals considered male headship an intrinsic part of a Christian marriage. However, the vast majority of them did not act out male headship at all, but instead practiced what Gallagher termed "pragmatic egalitarianism." Their marriages really looked not that much different from healthy secular marriages. They just talked about them differently.
Gallagher concluded that the whole idea of "male headship" was about claiming a distinctive identity rather than it was actually doing marriage differently. It was very important to Christians to be seen as doing marriage differently from "the world." But in practice, the healthy relationships actually looked pretty much the same.
Incidentally, this is what we found in our research for The Great Sex Rescue too! Most Christians who say they believe in male headship do not act it out. And when they do? As we explained in chapter 2 of The Great Sex Rescue, terrible things happened.
"A groundbreaking look into what true, sacred biblical sexuality is intended to be. A must-read." - Rachael Denhollander
What if you're NOT the problem with your sex life?
What if the messages that you've been taught have messed things up--and what if there's a way to escape these toxic teachings?
It's time for a Great Sex Rescue.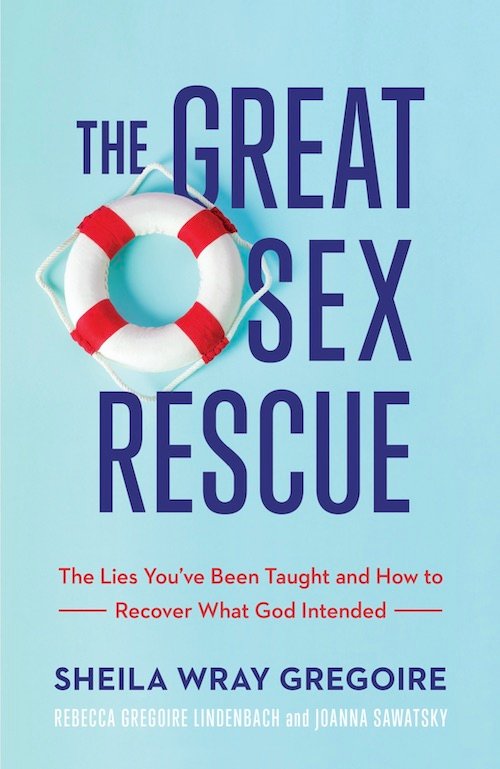 What if our reasons for wanting a "Christian marriage" are off?
As Gallagher showed, it was about a quest for identity. Evangelicals wanted to be sure we were different from "the world." We saw life as us-vs-them. So there has to be some distinctive way that we are doing things differently so that we can show that we are Christians!
Have you ever heard anyone say something like:
"Loving your wife as Christ loved the church is a huge ask, and we can't do it in our own strength. I could never love my life properly and selflessly without Jesus' strength."
This sounds super holy. But think about what it is insinuating: You cannot be a good husband without being a Christian. Thus anyone who is not a Christian is not actually able to properly love their wife, and will never have a great marriage. 
I actually hate it when people imply this because it's just so obviously untrue. All of us know people who aren't Christians who have amazing marriages–often better marriages than the marriages we see in the church.
Can we let go of the idea that only those who claim Christ can have good relationships? 
Can we instead believe that there are certain universal truths about human flourishing that pertain whether one is a Christian or not? And when someone aligns themselves with these truths, and acts in accordance with them, they can have a flourishing marriage even if they don't know Christ?
Romans 1 tells us that the truth about God is evident for all to see even just in creation. Even if you've never heard of God. And Romans 2 tells us that many who do not know God still have "the law on their hearts":
14 (Indeed, when Gentiles, who do not have the law, do by nature things required by the law, they are a law for themselves, even though they do not have the law. 15 They show that the requirements of the law are written on their hearts, their consciences also bearing witness, and their thoughts sometimes accusing them and at other times even defending them.)
Jesus is the Truth. People can actually know what healthy relationships look like even if they don't go to church and don't know their Bible because we all have "eternity written in our hearts." (Ecclesiastes 3:11). We all have consciences.
Now, when we know Jesus our hearts are softened and transformed, so that it should become easier to do the things of God. The Holy Spirit comes and gives us the power to to live a life following Jesus, and heals many of our wounds, and sanctifies us (makes us more and more like Jesus). 
With Jesus, we become a healthier version of ourselves. A better version of ourselves. But health is still health.
Think about it this way: Are you a good friend, or a Christian friend? Are you a good employer, or a Christian employer? Are you a good parent, or a Christian parent?
What if there isn't really a difference between a good relationship and a Christian relationship? When people who don't know Christ love and forgive and cherish and act selflessly, they are living out the Jesus way, even if they don't acknowledge it.
The only way to true health is through the way of Christ, whether people know it or not, because the way of Christ is Truth. So when people have healthy relationships, they are already doing things in the way of Jesus!
So maybe we, as Christians, should stop trying so hard to define what it means to have a "Christian marriage" and start just trying to be a Christian in our marriages. What if we simply act like Christ, and practice the fruits of the Spirit? 
And when people who don't know Christ also do that, they have a marriage that glorifies Christ, too, even if they don't realize it. They're aligning themselves with the Way and the Truth and the Life. 
Centering Jesus makes you healthy, because Jesus is the Way (he models the path our life should take); the Truth (when we follow Him, we're in alignment with the way that life works, and thus we're doing what brings health); and the Life (he gives us power to have life abundantly).
Become a part of the movement
Join 40,00 others and let's change the evangelical conversation about sex
When we align ourselves with Truth, we get healthier.
But when we're so sure that the only way to do marriage right is to do it differently from the world, and do it in a way that no non-Christian would ever try, then ironically we often end up walking away from health. If we're so sure that we have to look completely different, then we can end up hurting ourselves. We don't want to mimic what the world thinks is healthy, so we have to work AGAINST what people know is healthy.
But Jesus is the Truth, people! Health is health. In practical terms, there isn't a difference between a Jesus-centered relationship and a healthy relationship, except for the spiritual practices in that relationship.
If you want to know what the Christian way of doing marriage is, and how we can show the world we're different, we don't do it through gender roles or hierarchies or anything like that.
I'll remind you what Jesus said:
They will know we follow Jesus by our love.
That's it. By our love. And when we love, we align ourselves with God's purposes in the world, that His will is done "on earth as it is in heaven." And what is His will? That we be transformed into the likeness of Jesus (Romans 8:29), that all of us look more and more like Christ. That we manifest the fruits of the Spirit of love, joy, peace, patience, kindness, goodness, faithfulness, gentleness, and self-control. That we care for others as we care for ourselves. That we bear each other's burdens. That we spur one another on to love and good deeds.
That's it. 
And those are all things that emotionally healthy people who don't know Christ will also be doing, and that doesn't pose a threat to us as Christians. 
Instead, we can celebrate when people do things the Jesus way! Do you not think that it makes God happy when people treat each other well and love each other and cherish each other, even if they don't know Jesus? Isn't he still happy that his children are treating each other well?
Are we trying to find the "secret sauce" of Christian marriage?
I sometimes wonder if what we really want is something that makes us different from the world more than we want something that makes us look like Jesus. So we want to know what makes our marriage actually CHRISTIAN. And if a pastor said that a Christian marriage means every morning you get up and spin 10 times to the right and say "ooglygoogly", some people may actually believe it!
There is no secret sauce. There is simply looking more like Christ and having the mind of Christ in our marriage.
What if we could calm down about "Christian marriages"?
What if the reason we can't figure out what a Christian marriage is, as opposed to a healthy secular marriage, is because we see the world too much in terms of us vs. them, and forget that where there is truth, life, health, goodness, the world aligning itself with Christ, even if it doesn't realize it? And that's something to be celebrated?
My plea is that we stop focusing on having a "Christian marriage", where we "own the libs", and we start focusing on how to be Christians in our marriages. 
Love. Spur one another on to love and good deeds. Have the mind of Christ. That's how you have a Christian marriage.
Right now I'm writing the first draft of the marriage book that Keith and I are writing with Baker books, and I've been wrestling with all of these questions and immersing myself in a ton of research journals.
And all the research says the same thing: Emotional health and wholeness and flourishing and treating one another well makes a great marriage. Christians do tend to do better at this than the general population–but many in the general population have good marriages too.
And when Christians focus too much on hierarchy, then we lose the flourishing.
I'm having a lot more fun writing this than I thought I would! I hope you love it when it's finished–but it won't be for quite a while!
What do you think? Why are we so insistent on finding the "secret sauce" of Christian marriage? Let's talk in the comments!