I have spent the last month recording so many interviews about the data in our new book, The Great Sex Rescue!
It's been hard to keep up with everything because I've been doing roughly two interviews a day.
And I wanted to share some of them with you, so that you can listen, too!
(If there are some I missed, it wasn't intentional. I just can't share them all! But I'll try to share them on Facebook or Instagram instead!).
Roys Report: Talking about Love & Respect and Focus on the Family
I was nervous about this one! I went on Julie Roys' podcast to talk about my history with the book Love & Respect, including that big Open Letter I sent to Focus on the Family. As I said at the end, in retrospect I'm glad in some ways that they ignored me, because had they listened, we would never have done our survey, and we would never have written The Great Sex Rescue.
Our rallying call for writing the book was, "hundreds of women, apparently, can be ignored. We hope 20,000 can't be."
Our book is going to bring freedom, I know. But if you want to see how it all got started, and why we decided it needed to be written in the first place, here's the story!
Restoring the Soul with Michael John Cusick
I've had Michael on our podcast, and here he invited me on his, where we focused  heavily on the lust/porn findings in our survey and in the book. I appreciate Michael's work so much, too. Just finished his book Surfing for God–it's awesome!
Preacher Boys Podcast–looking at fundamentalism
Preacher Boys is a podcast and upcoming documentary film shedding light on decades of abuse within the Independent Fundamental Baptist movement. Hosted by Eric Skwarczynski, he tries to get to the heart of some of the reasons for abuse in fundamentalist churches. So we looked into it, with our survey data! (and we had a lot of IFB women take our survey as well).
Just a note if you're in the IFB: We love you, and we just hope you listen. I only want you safe. If you're in a safe marriage and you're happy, this is not a condemnation of you. I just hope that if you're not in a safe marriage, I can help you identify that, because often we don't realize it.
Gretchen Baskerville: Let's Talk Obligation Sex, Sexual Pain, and More!
 Gretchen is the author of The Life Saving Divorce, and she helped me so much with recruiting women to our survey! We wanted to have, ideally, 20% of our survey respondents being divorced and/or remarried, so that we had a cross-section of women. About 29% of Christian women have been divorced, and obviously teachings that harm would have negatively affected them even more than most women, so we didn't want to leave them out.
We only got to 16% (it's harder to recruit divorced women, since they don't tend to hang out in marriage spaces where I am), so whatever our findings are, remember that the situation is likely worse, if we had managed to recruit more divorced women. And thank you to all of our divorced/remarried survey takers; we know the survey was extra long for you!
Anyway, we had a great conversation:
And you can listen to Part 2 as well!
Hope TV: A great overall introduction to the book!
Last Friday I was live on Hope TV in Pittsburgh, and in this interview we touched on things I haven't talked about in many of my others: what our surveys said about gender roles. So for a different take, listen in!
The Great Sex Rescue
Launches March 2!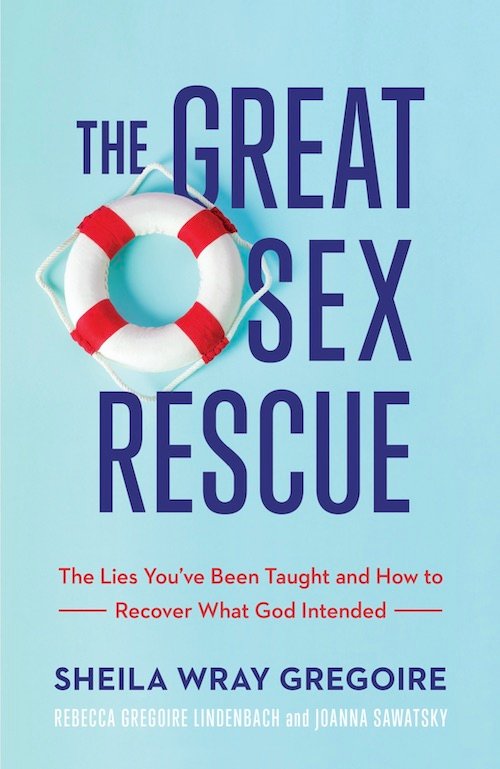 What if you're NOT the problem with your sex life?
What if the things that you've been taught have messed things up–and what if there's a way to escape these messages?
Welcome to the Great Sex Rescue.
Pre-Order Now! (Helps us out a ton)
And if you email your receipt, we'll send you a special pre-order BONUS
A World of Difference Podcast
Joining Lori-Adams Brown, we talk about the culture in the church about sex, and how it affects women and how it affects couples. I really enjoyed this podcast!
Fight for Love–all about porn recovery
I joined Rosie Makinney on her podcast where she focuses on sexual addiction. So many women pre-ordered the book after meeting me on this podcast, so I think it was an important one!
So I thought that would keep you busy today! Again, if I was on your podcast, and I didn't put it here, I'll try to catch up in a little while with others. 
So excited! Just a week until launch for The Great Sex Rescue. And we're so encouraged by all the reviews that are coming in on Goodreads! Here's just one:
Have your church or Christian marriage books ever told you: all men lust, yet women are the ones responsible for men's sexual integrity? Or women don't want sex, yet women have a duty to give their husbands sex when they want it? Or a husband has authority over his wife's body, yet marriage is meant for intimacy and oneness? Has it ever left you scratching your head in confusion and with a sense of cognitive dissonance that you can't quite name?
This book identifies the toxic messages that we've been given that destroy the intimacy that God really intended to give us in marriage – emotional, spiritual and physical. This book is a much needed gift to Christian marriages and the church as a whole. It's like a giant therapy session to undo the damage of so much of what we've been taught by the evangelical church. I cried, I raged, I laughed, and I healed in reading this book. I'm going to read it again, this time with my husband, and maybe a third time to be sure I missed nothing.
If you've ever read marriage books, or if you ever recommend marriage books to anyone, you need this book. So many Christian marriage books are read by women in struggling, difficult or even abusive marriages trying to figure out how to fix it. Many of the best selling Christian marriage books have contributed to the problem. This book is a huge course correction that is much needed to put people on a path of healing.
Chapter 13 says, "Part of being a ministry leader is shepherding the sheep, and that includes protecting the sheep from things that harm." This book does exactly that.
Sheila Wray Gregoire
Founder of To Love, Honor and Vacuum
Sheila is determined to help Christians find biblical, healthy, evidence-based help for their marriages. And in doing so, she's turning the evangelical world on its head, challenging many of the toxic teachings, especially in her newest book The Great Sex Rescue. She's an award-winning author of 8 books and a sought-after speaker. With her humorous, no-nonsense approach, Sheila works with her husband Keith and daughter Rebecca to create podcasts and courses to help couples find true intimacy. Plus she knits. All the time. ENTJ, straight 8
Dads shouldn't need their adult daughters to give them adulation and affection. That's called...
Let's talk about the echoes of menstruation. Yesterday on the podcast, we were discussing how...
This has been a week of great thrills and great disappointments. Thankfully, the thrills were...