Or, of course, you can always watch it on YouTube!
Timeline of the Podcast:
0:25 The Great Sex Rescue arrives THIS WEEK!
1:15 Research on women believing their opinion is equal to their husbands'
4:15 The way the church talks about sex is WEIRD
9:20 Let's discuss that '72 Hour Rule'
17:45 Andrew Bauman joins for a discussion about "a pornographic view of sex"
29:00 Rebecca and Keith explain why it's super WEIRD to talk about kids being sexual
40:50 Some encouragement from our community!
New Research: When women feel like their opinions are heard, sex is awesome
On the podcast today, we shared a NON-WEIRD finding–basically, when women feel as if their opinions are heard in marriage (meaning they feel valued by their husbands), sex is pretty awesome!
We looked at this chart from chapter 2 of our book, which is titled "Don't Sleep with Someone You Don't Know", about how when you feel close to each other, sex improves:
Incidentally, we have charts like this throughout the book, with lots of data points on how all kinds of different beliefs and marital satisfaction or sexual satisfaction outcomes affect other aspects of your marriage. It's super fun to look through!
So this is definitely NOT WEIRD. This makes sense. When you feel close, sex is better!
Main Segment: So Can We Stop Being Weird about Other Things?
The way the church talks about sex is often weird.
And also–where did that "72 hour" rule come from? Have you ever heard that? "You have to have sex with him every 72 hours or he'll be very uncomfortable and he'll watch porn or lust"? It's throughout our Christian books. But Rebecca and I talk about the dive into the research we took to try to find the source of this rule (it will surprise you!). And it may also surprise you to know that the 72 hour rule is nowhere in medical literature. There is nothing magical about hour 72, even though that's what we've always been taught.
Does that mean frequent sex doesn't matter? No, of course not. But there is a big difference between saying:
You have to have sex with him every 72 hours or he will feel uncomfortable; he'll become grumpy; and he'll be very tempted to lust or watch porn.
Sex is something awesome that God created for you! It helps you feel close; helps you relax; helps you sleep. And it feels wonderful. Why not prioritize it in your marriage and have it frequently? And if it's not happening frequently, and you want it to, then it's likely time to stop and ask, "What's getting in the way of us enjoying each other?"
See the difference? One is weird. The other isn't.
Andrew Bauman: Let's talk about how to really heal a porn addiction.
Andrew Bauman, the author of The Sexually Healthy Man and a licensed counselor, joins us to talk about why simply trying harder doesn't cure a porn addiction. He talks about how it's important to understand that porn use often is an attempt to cover up woundedness. You need to allow that to be exposed in order to really achieve transformation and healing.
Let's Not Sexualize Young Children
One of the weirdest, and most disturbing, things we saw recently was the way that young children were sexualized in some articles and books by Shaunti Feldhahn, and we just had to comment on it. In her book Through a Man's Eyes, she's talking about "the male brain"–the idea that God made men visual in a way that he didn't make women visual. And what does the "male brain" mean?
I know it is difficult to grasp (and you might want to take a deep breath here), but this is one thing that your son, husband, and father all have in common: Most guys like looking at women. And they like looking at or imagining naked women.
…This is true whether the male in question is age nine or ninety.
In an article on her website, talking about the same thing and referencing the book, she says:
Yes, I knew men and boys were visual – but I didn't really grasp just how visual until my son was thunderstruck by the pictures in the Victoria's Secret shop window at age of 4. "I like those ladies," he said, in an awed tone of voice, suddenly and completely oblivious to everything else around him. "Their bare tummies make my tummy feel good." The male brain is the male brain from the earliest age, and as I share in Through A Man's Eyes, that means we moms need to know how to help those little eyes be careful what they see from the earliest ages.
Keith and Rebecca took this part of the podcast to talk about how disturbing it is to assign sexual motives like this to a 9-year-old or a 4-year-old. Keith is a pediatrician; Rebecca is the mother of a toddler son. 
Listen in to what they said, but I will say that after recording this, we found some even more disturbing things she has said about even younger boys, and I do think it's important to not make arguments like this that could be used by pedophiles to justify what they do (pedophiles often advocate for changes in the law by claiming that children are sexual beings). In fact, we don't become sexual like this until just before puberty, and if children are abnormally sexual, that's often a red flag that something else is going on.
Some happy comments!
We ended the podcast with some happy comments about how the blog and podcasts have helped some people, and with one awesome review of The Great Sex Rescue! 
I have followed Sheila's blog, To Love, Honor, and Vacuum for several years. Coming from a background of legalism and purity culture, and being reluctant (loads of shame, feeling I was betraying my family and possibly the church, false guilt) to fully embrace the way she wrote about marriage, sex, and what it means to be a woman, I just periodically checked in. Over the past year or so, though, my sweet Savior has been gently leading me into a freedom and secure identity in Him alone that I never thought possible. When I heard Sheila was writing a book about sex, and that she had surveyed thousands of women in research for said book, my interest was piqued. I started devouring everything on her blog, reveling in the truths she and her team were shouting about marriage, sex, respect and equality. I was appalled to really dive into what the books that were lauded to me as the end-all, be-all of Christian marriage advice had actually done to my self-image, my confidence as a woman of God, and my trust in my good husband's heart. Blog, podcast, the book was the next logical step. I pre-ordered and signed up for the launch team.
I've been married for nearly 14 years, have a good man for a husband, and though we've had our minor conflicts surrounding sex over the years it has always been GREAT. I really didn't think the messages we both received about lust, women as stumbling blocks, porn, etc had affected our relationship until I read the book. I realized, even though I don't believe those messages anymore, even though I trust my husband and feel secure in his love, I still have habits in ways I relate to him that are based in those views: That I could cause him to turn to porn by saying no to sex, that sex is something I owe him (even though it's something we BOTH enjoy and he has always made my pleasure and orgasm a priority). As I read the book I found myself wanting to scream in anger, cry in frustration, and laugh with joy shouting "AMEN, SISTER!!!" "The Great Sex Rescue" will always be part of my freedom song.
There is no other book like this one speaking to the evangelical world. I will be recommending it to friends as often as I can: married, engaged, single. It's message is life-giving and swelling with freedom for women who've been under the burden of these teachings for too long.
"Several hundred women, apparently, can be ignored. We hope the voices of twenty thousand will make people listen."
The Great Sex Rescue
Launches March 2!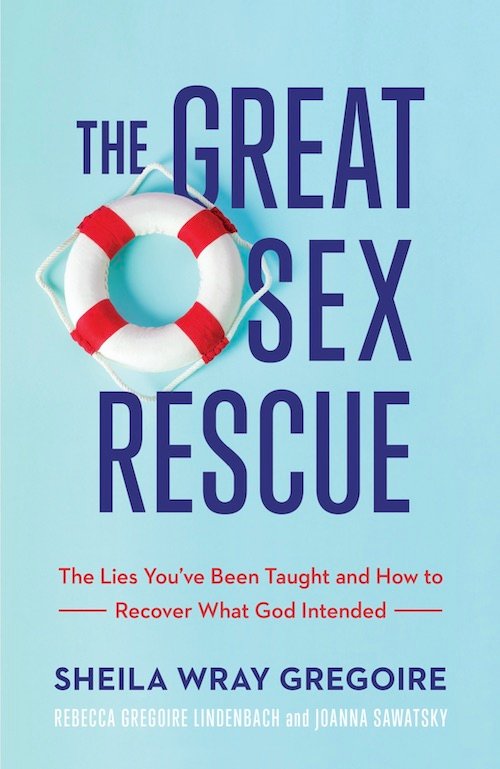 What if you're NOT the problem with your sex life?
What if the things that you've been taught have messed things up–and what if there's a way to escape these messages?
Welcome to the Great Sex Rescue.
Pre-Order Now! (Helps us out a ton)
And if you email your receipt, we'll send you a special pre-order BONUS
Things Mentioned in This Podcast:
Anything stand out to you in the podcast today? The 72 hour rule? What makes sex great? Sexualizing your kids? Let's talk in the comments!
Sheila Wray Gregoire
Founder of To Love, Honor and Vacuum
Sheila is determined to help Christians find biblical, healthy, evidence-based help for their marriages. And in doing so, she's turning the evangelical world on its head, challenging many of the toxic teachings, especially in her newest book The Great Sex Rescue. She's an award-winning author of 8 books and a sought-after speaker. With her humorous, no-nonsense approach, Sheila works with her husband Keith and daughter Rebecca to create podcasts and courses to help couples find true intimacy. Plus she knits. All the time. ENTJ, straight 8
Dads shouldn't need their adult daughters to give them adulation and affection. That's called...
Let's talk about the echoes of menstruation. Yesterday on the podcast, we were discussing how...
This has been a week of great thrills and great disappointments. Thankfully, the thrills were...