Telling a woman that the way she stops her husband from watching porn is to have sex with him is toxic. 
I'm getting ready to pack up our RV and leave the campground. It's been a great few weeks relaxing, knitting, and processing, and I'm grateful.
And as we're leaving, I thought I'd share something that's going pretty big on Facebook and Instagram right now, and just elaborate on it, because there's more that needs to be said. Sometimes you can make a splash on social media, but it's not the place to really dive deep. So I'd like to dive a bit deeper today.
Last night I posted this picture:
And I posted this caption:
Telling a woman, "you have to have sex with your husband to keep him from watching porn" is TOXIC.
Hopefully we all instinctively know this, but how many of us have internalized this? Especially with books like Every Man's Battle calling women the "methadone" for their husbands' sex addictions (see the latest Fixed It For You in my feed for that one.)
In our survey for The Great Sex Rescue, we found that one of the most toxic messages a woman can believe is that she has to have sex to stop him from watching porn.
That's like having sex under threat.
And it does terrible things to her. She is:
37% more likely to have sex only because she feels she has to.
65% more likely to be afraid her husband will look at porn or other women.
Even 19% more likely to experience vaginismus!
(And that's just a sample of the effects we found).
We spend a whole chapter in The Great Sex Rescue explaining how women aren't methadone. Women are people. And it is not a woman's job to keep a husband's lust at bay. The Bible clearly puts that responsibility on the husband.
Church, let's do better. Let's get this right.
Now let's go deeper!
The reason "just have sex" is a traumatic message is because it erases her personhood.
I don't know if people get that, but this is the root of trauma and pain. Trauma occurs when people refuse to see you, to notice you, to value your needs, and choose instead to use as a commodity or to hurt you.
Trauma isn't always, or even usually, getting physically hurt. It's a drip-drip-drip of abandonment and minimization.
We explained this in detail in Chapter 6 of The Great Sex Rescue, and so many people have found it healing. But let's go back to first principles.
Biblical sex is intimate, pleasurable, and mutual.
Ultimately sex is an intimate "knowing" of one another in every way. That's why God uses the word "to know" for sex in the Old Testament–He's telling us that sex is more than physical (no matter what Emerson Eggerichs might say about sex being about a husband's physical release. Nope!)
And for sex to be great, you have to be able to open up to someone. To become completely and utterly vulnerable. To allow someone to truly see you, and to tell them what you want, and to not be concerned about what they're thinking but just experience–which is what women need in order to feel good, in general–then we need to feel safe.
We can't be vulnerable without being safe.
And if you're having sex under threat–that he will watch porn if you don't do this–then you're being asked to be completely and utterly vulnerable SO THAT he doesn't betray you. That's wrong on so many levels.
First, it is a total rejection of biblical sex, because it turns sex from a deep knowing to simply a using of someone. IF it's under threat–I'll betray you if you don't do this–then it's no longer a knowing. It's a taking.  And that can easily become coercive (which we cover in chapter 10 of The Great Sex Rescue!).
Then it's a rejection of you as a person, because instead of saying to her, "I want to know YOU," you're saying, "I just want physical release," which, again, is exactly how Love & Respect and Power of a Praying Wife and Every Man's Battle described sex–as a husband's physical release.
When a man is using sex only as physical release, and is choosing not to know his wife (because if it were about her then he wouldn't be threatening to betray her), then it's not a deep knowing. It's actually a deep rejection. And that is traumatic.
That's why I'm adamant that the porn has to be dealt with before the sex life can be fixed.
Having more sex can't cure a porn addiction, because porn and sex are polar opposites. Biblical sex says, "I want to know you and experience something with you." Porn says, "I want to use you for my own gratification." They are not substitutes for one another; one is a counterfeit. When we use married sex like porn, we change the whole nature of sex and we diminish both spouses.
Of course, that's not the advice that Christian books often give. Too many say that part of his healing is for you to resume sex right away, rather than asking him to build trust, because he can't win the battle without you. But that's not biblical, and that's not a misunderstanding and distortion of sex.
So I'll end this with a quote from The Great Sex Rescue, where we address this head on:
Emotional damage can be done if you constantly betrayed feel and used without any hope that it can be better. This makes pas- sages like this one from Every Heart Restored gut-wrenching: "On the battlefield of broken sexual trust, your husband must become trustworthy and you must eventually choose to trust again. . . . It's self-defeating to worry about which should come first." He has broken trust—but she is "self-defeating" if she requires him to be trustworthy before she actually trusts him again. She must have sex with him, even if he is making no move toward building a healthy sex life.
Just as you can't cure an alcoholic by giving him so many sedatives that he won't want to go to a bar, you can't cure a porn addict by giving him so much sex that he won't want to log on to the computer. Even if it does lead to less porn use, the issue is not healed—it's only been numbed.
God doesn't want to numb us. God wants to free us.
God really can free us.
I may talk more about this later, if people want, but we show the biblical blueprint in The Great Sex Rescue, about reframing how we see sex; the addict allowing himself to be vulnerable again (because HE needs the vulnerability, not her); and accepting responsibility.
Keith and I, in The Good Guy's Guide to Great Sex, which is coming out next Valentine's Day, delve into this in greater detail.
But in the meantime, let's remember that she is not the methadone for his porn addiction, no matter what books like Every Man's Battle say. She is a precious person, made in the image of God, and she doesn't deserve to be reduced to a masturbatory aid so that he doesn't sin. And sex, which God created to be beautiful and intimate, should not be reduced to pure sin management in a dehumanizing way.
Church, let's do better.
---
Along with The Great Sex Rescue, these books are great at dealing with porn issues properly:
You do NOT need Every Man's Battle. These are way better. Let's make Every Man's Battle history!
The Great Sex Rescue
Changing the conversation about sex & marriage in the evangelical church.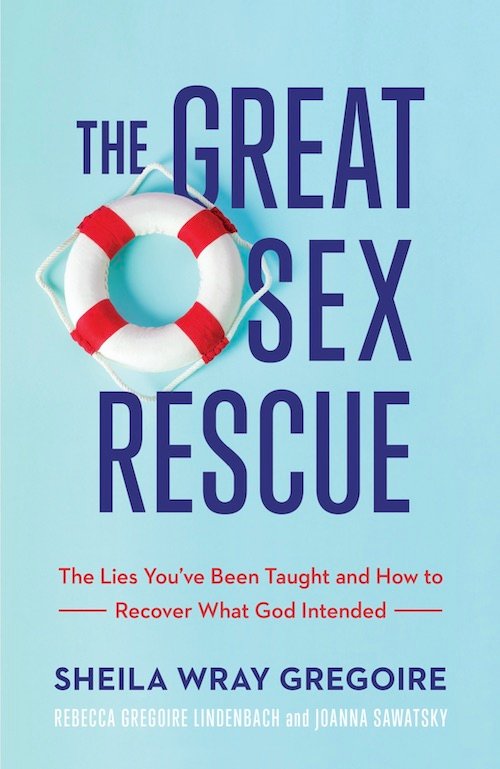 What if you're NOT the problem with your sex life?
What if the things that you've been taught have messed things up–and what if there's a way to escape these messages?
Welcome to the Great Sex Rescue.
By the way, I'm continually dismayed at how badly Christian books handle porn. A number of people have sent me screenshots of books they've been reading which are just as bad as Every Man's Battle. I really hope such books won't be able to be written after The Great Sex Rescue! I hope we've made a difference.
So what do you think? Is change coming? Do people understand this better? Or do you still hear advice to have more sex to stop porn? Let's talk in the comments!

Sheila Wray Gregoire
Founder of To Love, Honor and Vacuum
Sheila is determined to help Christians find biblical, healthy, evidence-based help for their marriages. And in doing so, she's turning the evangelical world on its head, challenging many of the toxic teachings, especially in her newest book The Great Sex Rescue. She's an award-winning author of 8 books and a sought-after speaker. With her humorous, no-nonsense approach, Sheila works with her husband Keith and daughter Rebecca to create podcasts and courses to help couples find true intimacy. Plus she knits. All the time. ENTJ, straight 8
Christian leaders should not be trying to convince women to send nude photos. This doesn't seem...
Every Young Man's Battle is the only book I ever reviewed that made me weep. Perhaps it's because...
Please hear me on this: Not all men have lust problems. In fact, while it may be common, it is not...