Can we have a nuanced discussion about porn and the likelihood of recovery?
One of our goals for what we do is to help people have "informed consent"–in other words, before they make a decision, they need to know all the facts. We can't be afraid of data and evidence.
And when it comes to porn, that's super important, because porn use does not always have the same effect on relationships. While porn use is always intolerable and must be stopped, and boundaries must be drawn–it is not necessarily equally destructive.
Some people use porn but don't develop a pornified style of relating; want to stop; and treat their wife (or husband) well. And some use porn and become entitled or abusive.
Thus, figuring out what you should do when you discover your husband is using porn (and I'll talk about husbands here because this conversation is mainly happening about men, even though women can use porn too) is largely about looking at the bigger picture, and doing a triage, so to speak.
In a battle, medics assess the wounded and try to figure out which ones will likely recover, which ones won't, and which ones need intervention the most. That's what we'd like to do today with porn, and suggest a way we can think about a porn triage.
Or, as always, you can watch on YouTube:
Timeline of the Podcast
0:10 Changes are coming!
2:00 Addressing friendly fire
9:00 The Porn Triage: Two distinct diagnoses
25:45 But what about those who can recover?
32:00 PTSD discussion
39:00 Porn is the new Purity Culture?
44:15 But can you still leave?
49:00 Sarah discusses noticing vs lusting
Let's talk about the porn triage!
What's been happening in a wider conversation on social media is that there's been some concern that I'm being too easy on porn users. We found that only 50% of married, evangelical men use porn; many women who have gotten out of abusive relationships with porn addicted husbands feel that we're downplaying the problem by reporting this number.
We've also said that porn alone does not cause the major destruction in the marriage, but porn accompanied by a number of other markers, especially the pornified style of relating.
This does not mean that we don't think porn is harmful or should be tolerated! We've always, always said that porn use is a non-starter, and must be dealt with.
But we also think it's important to tell the whole story.
For some women, their husbands' porn use means that the primary concern on discovery should be seeking safety. Don't worry about preserving the marriage–just get everyone safe. Separate if you have to (and you likely will have to). Make sure your finances are protected.
But for others, the signs actually show that recovery is very possible.
So let's look at the markers:
Markers that the porn use puts you on the "seek safety" path:
Is the porn use associated with other forms of abuse?
Has the porn use escalated into escorts, prostitutes, or strip clubs?
Has the porn use led to a loss of employment?
Is the porn use accompanied by other addictive behaviours, such as substance abuse or gambling?
Has the porn use spilled into the bedroom in the form of sexual coercion, asking for outlandish things, or sexual assault?
Have the children been exposed to porn, either intentionally or not?
Is the porn being consumed of an especially heinous nature (child sexual abuse materials, extreme violence or perversion)
Is the porn use accompanied by great secrecy, especially in other areas of life?
Has the porn use been accompanied by anger or a failure to be a decent father or a decent person in general?
Has recovery been supposedly ongoing for years, but no progress is ever made?
If one or more of these things is present, then the main concern should be getting safety and help for yourself and kids, not trying to salvage the marriage. If he does seek treatment and he does recover, that's awesome! But don't put your life on hold while you wait for that.
On the other hand, if these things are present, then recovery is very likely:
they own the problem without blaming it on anyone
It is not accompanied by a pornified style of relating
they seek out their own help and counseling
They stick with a program
They willingly give up privacy/secrecy
And our survey found strong evidence of BOTH groups of people. Many guys actually do recover from porn, and so we have to be sure that we don't talk about all porn use as meaning a marriage is doomed. On the other hand, some porn use is so destructive that we shouldn't just be counseling women to wait for his recovery.
This is where data comes in. Of course, women in both groups may still decide that this is a rubicon they can't cross, and the betrayal is too big. But at least they have data so they can make a decision with informed consent.
The problem that I have seen is that there's been an effort to try to paint every case as the same. But it's not. And if we want to stop porn use long term, we have to help people get help. We can't create a new purity culture for boys with porn, the same way we did for girls with any kind of sexual thoughts/activity. If we want boys to be able to stop, we must talk about how it actually is possible to quit, and porn does not necessarily ruin your whole life.
Sarah McDugal: Noticing vs. Lusting
After our talk on porn, I shared a Facebook Live my friend Sarah McDugal had done on noticing vs. lusting. Sarah is an abuse recovery coach and the founder of the awesome TraumaMamas app, and she shared how this discussion of how noticing isn't lusting can be difficult for those who have been married to sex addicted husbands–but it doesn't mean it's not a discussion worth having.
I really appreciated her gracious take on this one, and I asked her permission to share it on the podcast. Sarah will be joining us on a later podcast to talk about her awesome new app.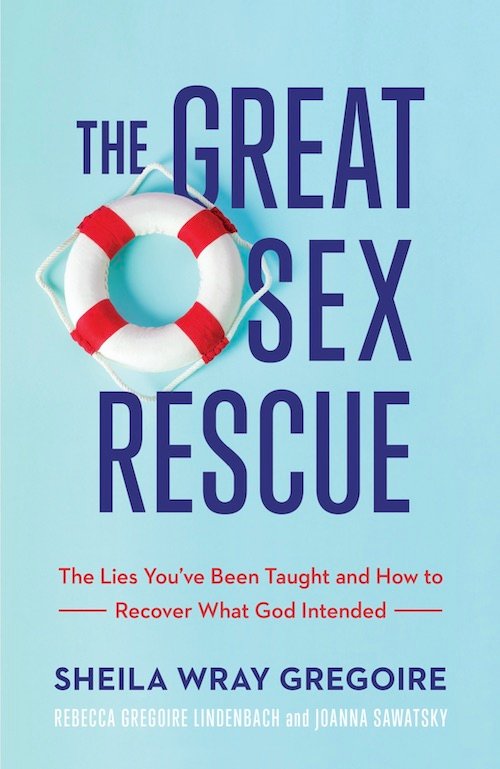 What if you're NOT the problem with your sex life?
What if the messages that you've been taught have messed things up–and what if there's a way to escape these toxic teachings?
It's time for a Great Sex Rescue.
Things Mentioned in This Podcast:
What do you think? How can we improve this conversation and make it more nuanced? Let's talk in the comments!

Sheila Wray Gregoire
Founder of To Love, Honor and Vacuum
Sheila is determined to help Christians find biblical, healthy, evidence-based help for their marriages. And in doing so, she's turning the evangelical world on its head, challenging many of the toxic teachings, especially in her newest book The Great Sex Rescue. She's an award-winning author of 8 books and a sought-after speaker. With her humorous, no-nonsense approach, Sheila works with her husband Keith and daughter Rebecca to create podcasts and courses to help couples find true intimacy. Plus she knits. All the time. ENTJ, straight 8
Can discipline and kindness go together? Today on the Bare Marriage podcast we're joined by one of...
One of the books that women report is most harmful to them is For Women Only.  When we analyzed 13...
Do complementarian men do best? That's what Nancy Pearcey says in her new book The Toxic War on...