This was one of those weeks that leaves everyone gasping for air and searching for hope.
It started off with two things dropping on Monday: The Southern Baptist Convention report on sexual abuse, which was devastating, and the viral video from a church in Indiana where a pastor confessed to adultery, received a standing ovation–and then a woman and her husband got on stage and said, "It wasn't adultery. I was only 16."
Over the course of the week other victims connected to the church came forward, including several whom the pastor's son allegedly abused when they were just children.
We all thought that was bad, but then it got worse.
Nineteen children mowed down, and two teachers dead.
Yes, you can say that the police didn't handle it right. Yes, you can point to all kinds of procedures that weren't followed. But the simple truth is that this doesn't happen in other countries. It happens so rarely in Canada we can all recite for you the very few mass shootings. And other countries are miniscule compared to even Canada, let alone the United States.
And once more, a town has far too many tiny coffins to bury.
Then the next day Josh Duggar was sentenced to 12 1/2 years for possession of child sexual abuse material.
Other restrictions were also put on him upon his release. I would have liked to see a longer sentence (his baby will be 10 when he's eligible for parole, and that's still pretty young), but it's fairly stiff.
And we are all wondering, "how can this family continue to stand behind him? Why did no one do anything? Why is Anna still with him?"
There are many reasons, of course, that Anna hasn't left, and I don't mean to blame her.
That day, May 25, was also the anniversary of the George Floyd murder.
But we look at all of these cases–the SBC; the church with multiple covered up abuse allegations; the mass shooting; the Duggars; and we have to wonder: how are things ever going to change?
In all of these cases, people knew the harm that was being done, and the potential for more harm, and no one did anything. 
And, in fact, the apathy is still so strong that it's very unlikely that anything will really be done at all, except perhaps in the case of the church in Indiana, where  I think police may actually lay charges against the son at least.
But there will continue to be those that support the Duggars. There will be more mass shootings with no attempt to curb them; there will be little done in the SBC to stop abuse, just as there will be little done to protect the Duggar kids. Because you can't stop abuse when you consider men more important than women and children, and the SBC and the Duggars both do that.
(I'm not saying that it's not possible to abuse in places where women are equal; I'm saying it's less likely, though it happens everywhere (as Willow Creek and The Meeting House have shown us).
Right now there is righteous anger combined with hopelessness.
People want the mass shootings to stop. They want abuse to stop in the SBC. They're angry things have gotten to this point.
But it looks like even though people are angry, real solutions are unlikely to be found.
I don't have any good answers right now. But I will say two things:
1. Be careful of those who use intellectual arguments to claim that nothing can be done.
We see this in both the SBC and in the matter of mass shootings. When people start using big arguments about why things have to stay as they are, and they're ignoring the very real harm coming to the least of these, you know that's not of Jesus. It just isn't.
"Whatever you did for the least of the least of these you did for me; and whatever you didn't do for the least of these, you didn't do for me." 
Are we really saying that people must continue to be slaughtered, and women and children must continue to be raped, because change is worse? Because change means going against God–as if somehow what is happening now is OF God?
When people show you their priorities, believe them. And thoughts and prayers are not enough–not for the school shooting, not for the SBC, not for abuse. And at some point, each of us will have to answer about who we want to align ourselves with. For many, this may be the week that we walk away.
2. "Feed my sheep."
Another thought I had, and this one needs a story.
Wednesday was my birthday (that's why there was no post!). and I wanted to plan something that my family could do together (well, Katie lives too far away to join us, but we FaceTimed her in!). And I received an email from a sheep farm nearby where you can book a time to go feed the foster lambs. When a ewe has more than two lambs, they remove the third and/or fourth and feed them themselves because the ewes usually can't handle more than two babies (and few have more than two).
So I booked a time for us to go feed lambs and hold lambs!
It was a bit of a drive, and involved a short ferry ride (my grandson's first time on a boat!), and then another drive through lilac lined roads to the farm. And there we fed and held the lambs.
When Joanna (our co-author for The Great Sex Rescue) heard how I was planning to spend my birthday, she laughed. She said, "you spend your whole year trying to feed people, and then you spend your birthday literally feeding lambs."
I hadn't thought of that, but she was right! And I thought back to John 21, and Jesus' conversation with Peter. In the middle of talking about all the terrible things that await them, and how life is not going to be easy, Jesus' commands were simple:
Feed my sheep. 
Follow me, and feed my lambs.
I think that's what God is asking of us today. Don't be so caught up in the horror that we lose sight of those around us who need us. Don't get so caught up in intellectual arguments that we forget to do the work of caring for others. Don't spend so much emotional energy on things we can't change, and focus on changing the things we can.
Feed my lambs. 
I don't know what that looks like for all of you, but let's dig in and care for those in our path, and change the things we can–even if we know we can never change everything.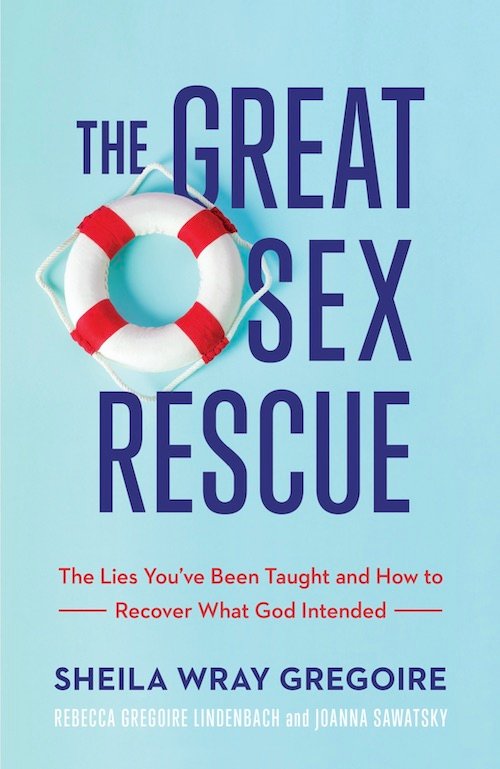 What if you're NOT the problem with your sex life?
What if the messages that you've been taught have messed things up–and what if there's a way to escape these toxic teachings?
It's time for a Great Sex Rescue.
In the next year, before my next birthday, we'll be releasing our Mother Daughter book, She Deserves Better.
It's my next attempt to feed lambs, to rescue those who have been hurt by erroneous church teachings, and prevent more girls from being harmed by them.
I'll keep forging ahead. But I may take some time to grieve, too, because this has been a big week. I hope you take some time as well.
And then let's get back to feeding the lambs.
What do you think? How do we handle the hopelessness? How do we handle the apathy? Let's talk in the comments!

Sheila Wray Gregoire
Founder of To Love, Honor and Vacuum
Sheila is determined to help Christians find biblical, healthy, evidence-based help for their marriages. And in doing so, she's turning the evangelical world on its head, challenging many of the toxic teachings, especially in her newest book The Great Sex Rescue. She's an award-winning author of 8 books and a sought-after speaker. With her humorous, no-nonsense approach, Sheila works with her husband Keith and daughter Rebecca to create podcasts and courses to help couples find true intimacy. Plus she knits. All the time. ENTJ, straight 8
Marital rape is the story in all too many Christian marriages. When we analyzed the top 13...
What do you do if your wife tells you that she feels as if she has been raped? Or, if she doesn't...
What does it mean to be "unwilling" to have sex? We're in the middle of a series on the blog about...