Happy 2021, everyone!
Well, we made it through 2020, and 2021 stretches ahead. And it's going to be awesome. (It has to be!).
Our book The Great Sex Rescue releases March 2 (you can pre-order it now!). Keith and I are writing The Good Guy's Guide to Great Sex–which is due at the publisher the same day the Great Sex Rescue launches! We're going to be developing tools for counselors to screen for sexual issues in marriage, and so much more.
I'm excited.
And even though it's a big job, we feel like it's important.
I know that I'm usually the face of Bare Marriage, and I'm mostly the one you see. Rebecca, of course, pops up in podcasts, but we really are a team behind the scenes. Tammy keeps me sane by dealing with all my details and by just talking to me when I need to vent. Rebecca and Joanna and I FaceTime constantly throughout the day, bouncing ideas off each other; talking about new stats Joanna has found in the data from the surveys we've done (we just closed our men's survey last week; fascinating stuff!); planning posts.
I wish Joanna could be on the podcast more so you could see her, but she literally lives in the Canadian arctic, and her internet's not always reliable. But we may try soon!
Here we were, with Joanna's two girls and Rebecca with my grandson, the week before Joanna and her family moved to the Great White North.
And then, of course, there's Keith, whose schedule is even busier right now as he's trying to cram editing a book into seeing patients during COVID (which is really tricky).
All that to say that we are really a team, and we do strategize and pray and think together about what we're doing and how to make the greatest difference.
Last week, in one of the last posts of 2020, I was talking about how you have to scatter stones, you have to tear down the bad stuff, before you can build up healthy stuff.
In the next few weeks we'll be tearing down some very unhealthy teachings, so that we can build on Jesus-centered principles instead.
After I wrote that post on scattering stones, I received so many amazing emails and comments, and I can't tell you how encouraging they were to all of us. 
I want to leave you with a longer one, that summarizes so much, and which literally brought tears to all of our eyes. I read it out loud to Joanna, and couldn't get through it without choking up.
I thought this was a fitting post to start the new year, because it summarizes everything we're trying to do!
It was written by someone who has followed this blog almost since its inception, and whom I've actually met in real life at a speaking event (that was cool!).
Today, yet again, your post nailed it. All these messages you talk about – the obligation sex, unconditional respect and the husband always having the final decision, staying in the marriage no matter what, if you don't have sex whenever he wants, he'll turn to porn and it's your fault – these are all beliefs deeply ingrained in both my husband and me.
Your Love & Respect posts kicked off a huge deconstructing process for me. Wowzers, it's been quite the ride.
I can look back at our marriage and see how these beliefs were slowly killing me and killing our marriage, no matter how much "healthy" I added. Because in spite of me learning healthy things, I was still building on that broken foundation!! I've always been taught that a wife should essentially sit down and shut up, yet no matter how well I did that, our marriage only got worse. I was originally baffled by why L&R didn't work for us, because I truly have a "good-hearted" husband — yet when you started those posts I realized how deeply steeped in patriarchal beliefs he was. He said he wants me to have a voice – but he's been taught all his life that my voice doesn't actually matter, so that's how he was actually operating. And I believed the same things. It was killing our marriage.
The more you scatter stones and tell us how harmful those stones were, the more I deconstruct, the more my amazing counsellor (who tells me many of the same things you teach!) points out the insanity of the beliefs I was building my marriage on, the healthier our marriage gets. It is ROUGH going. It's like slogging uphill through a swamp of mud, with a million mosquitoes swarming you, while your partner tries to haul you back to where "normal" used to be.
But there is LIFE and hope in this direction, with you and my counsellor to teach me. My depression is lifting. My sex drive can outpace my husband's now. I am more confident. I have better things to teach my daughter. Once in a while my husband will admit that this route is better than our old patterns. I am more alive. These things you teach – they match with what Jesus taught, and this brings LIFE! They match with how He lived. They match with how He treated women. They do not match fundamental conservative Christian beliefs of oppression.
I feel like when I got married, I was given this box of beliefs, all beautifully wrapped up in books like Created to be His Helpmeet (boy that one was bad! My HUSBAND told me to burn it or he would!!), Sheet Music, Love & Respect, For Men [and women] Only, Every Man's Battle) and was told that if I followed these beliefs, my marriage would be amazing. So I jumped in and threw myself 100% into believing and following them.
Now, over a decade down the road, I'm realizing they gave me a broken set of beliefs! No wonder my marriage is worse!! Because whatever health I tried to add, the cracks and holes underneath were so big they were swallowing me up!! Every time I finish a counselling session, I'm so mad at how I was literally SET UP TO FAIL by these. I was told they were the key to success but they were actually the opposite. YOU and my counsellor are literally THE ONLY voices I know of who are actively scattering these stones and then teaching a better foundation.
So all this to say – your work is valuable. Your voice is valuable. Without it, I would still be caught and stuck and sinking even deeper. Because of you, our marriage has a chance. Because of you, I have better things to teach my daughters for marriage. Because of your stone scattering now, I will have a stronger foundation to add all your healthy teaching to.
So please don't stop scattering stones. We need you. Women like me need you.
There's a little sticker on my floor, and it's put there so every time I sweep over it, I remember to pray for you and your team. For wisdom, for safety, for protection over your own marriages and families, and for courage and strength to keep going, keep fighting, keep teaching. You are doing God's work. You are bringing His light and His hope to countless marriages like mine. We need you.
Are we setting up couples to fail?
That sticker bit was what made me a sobbing mess, but the part that really stands out is how many of our bestsellers may inadvertently be setting couples up to fail.
That's what we found in our surveys, and we'll be sharing those numbers with you in the next few weeks. We'll be showing how some of the specific teachings in these books, about lust, about porn, about men's sex drives, about women's lack of sex drives-, and so much more, has set up couples to fail.
And we'll show that if you're having issues, you're not crazy. You're not broken. It's likely not even your fault! You were often just given faulty information that changed how you saw yourself, your spouse, sex, and even God for the worse. So let's throw that stuff out and come back to what's true and healthy.
The Great Sex Rescue
Launches March 2!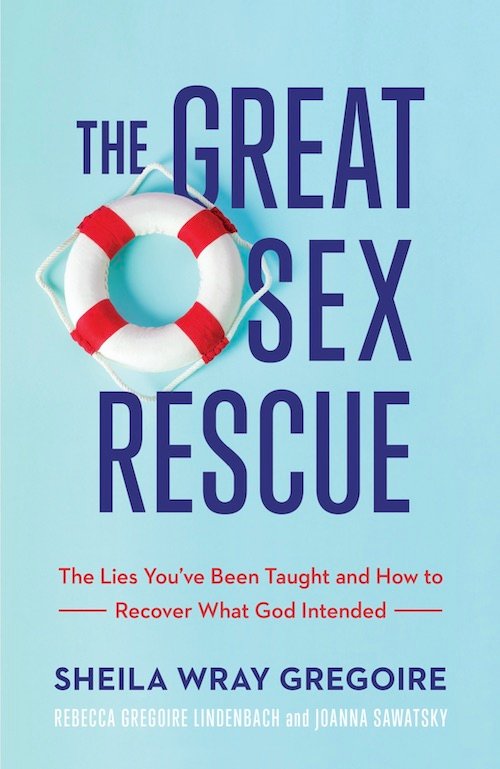 What if YOU'RE not the problem with your sex life?
What if the things that you've been taught have messed things up–and what if there's a way to escape these messages?
Welcome to the Great Sex Rescue.
You'll feel: Validated. Seen. Heard.
You'll have a roadmap to escape the lies.
Plus it's a super fun read!
Because you deserve real freedom and intimacy.
That's what we want to do in 2021! I'm a little (a lot) overwhelmed, but I'm excited for this journey!
(And thank you again to everyone who sent in letters and emails and comments like this one. We saved each one!).
Happy start to 2021, everyone!
Sheila Wray Gregoire
Founder of Bare Marriage
Sheila is determined to help Christians find biblical, healthy, evidence-based help for their marriages. And in doing so, she's turning the evangelical world on its head, challenging many of the toxic teachings, especially in her newest book The Great Sex Rescue. She's an award-winning author of 8 books and a sought-after speaker. With her humorous, no-nonsense approach, Sheila works with her husband Keith and daughter Rebecca to create podcasts and courses to help couples find true intimacy. Plus she knits. All the time. ENTJ, straight 8
Dads shouldn't need their adult daughters to give them adulation and affection. That's called...
Let's talk about the echoes of menstruation. Yesterday on the podcast, we were discussing how...
This has been a week of great thrills and great disappointments. Thankfully, the thrills were...