I believe that we can eradicate rape culture from the evangelical church.
In fact, I'm committed to it! And in this week's podcast we're looking at how to do that.
But first, some background. Today marks the beginning of our debunking series, where we take one unhealthy teaching each week and look at why it's dangerous and what we can replace it with instead.
It's all leading up to the release of The Great Sex Rescue on March 2! Our book asked 20,000 women about their marital & sexual satisfaction, and measured that against common evangelical teachings. And we identified some key teachings that did terrible things to women's sex lives.
One of those teachings, the one we're tackling first, is what we call the "gatekeeping" message: that girls and women are responsible for making sure men don't cross their sexual boundaries.
To talk about this, Rebecca's going to do her nifty let's-take-a-closer-look at this survey question from a popular book, and show how it doesn't say what it claimed to say. But first, I interviewed Ruth Everhart, author of The #MeToo Reckoning. 
Listen in!
Or, as always, you can watch on YouTube!
Timeline of the Podcast
0:39 What's on the schedule today!
4:00 Ruth Everhart joins us to have a conversation on safety, boundaries, and what we perceive as valuable in church culture (*warning * there are tellings of traumatic events such as rape in this interview)
26:10 What does the research say? Stats on those whose first sexual encounter is not consensual
31:41 Rebecca breaks down another bad survey question
39:48 Why these stats seem so agenda driven with bad interpretation
43:05 How this message REALLY plays out negatively when internalized
Main Segment: The #MeToo Reckoning
Ruth wrote a great post for me on The #MeToo Reckoning earlier this month, but today I had a chance to talk to her about some of the stories in her book, and ask her a question that's plagued me since I had a rather disturbing encounter myself on a missions trip: Why is it that we think the price of spreading the gospel sometimes must be women's safety? So the reader question this week was actually one from me!
And do check out her book!
New Research: 1/16 women report their first encounter with sex is rape
We looked at a study from the Journal of Internal Medicine, and asked what the church can do given this reality in their pews.
Some highlights from the study:
If sex was forced, average age was 15.6 years compared with 17.4 years
Average age of the partner/assailant at first sexual encounter was 6 years older for women with forced vs voluntary sexual initiation
Women with forced sexual initiation were more likely to experience an unwanted first pregnancy; endometriosis;  pelvic inflammatory disease; problems with ovulation or menstruation
Survivors of forced sexual initiation more frequently reported illicit drug use; fair or poor health; and difficulty completing tasks owing to a physical or mental health condition.
Are We Promoting Rape Culture?
Next, Rebecca joined us and we analyzed a survey question in Shaunti Feldhahn and Lisa Rice's book For Young Women Only. The way the authors present these conclusions is highly problematic, and the survey results do not warrant the conclusions drawn from it. 
Here's the question and the response:
In the book, this was framed as "82% percent of guys reporting serious difficulties in bringing things to a halt in a make-out situation–or no desire to halt things at all!" 
The headings used were that guys had "little ability" and "little responsibility" to stop. And the lesson girls needed to learn from this? "With a guy, if you want to be able to stop it, it's safest to not even start."
Do you see any red flags here or problematic elements? Let me know in the comments! And then listen in to what Rebecca says as she analyzes this question from a psychometrics point of view.
Just as we looked at the survey question that made love & respect a thing, and showed how it doesn't mean what they said it means, so this one is highly problematic as well.
Going shopping?
Use my link to support this blog!
Things Mentioned in This Podcast
I truly believe that we can talk about sexual assault better.
And things are changing! When we stop making girls responsible for boys' behaviour; when we start acknowledging that sexual assault leaves lasting wounds and is important; when we start valuing women's safety and not just the "ministry", I think we'll grow to look more like a community that follows Christ. I have hope, and I hope you will, too, after listening in, even if this is heavy.
Things are changing. They are getting better. We are making a difference!
The Great Sex Rescue
Launches March 2!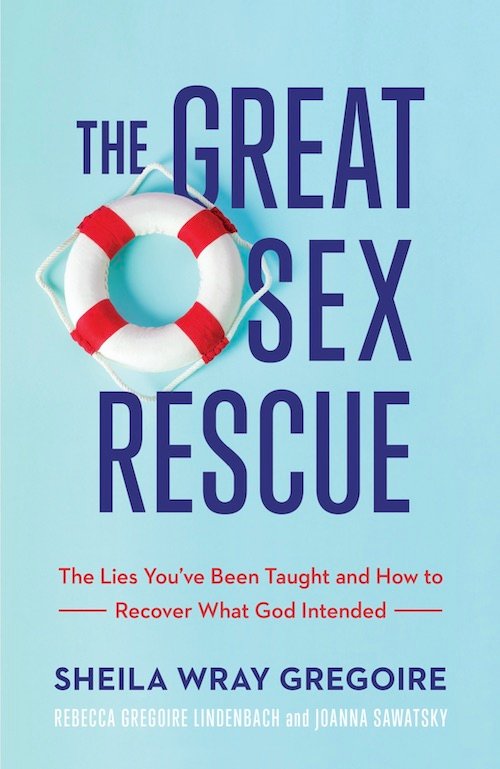 What if YOU'RE not the problem with your sex life?
What if the things that you've been taught have messed things up–and what if there's a way to escape these messages?
Welcome to the Great Sex Rescue.
You'll feel: Validated. Seen. Heard.
You'll have a roadmap to escape the lies.
Plus it's a super fun read!
Because you deserve real freedom and intimacy.
What do you think? Have any thoughts on why that survey question was problematic? What about the results of the study on the repercussions of rape being your first sexual experience? Or anything else stand out to you? Let's talk in the comments!
Sheila Wray Gregoire
Founder of Bare Marriage
Sheila is determined to help Christians find biblical, healthy, evidence-based help for their marriages. And in doing so, she's turning the evangelical world on its head, challenging many of the toxic teachings, especially in her newest book The Great Sex Rescue. She's an award-winning author of 8 books and a sought-after speaker. With her humorous, no-nonsense approach, Sheila works with her husband Keith and daughter Rebecca to create podcasts and courses to help couples find true intimacy. Plus she knits. All the time. ENTJ, straight 8
Should we endure suffering because it makes us holy? We have a distorted view of suffering in the...
One of the books that women report is most harmful to them is For Women Only.  When we analyzed 13...
Is all obligation sex necessarily rape? As we've been talking about obligation sex this month,...