Then The Great Sex Rescue launched–and it's doing so well! The reviews are coming in, and the sales are so strong. Thank you. 
PLEASE KEEP THE REVIEWS COMING. It helps us so much!
But we've also been really discouraged at the reaction from other stakeholders, and we shared that on the podcast yesterday. In return, a reader sent me a beautiful email, pointing to the future. She did it with plenty of pictures of her daughter, to make a lovely point. I want to share that email with you, but not her pictures, because that's not appropriate. So I'll substitute pictures of my own kids at that age. I hope, though, that the point still remains, because this touched us deeply yesterday. 
And thank you to everyone who encouraged us!
Hi Sheila, Becca, and Joanna,
Sisters…it's a lot.
Like you, I don't know where to start.
I don't want to make any attempt to "fix" your grief.
But here is my favorite translation of my favorite Scripture, and my prayer for you this year:
"I would have despaired unless I had believed that I would see the goodness of the LORD In the land of the living. Wait for the LORD; Be strong and let your heart take courage; Yes, wait for the LORD."
‭‭Psalms‬ ‭27:13-14‬ ‭NASB1995‬‬
Also I say to you from the depths of my mommy heart – PLEASE.REST. Even Jesus observed the Sabbath and took naps. TGSR is out, the Good Guys' Guide is in, GO LAY DOWN.
Finally, I know you have to count the losses, but if I can add into your equation…
This is Shylah Eve. She is a real little girl. "
Shylah" means "wise and strong in the Lord", and "Eve" means "enlivening". She is two and a half years old. Her favorite foods are pancakes and strawberries. With bright blue eyes and an infectious giggle, she is very precious to her family. She loves to color and be fancy. She has a lot of nicknames: Shy-Berry, Berry-Boo, Boosky, Gremlina, Her Very Berryness, Trouble-makin'-girl, Shiny Girl…..
Shylah will be working through The Whole Story when it's time for a comprehensive look at her body and sexuality. She will get the Good Girls Guide as a young woman. Her mom has read The Great Sex Rescue and will be confronting these ideas head on, directly, over and over, with Shylah and her brothers, in the hopes that they won't need to read it themselves except as part of church history. 
Shylah will not be attending any church or youth group that supports marital hierarchy or promotes purity culture. She is going to learn about the fruits of the Spirit, and the fruits of the flesh, and how to watch for them in every situation, from every person, regardless of their station. 
When she has questions about her role in God's kingdom, I will be able to point her to healthy and safe resources, many of them yours. 
I am going to use your words as one of the tools to protect her silly, carefree, shamefree self, lovingly made to be perfect and whole.
She is among my most precious treasures. I share her with you so to those harmed, you might add not only those rescued, but those who will be SPARED.
All my love,
S.
We were just so touched, and we needed that right now! I'm going to go read the reviews again (which are wonderful) and take a bit of time off today before another rash of interviews starts this afternoon. And then I'll rest this weekend (and so will Rebecca!). 
Thank you again for your support. I do think we're changing the conversation–thanks to you guys, too!
The Great Sex Rescue
Now Available!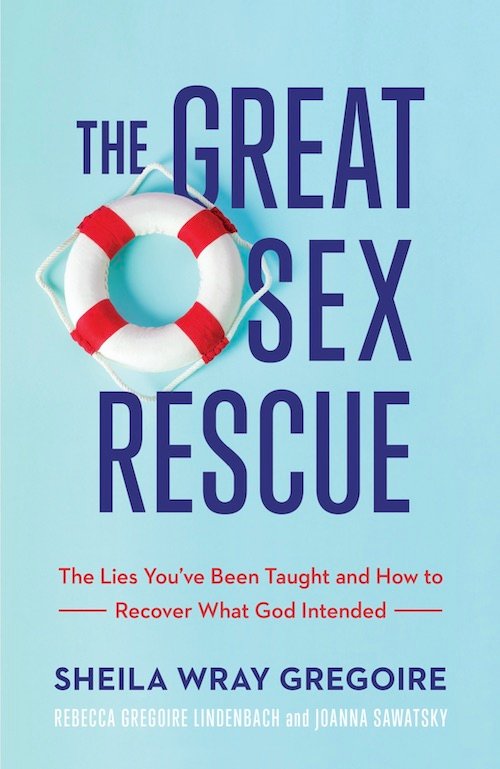 What if you're NOT the problem with your sex life?
What if the things that you've been taught have messed things up–and what if there's a way to escape these messages?
Welcome to the Great Sex Rescue.
Sheila Wray Gregoire
Founder of Bare Marriage
Sheila is determined to help Christians find biblical, healthy, evidence-based help for their marriages. And in doing so, she's turning the evangelical world on its head, challenging many of the toxic teachings, especially in her newest book The Great Sex Rescue. She's an award-winning author of 8 books and a sought-after speaker. With her humorous, no-nonsense approach, Sheila works with her husband Keith and daughter Rebecca to create podcasts and courses to help couples find true intimacy. Plus she knits. All the time. ENTJ, straight 8
Dads shouldn't need their adult daughters to give them adulation and affection. That's called...
Let's talk about the echoes of menstruation. Yesterday on the podcast, we were discussing how...
This has been a week of great thrills and great disappointments. Thankfully, the thrills were...