I'm so immersed in talking about sex all the time that I sometimes forget how weird I am.
I talk about this stuff all the time, so I forget that other people don't.
Anyway, I'm in the middle of launch week for The Great Sex Rescue, and it's going great! Thank you so much to everyone who has bought it, and especially for all the encouragement you've given us and all the great reviews pouring in! We really are blown away. And we're doing so well on Amazon! Woke up this morning to being #151 in Canada, which is amazing. So thank you.
Because of all that's been going on, I hadn't actually planned a post for today.
But then something happened on Twitter that I thought you may all find a little funny, and that may show you where my head is at!
First, Julie Roys reported on a pastor making very sexist and degrading comments in a sermon recently. He talked about how women shouldn't gain weight once they're married, and how they need to stay attractive, like Melania Trump. And he talked about how a friend of his has a "divorce weight", where over a certain weight he divorces his wife.
I won't belabor it; I think it could be triggering. But needless to say, it was bad.
(And for all of you who are reading this via email, i'm not sure the embedded tweets will come through. So you can click on over to this Twitter Thread to see what I'm talking about! )
This Baptist pastor preached that "weight control" by wives is the solution for marital problems. Now, he's being investigated by his denomination & has resigned as moderator from upcoming denominational meeting. https://t.co/ipnCCnBcGG

— Julie Roys (@reachjulieroys) March 2, 2021
After Julie posted this, someone tagged me.
I had heard about the incident, and knew that it related to something we talked about in The Great Sex Rescue. One thing that we found in many of the evangelical books that we looked at is that women's attractiveness is emphasized, but men's weight is never mentioned.
However, attractiveness is merely a preference issue. Obesity, on the other hand, can actually affect the mechanics of sex, since "useable length" changes (as I've talked about before in my posts on sex with a husband who has a big belly). We looked in our book at how there's a very lopsided treatment of this, since, by any measure, a man's obesity affects the sex life more than her attractiveness. And yet, most of our evangelical books fail to talk about men's weight while they do talk about a woman's responsibility to keep up her appearance.
So I tweeted it out:
Yep. It's really similar to an anecdote in His Needs Her Needs that we included in The Great Sex Rescue.

What's amazing is how many talk about women needing to stay attractive, but how few books/leaders talk about how if a man is obese, "usable length" decreases. Sex suffers.

— Sheila Gregoire--The Great Sex Rescue comes 03/02! (@sheilagregoire) March 2, 2021
I think I forget how weird this stuff is. I was just trying to make a point in 280 characters.
And then the replies starting coming in.
Anyway, I think I just sometimes forget where people are at when it comes to this stuff, and how I'm really not normal!
So I thought you all may get a kick out of that.
And now, can I share two reviews for The Great Sex Rescue that came in?
They're all so wonderful, and I'm truly blown away. I don't know which ones to share, but here are the first two I saw this morning:
I just finished TGSR and all I can say is "WOW!" Sheila, Rebecca and Joanna have written a beautiful book that brings humanity back into marriage and more specifically, the marriage bed.
If you have grown up in the evangelical church over the past few decades, you have internalized messages from pastors/authors that have shaped how you view marriage, sex, and intimacy. While their intentions have most likely been for good, these messages (that really don't take perspective or input from ACTUAL women) and their interpretations have cost marriages in the evangelical church dearly. This book brings the voices and experiences of Christian women (and their spouses) to the forefront while maintaining Biblical integrity and truth. They aren't afraid ask the hard questions and ask for better from those with the most influence. Has the advice we have been given ACTUALLY WORKED? Does research-based evidence exist that can prove the advice from the top selling Christian books is effective or not? They have created a rubric to help Christians discern the books they read in order to spur them to live out marriage in a way that honors and brings glory to God.
The overall message of this book, taken from Chapter 6, is that a Kingdom view of sex is a mutual, passionate knowing and sacrificial serving. It's what Jesus did for us, and it's how we can extend that to our spouses. I would recommend this book for any married couple… whether you've been married for 1 year or 40. I would also recommend this to any engaged couple or even late teen in a serious relationship that is possibly heading toward marriage. Just skip the "Try This" sections. I think it is important for those engaged and in serious relationships because it sets a standard for how a truly godly man (or woman) should behave in a committed relationship. This book does not gloss over red flags but makes them known. If there are red flags, please don't ignore them! And you know what? Even if you're single and a godly marriage and perspective of sex/intimacy is important to you… please read this book! It will truly minister to you in ways that you might not even knew needed ministering to.
Finally. A Christian book not based on myths and old wives fables!! This is packed with science and data driven studies- while given in an easy to read and fun format. The message evangelicals have given for decades is so one sided and has taken consent off the table. The Great Sex Rescue makes consent a priority and teaches how this is not one-sided. Both people should be enjoying this and being fulfilled! One sided intercourse should not be accepted any longer in Christian circles! The Bible has ALWAYS portrayed it with two sides. For the man AND the woman. Sex is not "God's gift to man" with woman commanded to fulfill her duty. And a wife is not held accountable for her husband's sexual sins. TGSR deals with Scripture, medical issues, childhood trauma, date rape, consent, and how healthy couples can grow closer than ever and continue to have a fun sexual relationship throughout the years!
Thank you all so much. I'm humbled. 
The Great Sex Rescue
Launches March 2!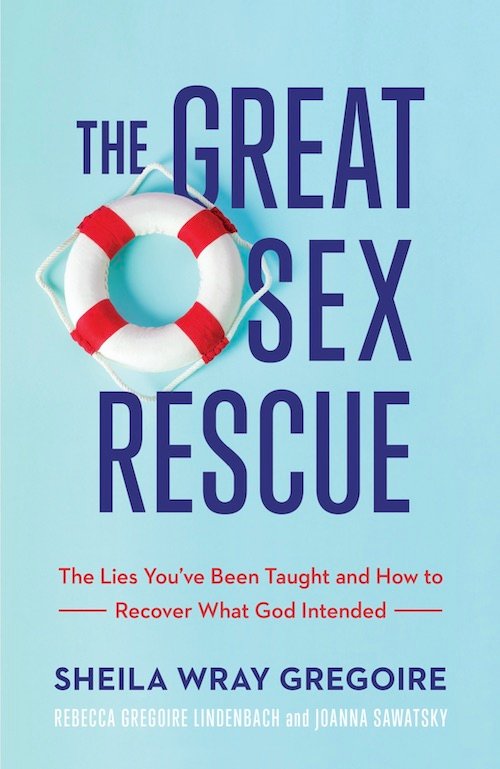 What if you're NOT the problem with your sex life?
What if the things that you've been taught have messed things up–and what if there's a way to escape these messages?
Welcome to the Great Sex Rescue.
Again, thank you. And I'll try not to be so weird in public all the time!
Do you ever forget that most people don't see the world the way you do? Let's talk!
Sheila Wray Gregoire
Founder of To Love, Honor and Vacuum
Sheila is determined to help Christians find biblical, healthy, evidence-based help for their marriages. And in doing so, she's turning the evangelical world on its head, challenging many of the toxic teachings, especially in her newest book The Great Sex Rescue. She's an award-winning author of 8 books and a sought-after speaker. With her humorous, no-nonsense approach, Sheila works with her husband Keith and daughter Rebecca to create podcasts and courses to help couples find true intimacy. Plus she knits. All the time. ENTJ, straight 8
When we're trying to get out of the pit our sex life is in--sometimes we're the one who needs to...
We need to deal with our double standards of sexual expectations in marriage. This month we're...
Christian leaders should not be trying to convince women to send nude photos. This doesn't seem...