Baptist News covered The Great Sex Rescue–and had a great interview with a pastor!
One of our frustrations with publicity for The Great Sex Rescue is that mainstream American Christian outlets (magazines, websites, radio shows, etc.) won't cover it.
In other countries, the opposite is the case! Faith Today, Canada's evangelical magazine, jumped on Great Sex Rescue immediately and had a review and then later a favorable article. Premier Christian Network Radio in the UK had me on several shows, and Woman Alive UK featured The Great Sex Rescue. Big Australian Christian radio shows have also featured us.
But in the U.S., we've mostly been featured on hundreds and hundreds of small podcasts, and in the more progressive media, like Fathom Mag, Relevant, and Sojourners. The biggest mainstream Christian radio shows won't touch us, nor will the biggest Christian magazines (though Kate Shellnutt from Christianity Today has mentioned us several times in other articles!).
When you do the largest study that's ever been done of Christian women's marital and sexual satisfaction, you'd think more news outlets would be interested in it. But in the U.S., there's largely been an embargo in mainstream media, likely because we challenge the evangelical industrial complex by calling out some of our bestsellers and holding them to account.
So I was thrilled when Baptist News decided to do an article on our book after the one year anniversary.
After explaining all about the book, and our study and our findings, they write this:
A Dallas-area minister said his encounter with The Great Sex Rescue last year transformed his preaching and teaching about sex as well as his relationship with his wife.
"All of a sudden, we became very well aware that we had heard and believed some things that were not based in truth," said Brian Treadaway, senior pastor at Vertical Church in Ovilla, Texas.
One of those things was a classic belief identified in the book, he said. "For many, many years it was just an understood principle that every man struggles with lust and therefore you might as well adjust and give in, and that you are always going to battle with this. I just believed that was going to be my lot in life. From the wife's side, the subtext was that it was her responsibility to provide intimacy for the husband so he won't lust. And if he does, it pretty much is your fault."
Treadaway said he had taught from some of the books identified as red flags in Gregoire's project. "I taught all those things, that this is just the way it's going to be."
But that all has been transformed since reading The Great Sex Rescue, he said. "It has revolutionized how we counsel and how I preach and teach."
And it has deepened his marriage, as well, he added. "It led into a lot of open conversations and transformed our relationship. Some of those discussions were difficult and painful, but they became very joyful and fruitful."
That's just so encouraging to hear! And please, read the whole article. It's great (and super encouraging for us).
A number of people have sent me Pastor Treadaway's sermons when he's mentioned the book, too, and it sounds like the book is having quite the impact in his church! They've also used our FREE 8-week video study that goes along with the book in a woman's group, and I heard this from one of the leaders:
My Pastor's wife and I led a study on The Great Sex Rescue with a group of women. We used your 8 week video course to help us facilitate conversation. We also had it at her house to make it more comfortable and inviting. We made every lady a binder with printouts of the questions and room to write notes, so they could keep everything in one place. When I tell you this was a life-changing study, I mean it. All of the ladies came from different backgrounds in life, but had all heard the same messages growing up. This really opened up their eyes to the reality that there is something better for their lives as wives. We even had a mom/daughter duo taking the class together! It was just absolutely beautiful to see how God moved in these ladies and how their minds were turned on. They were actually able to start thinking about these issues for themselves! We are planning to do the study again soon with another group of women.
I love hearing how The Great Sex Rescue is transforming whole communities. And I love that it's spreading so much, even if big websites keep up their embargo on us.
Because freedom always wins out! And God is doing such a big movement right now in the evangelical church, of which Great Sex Rescue is only a very small part. But God is shaking things up, because we've gone so far off course with how we treat each other and how we view sex and marriage and power. And I think the shaking will continue until something new is birthed and people have a safe place to worship Him in spirit and in truth once again.
So thank you to Baptist News for covering this! Thank you to Vertical Church for being so open and humble. And thank you to all who are spreading the word!
And if you want to lead a group of friends through our 8 week study, you can access it right here!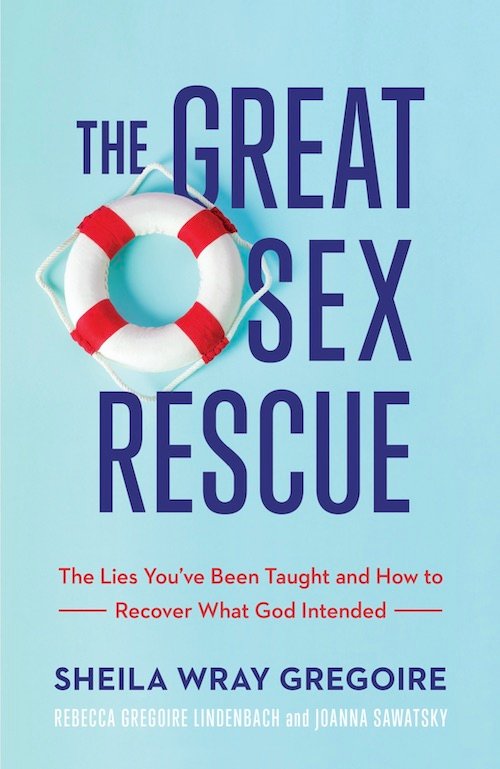 What if you're NOT the problem with your sex life?
What if the messages that you've been taught have messed things up–and what if there's a way to escape these toxic teachings?
It's time for a Great Sex Rescue.

Sheila Wray Gregoire
Founder of To Love, Honor and Vacuum
Sheila is determined to help Christians find biblical, healthy, evidence-based help for their marriages. And in doing so, she's turning the evangelical world on its head, challenging many of the toxic teachings, especially in her newest book The Great Sex Rescue. She's an award-winning author of 8 books and a sought-after speaker. With her humorous, no-nonsense approach, Sheila works with her husband Keith and daughter Rebecca to create podcasts and courses to help couples find true intimacy. Plus she knits. All the time. ENTJ, straight 8
A new year has begun--so let's look over what was biggest on the blog in 2022! At the start of...
We need to deal with our double standards of sexual expectations in marriage. This month we're...
Christian leaders should not be trying to convince women to send nude photos. This doesn't seem...