Sheila here!
When I was planning last week's podcast looking at how the authors and organizations that we critiqued in The Great Sex Rescue had responded to our book, I started making a list of all the things that they had acccused us of.
By the end of that effort, I had a list of 27 things we had apparently done, ranging from lying and mischaracterizing all the way to gaslighting and being Satan's useful idiots.
Looking at that list was sobering. I hadn't thought it would get to me, but it did. I had nightmares badly that night.
I wanted to publish the list, so that people could see the weight of it, all at once.
But Rebecca asked if she could write something else. She took that list, and wrote about what we were doing around the time that people accused us of these things–to try to put the accusations in context.
And then she wanted to issue a plea to the authors to come back to their first love, Jesus of Nazareth, and embrace the true kingdom.
Usually it's my face responding to all of this, but when authors criticize us, they're criticizing Joanna and Rebecca too. They're criticizing two mothers of babies of toddlers, who wrote this book and ran these stats while they were nursing and delivering babies. I wanted to let Rebecca speak for what she's feeling. 
I think it's powerful, and I'd like to share it with you today.
SHEILA: In March of 2021, three of us–myself, Rebecca Lindenbach, and Joanna Sawatsky–published the book The Great Sex Rescue, based on a ground-breaking survey of 20,000 predominantly evangelical women. We were able to identify key common evangelical teachings about sex that hurt women's marital and sexual satisfaction, and cause libido to plummet and sexual pain to skyrocket–beliefs like "all men struggle with lust", "a wife is obligated to give her husband sex when he wants it", or "a wife should have frequent sex to keep her husband from watching porn."
In that book, we also identified best-selling Christian books and resources that spread these messages.
We thought authors would care that people were being hurt.
Instead, not a single person that we called out has publicly grappled with our findings. Instead, authors have doubled down, and accused us of terrible things.
Rebecca is going to read out what people have said about us. The following accusations are taken from public statements by Shaunti Feldhahn and Focus on the Family; blog posts by Gary Thomas and Emerson Eggerichs that we believe refer to us; and some personal correspondence from others that we have called out.
(the sources for these quotes, as well as the explanations for why we believe they are about us, can be found in the podcast post for Episode 156 of Bare Marriage). 
When people hear our critiques of authors and organizations, they ask us "did you give them a chance to respond," or "did you go to them privately," as if there is more that we could have done.
So let me tell you what we have done, and what the response has been.
When we quote directly from authors, they say we are lying about what they said. When we share quotes from their books, they accuse us of attributing false statements to them, mischaracterizing them, and making assumptions. When we show how these quotes have done great harm, the authors say we are not wise or Christ-like.
When we share what women reported in our focus groups, these teachers call us gaslighters. When we share what our research of 20,000 women found, we're told we have narcissistic arrogance and are harming women. When we ask them to grapple with our findings, and tell them we will answer any questions about our research they may have, the authors instead ignore us and spread false claims that we did our research badly.
When we call out authors for telling women to be the methadone for their husbands' sex addictions, we're told we aren't submitting ourselves to God's word.
When we plead with authors and organizations to care about the women in abusive marriages being battered by their teachings, we're told that it's actually just a doctrinal disagreement. When we highlight how these teachings damage women married to sexual sadists, we're accused of not actually fighting against domestic violence, but rather fighting against those who genuinely care about women. When we show how specific authors downplayed marital rape, blamed women for their husbands' sex addictions, told women to sexually service their husbands even when they themselves were in great pain or medically suffering, we're told we engage in outrage marketing. We are told that we are unkind or mean.
When we beg authors to stop treating women like sexual objects, the authors accuse us of using calculated and cruel attacks.
When we say that male sexuality and the objectification of women are not one and the same thing, we're called self-righteous, that we have an agenda where we pretend to help women, but we're really just drawing attention to ourselves
When we beg authors to care about women's sexual pain, We're told pride has all but taken over our work; that we're turning as many people away from the truth as to the truth; and our "cup" (that we pour out of to teach) has gotten so dirty and we don't realize it.
When we call out authors who use our work and our wording to make themselves sound safe, while they then teach unsafe things in the very next breath, we're called adversaries who make false charges both professionally and personally, choosing to make more money by making people angry.
When we called out an author for advising women to become porn to defeat porn, he claimed we:
Are unhealthy
Are Demonically strategic and organized
Are Satan's useful idiots who think they are doing good and yet may be working for the other side
Pushed him so hard that hating us was inevitable
Are used by Satan to attack good people, distracting them from what God wanted them to do.
When we publicly stand up to plead the case of women who are suffering by speaking against those in power who are causing their pain, we are told we are not going about this in a Kingdom way.
To them, all we have to say is this:
If you believe we are not being Christ-like when we plead with you and the colleagues you defend to care about the woman who is gritting her teeth to get through sex you told her is her husband's right to take, when we beg you to listen to the stories of women treated as husband's sexual methadone, when we feel the need to shout to get you to show even a modicum of care for the people devastated by the teachings now proven statistically to do harm–perhaps we are not acting like the God you serve.
Perhaps we are not doing things "in a kingdom way", if the kingdom is one of prestige for you who hold power.
But perhaps that is because your Christ is not the same as ours. The kingdom you are working for is not the same as the Kingdom we are fighting to realize on earth.
We serve the Christ who reaches out and touches lepers, rather than casting them out of the city and declare them unclean.
We serve the Christ who topples religious power structures when they harm those most vulnerable.
We serve the Christ who is more concerned with the wellbeing of the sheep than the reputation of the hired hand who is feeding them to the wolves.
We serve a Christ who sees the suffering of women he loves and weeps.
The Christ we serve offers resurrection, redemption, rebirth. He is the Christ who, no matter our past, can redeem and use us for His glory. He is the Christ who specializes in taking what was dead and decaying and bringing forth new life.
We invite you to rediscover this Christ. To willingly put yourself through the pain and humiliation of Christ's death so that you can rejoice in his resurrection.
The death of pride. The death of status. Perhaps even the death of platform and wealth and fame.
But we invite you into the resurrection.
We invite you into redemption.
No one is stopping you from doing the right thing. No one is waiting, hoping you will fall.
We are waiting, hoping, pleading and praying that you will remember your first love, Jesus Christ of Nazareth, and join us. Join us in protecting his sheep. Caring for His sheep. Loving His sheep.
That is the Kingdom way.
We just want to say, thank you for supporting us, and thank you for giving us the chance to share this with you. It was therapeutic for us to put this together, and it is much easier to move on to the next task at hand now!
"A groundbreaking look into what true, sacred biblical sexuality is intended to be. A must-read." - Rachael Denhollander
What if you're NOT the problem with your sex life?
What if the messages that you've been taught have messed things up--and what if there's a way to escape these toxic teachings?
It's time for a Great Sex Rescue.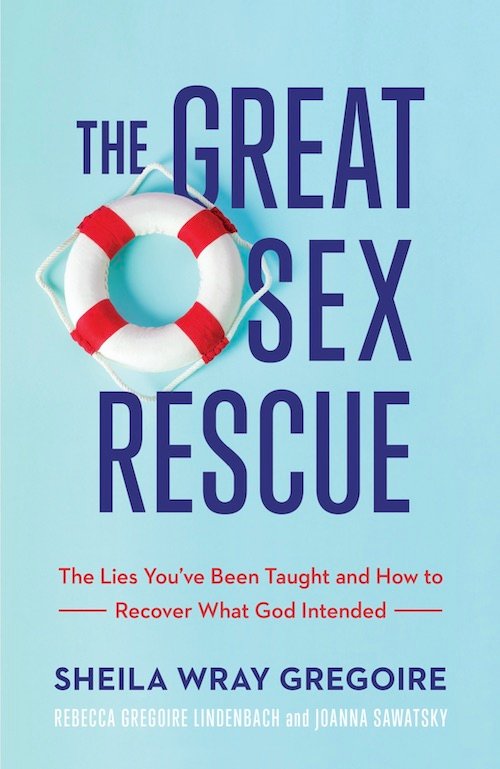 What would you say to the authors? Leave a comment and let's talk!