The webinar with Kristin Kobes Du Mez, Beth Allison Barr and me is going to be awesome!
We have 3000 seats available, but 2000 are already gone. So grab your seat now!
On December 6 at 9 pm EST (sorry for all of you in Europe!), the three of us are sitting down with Devi Abraham, host of the Where Do We Go From Here podcast, to talk about our books.
Now, you've likely heard all of us talk about our books. You hear me talk about mine all the time. Beth was on the podcast last week, and Kristin was on a few months ago. And we've all been all over other people's podcasts!
But this one is going to be different, because we'll ALSO be sharing about what we liked about each other's books. Plus we'll be talking about what this year has been like personally for us, and where we see things going from here. What changes do we see on the ground?
We'll have door prizes for those who are there live (including something I handknit, plus some amazing Femallay products!), but you can also listen to the recording afterwards if you can't listen live. 
And we'll be answering some of your questions as well. 
So grab your seat now before they're gone!
Let's talk why the webinar is needed: "The best person to rape is your wife"
This is just a tiny incident, one little thing that has happened this year in a slew of other things, but it's just emblematic of why our books are needed.
On November 13, Dr. Burnett Robinson, pastor of Grand Concourse Seventh Day Adventist Church in the Bronx, was commenting on how marital rape can't exist because the husband owns his wife's body. He was bemoaning the laws that make marital rape illegal, and in the middle of all of that, he said, "Gentlemen, the best person to rape is your wife."
Abuse advocate Sarah McDugal heard about this and grabbed this video before the church took the video of the sermon down.
She contacted several journalists, and the story appeared at Religion News Service and Julie Roys' site. Because of the pressure, his denomination did put out a statement and placed him on paid administrative leave. (Note that he is still being paid, so it's kind of like a vacation where he doesn't need to work, and in the statement they didn't actually say that marital rape was wrong).
Sarah, in this story, acted like Jael from the Old Testament–and that's where our "Tea and Tent Pegs" name comes from.
In the Judges 4 account, Deborah is leading Israel, and the enemies of Israel are amassing against them. Barak, the leader of the army, refuses to fight unless Deborah goes with them, and Deborah says she will–but the honor of the day will be taken from Barak and given to a woman.
In the battle, the enemies are routed, and Sisera, the leader of the Canaanites, is trying to escape. He heads down to where he thinks there will be friends–the Kenites. Jael, the wife of a Kenite, beckons him into her tent. He underestimates Jael and thinks he's safe. And while he is lying down, she takes a tent peg and hammers it through his skull (I didn't say the story wasn't gross).
Whenever people talk about "biblical womanhood", I always picture Jael. Being underestimated was her hidden strength. Plus she was brave, and God used her to defeat the enemies of God's people.
Women are often underestimated, but I believe that right now, women are being used to take on the enemies of God, those who teach things that are contrary to Jesus. (Now, there are many men in this space as well, and I'm so happy for them! But I've simply never seen this many best-selling books being written by women, and this many women speaking up in the news. It just seems like something is happening).
Sarah McDugal has been awesome at bringing awareness to the problems with the book Married Sex by Gary Thomas too.
Here's part of the review she recently published:
As an abuse and trauma recovery coach for women in the faith community, especially women married to porn and sex addicts, I was very much looking forward to this book. I'd hoped for a balanced, ethical, trauma-informed resource I could recommend. Sadly, Married Sex is anything but recommendable.
Married Sex offers multiple caveats insisting that it is NOT meant for troubled or abusive marriages. That would be good, except that the foundational concepts woven throughout the entire book rely on stories and examples from marriages where there are clearly abusive elements.
Reggie has rage issues – that are never named as abuse, and his wife's sense of emptiness over being used for angry sex is glossed over. Not one mention that she should have been advised to seek Domestic Violence support, based on the description of Reggie's patterns of behavior.
Danny is described as completely incapable of hearing his wife say no without feeling rejected as a human and taking it personally as a negative about his core identity. This is a fragile, immature, self-focused perspective that needs therapy, not a healthy example.
Darrell (who advises newly married couples) says he's surprised that some people are uncomfortable with the idea of regularly having naked night – no clothes allowed after 6pm, except an apron in the kitchen for cooking. (Has he never heard of parenting small children?) And why is it not okay to be not okay with cooking dinner naked?
Vito is an Italian stallion who likes to dominate in bed and play with (at minimum) honor bondage. His wife is described as liking it, because, of course she should…
Porn is approached as something most men do, but sexting him will make him not want to, and also even tho 65% of men watch it – this book isn't for wives of addicts. But if he does, you should offer more sex, avoid making him feel bad about it, and send him nudies…
And no, we don't want to read Liam's sex scene, puzzling as the description may be.
I believe sex is created by God to be a beautiful, healthy, intimate shared experience of safety and trust. I'm not shy to talk about awkward subjects, either. So when I say that sections of Gary's chapters read like cheap dime store erotica, it's not because I'm a prude. Clinical, medical, unfiltered – all appropriate. Pornographic, scintillating, gratuitous commentary – disturbing.
Gary's tantalizing descriptions of his wife's nipples, her body insecurities, her short little legs, her reticence to be seen nude – all smack of shameless exploitation. Especially when juxtaposed against the consistent theme of how good wives should definitely sleep naked, flirt naked, cook naked, send naked pictures, etc.
…
Sexting your husband (especially if he's the kind of guy who is begging you to) is not only unsafe in a digitally complex world, it's also definitely NOT going to rewire his brain to be uninterested in p*rn.
Flashing your breasts will not reset power imbalances. And it's profoundly disturbing that the baseline assumption is that marriage automatically brings power imbalances that would need to be reset. Healthy marriage isn't about either spouse flexing power over the other, it's about mutually supporting and protecting each other. (And if you're in an abusive power-over marriage dynamic, a boob-glimpse is definitely not the solution to reset anything.)
She also put out a video with her review if you'd rather watch the whole thing!
Rebecca and I will attempt to write a review later of Married Sex–it's hard to put down all our thoughts in a few words, but we'll try when things calm down with Rebecca's newborn!
But this year we've been so encouraged by partnerships with people like Sarah, but also Andrew Bauman, Gretchen Baskerville, Anne Blythe from Betrayal Trauma Recovery, Gretchen Baskerville, Patrick Weaver, and more who have been very vocal on social media about the need for healthy marriage and sex resources–and calling out those that are harmful, including books like Love & Respect (that's one that is close to Gretchen's heart!).
So we decided that we'd do a SECOND webinar that week, with me moderating, and these wonderful people appearing as panelists.
Quite frankly, it's been an emotional year for those of us who want to call the church to healthy advice focusing on wholeness. There have been a lot of disappointments and evidence that we're not being listened to. But then there have also been victories. We feel as if the ground is shifting.
So on December 9 and 9 pm (yes, it will be a busy week for me–Monday and Thursday!), we'll do a webinar on how The Tide Has Turned–a lament for the advice that has hurt the evangelical community, a celebration of some victories, and a look at what's coming ahead, and how we can all be part of calling the church to more.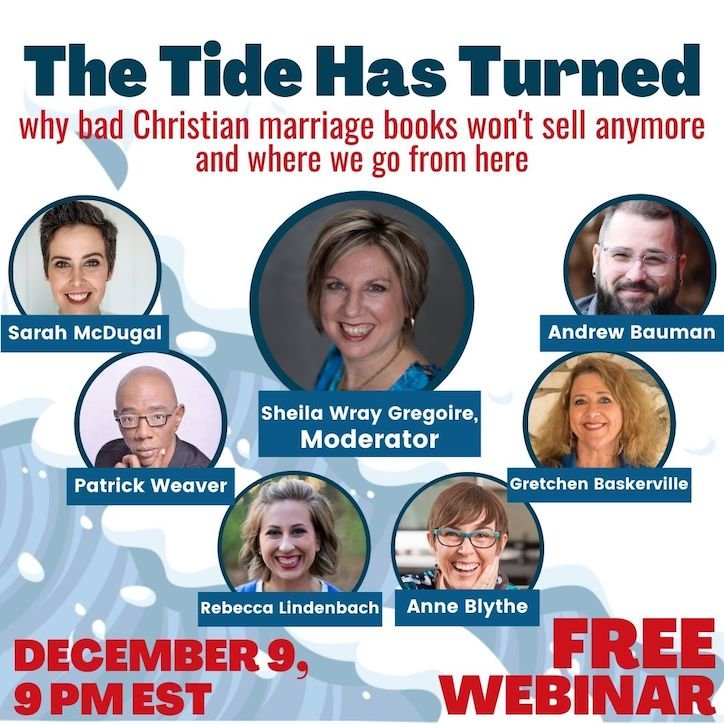 I don't think the world is prepared for all the Jaels that are coming out of the woodwork! So let's lament. Let's celebrate. And let's brainstorm together.
Again, the webinar will be recorded for those who can't make it live, but live you'll be able to ask questions!
I know a lot of you are busy with family stuff for the rest of the week, so I wanted to do a post with a round-up of announcements!
I would have taken off tomorrow (which is American Thanksgiving; why do you all do it so close to Christmas?), but we have a great podcast that I want to put up as usual, so I thought I'd do my announcements today. And I did have a number of things to share.
Both webinars are going to be amazing, and I hope you can make them!
One of the things Sarah was remarking when I sent her the graphic for ours was that it brought tears to  her eyes, because a year ago we were all doing this alone. Now we're together. We're friends. We've made relationships. And our voices are getting collectively louder.
That's how I feel about Kristin and Beth too. All of our books came out in the same year, and all became bestsellers, and all deal with the same topic, but from a different angle (politics; history; marriage). None of us knew the other was working on it until they were almost out. But they all go together so well.
We're not alone anymore. And I hope I can introduce you to some other amazing people over the course of these two webinars!

Sheila Wray Gregoire
Founder of To Love, Honor and Vacuum
Sheila is determined to help Christians find biblical, healthy, evidence-based help for their marriages. And in doing so, she's turning the evangelical world on its head, challenging many of the toxic teachings, especially in her newest book The Great Sex Rescue. She's an award-winning author of 8 books and a sought-after speaker. With her humorous, no-nonsense approach, Sheila works with her husband Keith and daughter Rebecca to create podcasts and courses to help couples find true intimacy. Plus she knits. All the time. ENTJ, straight 8
Dads shouldn't need their adult daughters to give them adulation and affection. That's called...
Let's talk about the echoes of menstruation. Yesterday on the podcast, we were discussing how...
This has been a week of great thrills and great disappointments. Thankfully, the thrills were...