I'm all fired up about the fact that people still consider Emerson Eggerichs an authority on marriage and sex. 
As most of you know, every year in this week in January we revisit the problems with the book Love & Respect, in the hopes that more and more people will see and churches will stop using this as a resource. It should not still be the #1 marriage curriculum in North American churches. It has to stop.
Today Connor walks Keith and me through a podcast with Emerson Eggerichs and his son Jonathan, talking about a woman who is crying in the shower before sex, even though she still initiates obediently every 72 hours. Eggerichs praises her.
Connor wrote a long, thoughtful article about Emerson Eggerichs ignoring marital rape yesterday, but Keith and I are hearing all of this for the first time in this recording. 
We get angry. I spit all over the counter. It's quite the show.
So listen in!
Or, as always, you can watch on YouTube:
Timeline of the Podcast
0:10 A TLHV Anniversay
4:20 Connor recaps the episode
11:00 A woman's coercive sex expeirence is badly handled
20:00 Is disobedience applicable to both sides?
23:00 Men's v Women's Sexuality
36:15 Sheila's Educational Corner
42:00 Both people need Honour & Respect
52:15 Red flags to watch for
Check out the Intimately Us "Foreplay" Plus App!
Special thank you to our sponsor, Intimately Us!
It's an app that's tasteful but spicy! Foreplay games, discussion starters, how tos, and more all designed to help you learn more about each other, figure out what you each like (and don't like), and have more fun! 
It's not about getting you to do something you don't want. It's about helping you discover your own sexuality, and your spouse's, and become closer than ever before. 
Download the free version now!
Main Segment: Emerson Eggerichs Not Recognizing either Marital Rape or Arousal
For this podcast, we are taking apart Emerson Eggerichs' podcast episode 39–a Good Woman's View of Sex. We do use some clips of it in our podcast, based on Fair Use doctrine where we are using the clips for commentary.
In this Bare Marriage episode, we show how Emerson Eggerichs shows he thinks:
women threatening divorce is a normal occurrence that isn't a big deal
women crying before sex is "not wasted" and is glorious to God because of her obedience
initiating every 72 hours is duty and obedience
a man acting badly if he doesn't get sex isn't a big deal
women don't need foreplay because they don't actually get turned on (except perhaps at ovulation)
women DO get turned on merely from men vacuuming
You can't actually tell if a woman is aroused
Listen in. Please, really listen.
This is what is considered the height of marriage teaching in the evangelical church.
This is the man that is constantly featured on Focus on the Family. His curriculum Mothers & Sons is constantly marketed to its listeners, setting up the next generation to be just like this one. His book is the #1 marriage curriculum in North America.
The original letter writer who was crying in the shower commented on yesterday's post.
She talked about how destructive Emerson Eggerichs' advice was:
This is/was me. I am the one who wrote the e-mail in 2015 after listening to one of Emerson's previous podcasts. I am the "Susie" Emerson E. talks about. He didn't even bother to change my last name, which at the time was [redacted]. He also didn't ask if he could read my letter on air. This podcast was after my "good-willed Christian" husband (now ex) taught the L&R series at our church twice. This was after years of living in an abusive marriage and being manipulated by him and convinced by others that this ridiculous every three days like clockwork rule would make our marriage blissful and of course make him stop being abusive. It was always my fault my husband was psychologically/emotionally, spiritually, and sexually abusive towards me.
I heard the obligation message for years, I didn't know anything different. There were no books I was aware of debating this nonsense. Scripture was quoted and this stuff was taught as gospel. The teaching was coming from so many Christian authors and leaders I truly thought God required this of me. My walk with Christ was and is my most precious relationship and these teachings manipulated that desire to please Him and created deep pain in the depths of my soul because I truly thought Christ was grieved by me (like I was the one being selfish when in actuality I was being coercively raped). Tortured like Christ no, abused and mistreated in a soul-crushing way, yes. Gaslighted into thinking my emotional pain was crazy and unwarranted, yep. After all who doesn't love to be raped, er I mean, have sex right?
At the time I didn't but now I think it is funny how Emerson turned the podcast into a how to turn on your wife sexually, he completely missed the point. (vacuuming is not and never has been an aphrodisiac for me) I was still so confused about my own marriage, but I was trying to make a point. BE NICE, BE KIND. It's amazing how that works.
My marriage lasted another 4 horrendous years after this podcast. I never gave up seeking help, I never stopped crying out to God. I just kept hearing this same message over and over again while in my Christian circle of influence. There did finally come a point when everything fell into place and started making some sense. I stepped into the wonderful world of Google search and learned something different. I learned about something called covert narcissistic abuse. Within that same time period, I also found out that my husband was and had been cheating on me for some time.
I found out about the women, then men, then those "men" who looked to be of questionable age. I found the hidden porn addiction, the xxx job searches, alcohol, the trips out of town to gay bars, the double life. Crazy as it sounds he hid it so well no one knew, not our church family, not our friends, not my family or his. I found out about all of it in a matter of just a few weeks. I wonder if Emerson would still think my ex-husband is a "good-willed man". (Smirk emoji) Seems in his eyes pretty much anything goes and men are still labeled good and worthy of undying respect.
I was faithful for 17 years, I stayed and put up with abusive treatment because I was raised to believe adultery was the only grounds for divorce. I was constantly told to do more and try harder and things would improve, they didn't. I've been happily divorced now for over 1 1/2 years. This "Good-Willed man" put the last nail in the coffin by requesting termination of his parental rights from our three children this December. All I can feel is gratefulness that I am finally free and my children are now safe.
Please keep teaching and calling out the bad theology of these "Christian" authors and please keep teaching us good theology. People who are desperate will seek these books out and devour them to try and find help and the best thing that most of these books offer is more pain and bondage. I know I've read almost all of them. In 17 years I've come across only a few that have really made a difference in a good way. That is just sad and needs to change. I am grateful for what you all do. Thank you Conner and Keith for showing us what it looks like when real men love their women. Some of us have never seen or experienced that. Thank you, Shelia, Rebecca, and the rest of the team for putting yourself out there and taking the blowback that I've seen y'all endure. You are truly a gift from God to those of us who have been in a dry desert with no water for quite some time.
This needs to stop. For more on the problems with Love & Respect, please see The Great Sex Rescue, and find out why it literally scored 0/48 on our rubric of healthy sexuality teaching.
UPDATE:
The woman crying in the shower was featured on our podcast two episodes later! Listen in here. 
The Great Sex Rescue
Changing the conversation about sex & marriage in the evangelical church.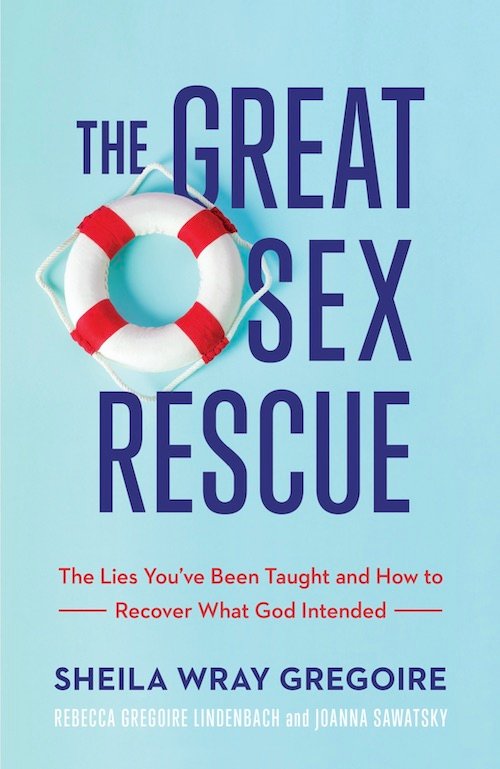 What if you're NOT the problem with your sex life?
What if the things that you've been taught have messed things up–and what if there's a way to escape these messages?
Welcome to the Great Sex Rescue.
Things Mentioned in This Podcast:
Other Posts in our Love and Respect Series:
Plus our Resource Pages:
The Biggest Supporter of Love & Respect is Focus on the Family
They publish the book and heavily promote it, and promote video series with Emerson Eggerichs. They also heavily promote his book Mothers & Sons, which primes the next generation of boys to feel they deserve unconditional respect, regardless of how they act. Please consider your giving to Focus on the Family, and contact them about your concerns. Without Focus on the Family's support, the Love & Respect ministry would dwindle considerably.
The Following People Have Endorsed Love & Respect
"Millions of lives and marriages – and in many ways, our whole culture – are completely different today because of the work of Emerson Eggerichs and Love and Respect ministries." Shaunti Feldhahn, best-selling author of For Women Only
"Occasionally I run into somebody whose material, what they're teaching, and the quality of the person rocks my world." Dave Ramsey
"probably the most helpful [marriage book and seminar] we have ever experienced." Michael Hyatt
"With his Love and Respect concept, Emerson Eggerichs has discovered what can only be described as the Holy Grail of marital counseling." Eric Metaxas
"Dr. Emerson Eggerichs …is … balancing this scale [towards respect]" Dr. James Dobson
"People around the world, in every kind of business need to hear this simple yet life changing message." Anne Beiler
"I couldn't recommend Dr. Eggerichs highly enough. I call him the Billy Graham of marriage." Kendrick Vinar, lead pastor Grace Church of Chapel Hill
If any of these people would like to rescind or qualify their endorsements, please reach out, even confidentially. If any would like a confidential conversation about the problems with Love & Respect, please reach out. 

Sheila Wray Gregoire
Founder of To Love, Honor and Vacuum
Sheila is determined to help Christians find biblical, healthy, evidence-based help for their marriages. And in doing so, she's turning the evangelical world on its head, challenging many of the toxic teachings, especially in her newest book The Great Sex Rescue. She's an award-winning author of 8 books and a sought-after speaker. With her humorous, no-nonsense approach, Sheila works with her husband Keith and daughter Rebecca to create podcasts and courses to help couples find true intimacy. Plus she knits. All the time. ENTJ, straight 8
For the last two Decembers I've had podcasts where I talk about how I felt homeless about church....
It is not just that the book Love & Respect contains toxic teachings. It is also that the book...
If the heart is wicked and deceitful above all things, then aren't emotions bad and not to be...