Can we please stop pretending that Love & Respect empowers women?
I get the best stuff from readers who send me links, etc.. And this weekend a male reader, who has been doing some research into domestic violence, sent me his notes after watching a YouTube video of a BDSM talk given at a huge men's conference last year. The book Love & Respect was highly recommended as a "gateway" to get your wife to submit sexually in a BDSM style relationship.
I'm going to get to that in a minute, but first allow me to give some background:
For two and a half years now, I've been trying to draw attention to how dangerous the book Love & Respect is.
In fact, it was reading that book that inspired us to write The Great Sex Rescue–to try to measure the harm that is being done by specific teachings in bestselling evangelical sex and marriage books.
In The Great Sex Rescue, our critiques focus on how author Emerson Eggerichs handled sex–how he made it entirely into a male need, and never once mentioned that women can feel pleasure or that women can want sex, too. Instead, he said things like, "if your husband is typical, he has a need you don't have." He talked about how sex is about a man's physical release (while women don't need that). He talked about how men will come under satanic attack if deprived of release (and presumably have affairs as well). He said nothing about intimacy; nothing about a woman's pleasure; nothing about a woman's right to say no.
We included all this in The Great Sex Rescue, noting that Love & Respect literally scored 0/48 on our 12-point rubric of healthy sexuality (while other Christian books, like The Gift of Sex by the Penners or Boundaries in Marriage, scored 47/48 and 42/48 respectively). It was very possible to score well, but he literally could not have been worse.
The Great Sex Rescue
Changing the conversation about sex & marriage in the evangelical church.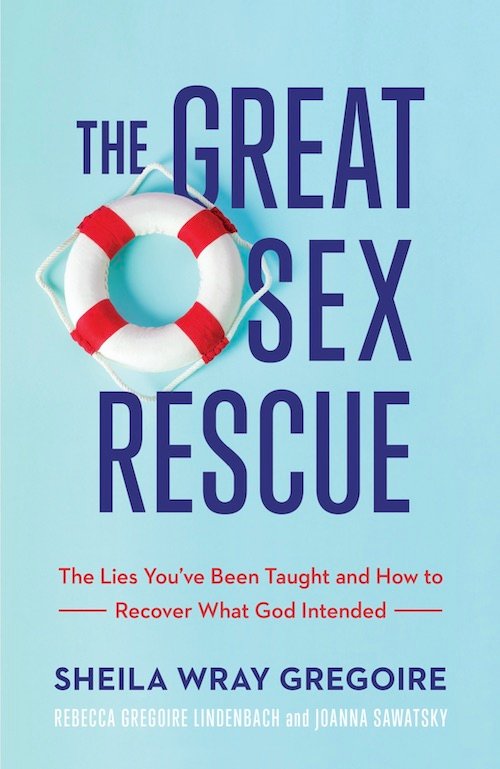 What if you're NOT the problem with your sex life?
What if the things that you've been taught have messed things up–and what if there's a way to escape these messages?
Welcome to the Great Sex Rescue.
But as bad as his treatment of sex was, that is actually not my primary concern with Emerson Eggerichs' Love & Respect or with Eggerichs' ministry.
What I am really concerned about is abuse. 
Ever since I started writing about Love & Respect, I have had women send me their stories of how this book enabled their abuse. I have collected over 1000 of them now. The 20,000 women who took our survey named Love & Respect as the most harmful resource (and we didn't have a drop down menu where they could choose the book; it was an open-ended question).
My big critique reading Love & Respect is that women are being told that they must "respect" their husbands, which equals submitting to their authority and speaking respectfully. That means that they cannot bring up anything that is wrong in the marriage, but they must listen to any critiques their husbands have of their disrespectful behaviour. In fact, in the appendix Eggerichs gives a model for what women should do if their husbands are doing something that endangers the marriage and family, such as extreme workaholism. They should say 2-3 sentences in a pleasant voice, couched with praise, and then say nothing else for 10-20 days about it.
That's not iron sharpening iron. That's enabling bad behaviour. That's leaving her absolutely helpless if there are major problems in the marriage (and indeed, in the book, he says that she must offer unconditional respect, which includes sex on demand, even if he is "drinking and straying", or even if he has "withering rage" so much so that she wants to "get away and hide.")
She had no recourse. He gets to define what is good or bad about her behaviour; she doesn't get to say anything at all because she must be in submission to him.
If she asks him to stop putting wet towels on the bed (seriously, even leaving them on the floor is better), she's disrespectful and he's justified in withholding love. If she gets upset that he forgot her birthday, she's disrespectful. Any time that she is upset at him for something that he did, she is being disrespectful. So she has absolutely no way of asking for change in the marriage.
When I have raised these issues, I have been told that I am misrespresenting the book.
Focus on the Family specifically said, in their statement where they lied about me, that Love & Respect contains a "biblically sound, empowering message for husbands and wives." (their statement is linked in mine, though they never directly link to me. You can read my statement and theirs here).
I have had so many people (especially men) tell me that the book is the best marriage book that they have ever read, and it saved their marriage.
That very well may be true; we talked in this podcast (starting around minute 33) about what makes some marriage books help, even though they also harm a number of people.
---
Please also see:
---
But setting up a marriage dynamic where he can label anything he doesn't like "disrespectful", while she is unable to raise any issues that are making her uncomfortable without being called unsubmissive, is inherently unhealthy because it sets up marriage as a power-over dynamic. It gives him power over her to define the relationship and make corrections, while she is entirely unable to do anything to bring up her own issues.
If she's married to a good and generous man that may not have ill-effects. But for many couples, this gives him a heady sense of power, and gives her a real sense of helplessness.
Others keep telling me that I am wrong; that the book is empowering to women because submission is empowering to women.
But now I have validation from a very unusual source.
BDSM practitioners and trainers are recommending Love & Respect as a gateway to convince women to participate in these relationships.
I am going to try to keep the rest of this post as clean as I can, and I have decided not to link the YouTube video here (although if anyone wants proof of what I'm saying, if you email me I'll send you the link). I just don't want to promote this stuff, or send people onto rabbit trails they really don't want to go on.
But let me try to set the stage for what was going on.
*** And MAJOR TRIGGER WARNING. I'm not going to discuss the sexual acts very much below, but I am going to sketch out what we're talking about. ***
The 21 Convention is billed as the men's convention of the century. It's going to be taking place in October 2021 in Orlando, with a stream for fathers and for men, as well as for women ("Make Women Great Again"). It's about reinstating the patriarchy. (That's not my critique of their conference; that's actually on their promo materials).
In advertising it, they've posted some videos from their 2020 convention, and one such video is of a talk given by a man in a dominant sexual relationship with his wife. He has a very large website promoting this lifestyle, which, again, I will not name. This talk was about the benefits of a BDSM type relationship and marriage, and how it is the more natural form and makes everyone happier. Think 50 Shades of Grey on steroids. He has complete control over her, and can order her around and threaten to leave if she doesn't comply; she has to comply in everything. And he physically punishes her if she doesn't. Sex is a dominant-submissive thing, where he inflicts pain.
(Not all BDSM relationships are violent; I'm summarizing from his talk. And this post is not meant to be a treatise on the ethics of BDSM, but merely how Love & Respect intersects with it.
In addition, anyone who is pro-BDSM should also be outraged by what I'm about to say, because BDSM is supposed to be completely consensual–you shouldn't have to convince your wife. I'm also not critiquing things like blindfolding someone or anything like that–merely the power-over marriage dynamic that is being set up here.). 
In this particular talk, he's discussing the benefits of this type of relationship, which is often written as D/s (or Dominant/submissive; The D is capitalized because it's dominant, while the s isn't because it's submissive).
Here is some of what he's saying (and I've taken out the swearing and really sexual stuff, which is the majority of the talk):
He talks about how sex dried up in marriage because he neglected to lead. "The king abdicated the throne."
They did a Total Power Exchange: she trusts him enough to give up all her power and control.
This fits with "masculine and feminine energy", and is "The Natural Order"
"She refers to me as her warrior. I am her warrior. I'm also her master. . . . We do a little master/slave stuff, where she literally is my slave. And sometimes we'll carry that on for a week or two."
"Your girl follows you around like a lovesick puppy for a month after a couple of these sessions. You're a god. You literally are a god."
Believe me, this is extremely truncated, but I just want to give you an idea of what we're talking about: A relationship where the husband has total power, and the wife must obey him, to the point of being his slave. He feels like "a god" in the relationship. 
Then, at the end, he switches to answering the question, "how do you introduce this to your wife?"
Here's his answer:
"There's a great book out there written by a guy named Emerich [sic] and it's called Love and Respect. And it's got some blue pill stuff in it. It's written by a pastor, so it's got some biblical things; so if your wife or girl's got some little biblical stuff in her past, it might resonate with her. But it talks about, from a biblical standpoint, of women submitting to their men. It's her duty to respect you; and it's a man's duty to love her…I call it, D/s 101 for rookies, for newbies. Give your wife that book and let her read it, see if it works for her…It will get you closer to where you want to be than not reading it at all."
Do we get the significance of this?
I am not arguing that Emerson Eggerichs promotes BDSM relationships; but the fact that BDSM practitioners consider his book a gateway to convince unsettled wives should tell us something.
If Love & Respect were a book which truly empowered women, it could not be used by BDSM practitioners to convince women to surrender all power to their husbands.
If Love & Respect truly is about mutuality, it could not be used to convince women to enter into a relationship where her husband is her god.
If Love & Respect truly is about both partners giving for the other, it could not be used as a gateway into a relationship where one person completely surrenders to the other's wishes.
If Love & Respect taught women how to speak up and advocate for their own legitimate needs, it could not be used as a gateway where she willingly ignores all her needs. 
Again–I'm not trying to comment on BDSM, and I know some BDSM practitioners won't like my characterizations here. My only purpose is to show that the whole argument that Love & Respect empowers BOTH husbands and wives, as Focus on the Family said, is complete and utter bunk.
It's garbage.
It needs to be called out.
The only way you can say that Love & Respect empowers women is if you believe that giving up all of her power and living in total submission to another human being is actually empowering.
And I think that this is what Focus on the Family, and Eggerichs, truly believe is true for women. They think that women can only be empowered and can only live a full life if they stop trying to live a life at all, and simply surrender to their husbands.
They actually don't see a problem with a relationship where the husband has all the power and the wife has none. They agree that this is "The Natural Order."
That's the only explanation I can find for how reticent they are to listening to the thousands upon thousands of women who have cried out that this book has hurt them and made abuse worse.
We now have BDSM practitioners saying that Love & Respect is an awesome gateway book to help convince your wife to be your slave.
What else do we need?
Is anyone listening?
---
For more information on the harms of Love & Respect:
What do you think? What will it take to get people to see that a power-over dynamic in marriage is harmful? Is the conversation around Love & Respect changing where you are?
Let's talk in the comments!
Other Posts in our Love and Respect Series:
Plus our Resource Pages:

Sheila Wray Gregoire
Founder of To Love, Honor and Vacuum
Sheila is determined to help Christians find biblical, healthy, evidence-based help for their marriages. And in doing so, she's turning the evangelical world on its head, challenging many of the toxic teachings, especially in her newest book The Great Sex Rescue. She's an award-winning author of 8 books and a sought-after speaker. With her humorous, no-nonsense approach, Sheila works with her husband Keith and daughter Rebecca to create podcasts and courses to help couples find true intimacy. Plus she knits. All the time. ENTJ, straight 8
Dads shouldn't need their adult daughters to give them adulation and affection. That's called...
Let's talk about the echoes of menstruation. Yesterday on the podcast, we were discussing how...
This has been a week of great thrills and great disappointments. Thankfully, the thrills were...