On the a vacation we took just over a decade ago, I started knitting a blanket.
It was what knitters call a "sock yarn blanket", meaning that it's made from all the ends of balls you have after you've finished a pair of socks. For twenty years I've been knitting socks, and the problem with knitting socks is that a ball of sock yarn is too much for my small feet, so there's always some leftover.
I'd knit another pair for a baby, and then I'd still have some leftover.
And after a few years you end up with a LOT of ends.
And so I decided I'd turn them into a blanket. I'd start it off, knowing that I didn't have enough ends to finish it, but I'd knit what I could, set it aside, and then have confidence more would come.
Last week I finished it, and it's now my summer bed cover.
The irony is that I started it to USE UP sock ends, but I ended it with more than I started.
People heard I was making a sock yarn blanket and kept donating little ends (It's ridiculous to see how excited I'd get over a pea-sized ball of yarn!). But there you go. 
Knitting is my meditation, my thinking time, my relaxing time.
And as I was making it, and especially as it's now finished and I can look at it in its entirety, I've had a few thoughts that I'd like to share with you. 
One of the things I love best to knit are these projects that use scraps. It's easy to make a sweater made out of one yarn look beautiful. But what is really beautiful to me is how you can take little bits that would otherwise be castoffs, that no one really wants, that everyone thinks is just done, destined to sit at the back of a drawer or in a bag at a thrift store, and make it into a work of art. 
And isn't that how God treats us? So often we feel like the castoffs, like we aren't much use, like we're insignificant. And God says–Oh, I have just the spot for you! You matter. You pull everything together. 
In this blanket, I had larger quantities of some yarns, and they reappeared throughout the blanket in a theme.
But others I had only little tiny bits, and sometimes they only appeared once.
And then, pulling the whole thing together, was black, that lined each square and that lined the whole blanket. I think of it like Jesus, the foundation that holds everything together and makes everything cohesive. He's what unites us. He's what gives us shape and structure and purpose. He's what shows off all of our uniqueness. 
I think, in many ways, this blanket sums up what many of us are going through right now with church.
Some of us still feel a lot of passion and energy for God. We want to fix things, to bring the kingdom to earth, and we've got a fair amount to offer, even if we don't feel completely whole. We have left parts of us behind as we've been disappointed in the church. 
Disappointed with toxic teachings that have kept so many in bondage.
Disappointed that when this has been pointed out, leaders have doubled down rather than trying to care for the sheep.
Disappointed that those we loved and trusted in our own friend group and even our own family don't see the harm that's being done with teachings about marriage and sex–teachings like those we looked at in The Great Sex Rescue that turn sex into a female obligation and a male entitlement.
"A groundbreaking look into what true, sacred biblical sexuality is intended to be. A must-read." - Rachael Denhollander
What if you're NOT the problem with your sex life?
What if the messages that you've been taught have messed things up--and what if there's a way to escape these toxic teachings?
It's time for a Great Sex Rescue.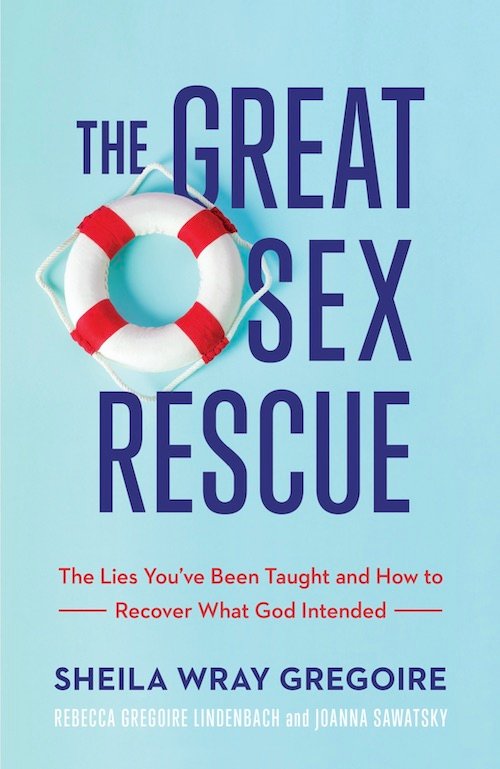 Many of you are at this blog because of those disappointments, but The Great Sex Rescue has given you hope and new energy that something can be done. That people will listen. That it will not always be this way (I hope most of you are in that category!).
But some of you feel very spent and rather hopeless. 
You feel like there's so little left. You gave your best to your family, to your ex (or current) husband, and it was thrown in your face. 
You feel like no one sees you.
You feel as if there's nothing for you anymore. You have nothing left to give, and you're not even sure you want to belong.
And yet often it's the smallest bits that make the blanket so interesting. 
I had a lot of torquoise, and a lot of orange and red (though I actually bought some orange and red to keep the contrast going!). I had a lot of deep purples. 
But if I had made the blanket up only with the torquoises and purples and oranges and reds, first, I wouldn't have had enough to complete it. Every little bit mattered.
But also, it would not have been as interesting.
What makes the blanket work is all the really tiny pieces that are unexpected, special, never to be repeated. 
Those pieces may not have looked like they had much to offer, but put all together, and they actually make it a masterpiece. 
I think so many of us are trying to find our way right now as the church has disappointed us, and we feel cast off. 
We feel like no one sees us, maybe not even God. No one understands our pain. We're not sure we have the energy left to even try anymore.
But I believe that God is gathering all of these castaways up and making something new. 
I think in the next twenty years we're going to see such a powerful movement within the church as the Holy Spirit does His work. We'll see churches that are oriented towards caring for community again rather than revolving around a popular pastor making millions of dollars. We'll see less celebrity, where there's really only one yarn being used, and more a glorious mix of everyone, all together.
We'll see healing as we move away from caring for the reputations of those at the top, and focus on caring for the well-being of those at the bottom. 
We'll notice people again.
I think that's happening. I hear in my DMs all the time about new ways that church is being done. Rebecca's at an amazing new church in our hometown that's focused on community. They endeavour to keep their budget light and their numbers down (if they get over a certain amount they'll split into two congregations). The purpose is doing life together and caring for one another. 
I know all churches have said that's what they're doing, but I've been to so many where no one knew me and I didn't really know anyone else. It was focused around head knowledge, around beliefs, and not around actually caring for people.
Beliefs matter, but they are nothing without action. Without love.
So many of you have told us that The Great Sex Rescue was part of  your journey of really finding Jesus–and also coming to a crisis of church
You knew something was wrong, you felt the life being sapped out of you, but you couldn't put your finger on what it was. And as you read The Great Sex Rescue, it all made sense. You had been made to feel like you weren't worth SEEING. 
And you desperately want God, your husband, your church, to actually see you. You want to matter. 
I believe God is calling us back to Himself and from that will come new expressions of the body of Christ. But that means that we're living in a time of great transition and upheaval and crisis.
That's hard time to be living through. In many ways, these last three and a half years have been the most difficult for my faith.
But as I look at this blanket, I see a beautiful picture of what God is doing. Taking the castaways and showing us that the kingdom is so much more beautiful when we gather the castoffs and give them their own place.
I pray you find  a place, both online, and in the real world. Because you matter. You do. And God is making something beautiful out of all of us who are searching.
Do you feel castaway? Like you've had a crisis of faith lately? Let's talk in the comments!