How exactly do we judge something by its fruit?
One of the things we're adamant about here at Bare Marriage is the concept of "evidence-based" and "healthy" advice–meaning that you can judge things by their fruit. If we're going to figure out if a teaching is healthy or toxic, if it's from God or if it's a misinterpretation of what God wants, we need to look at the evidence and the fruit.
That's why we wrote The Great Sex Rescue–we were actually measuring the effects of key marriage and sex teachings by looking at women's marital and sexual satisfaction.
But it occurs to me, based on emails that I get, that there's a big misunderstanding about what the "good fruit" test actually looks like.
This month, we've been looking at peer reviewed research and doing a research deep dive to see what new things we can learn. But how do we know that THIS is what good fruit is?
I recently received an email from a woman who was being told contradictory things by her family about good fruit.
She wrote:
I'm trying to figure out what "good fruit" actually means. 
I've had Christian friends say that it's just about whether people are living according to the moral law laid out in the bible.
I want to believe that it's about doing well and not suffering, because I come from an abusive environment and I'm so much better off and so much more at peace since I left. But I've had Christian leaders tell me I have no biblical basis to draw boundaries, because I'm not following Scripture.
My whole life people have told me that the point of life is to be holy, not happy, and we shouldn't just be trying to minimize suffering. We should be looking towards heaven for our reward, not earth. 
Can you explain this to me?
(Letter has been edited to convey her question without her wording). 
I think this is an excellent question, and I want to spend today going over it in detail.
Is good fruit about following a moral law? 
That's what this reader said she was told–that it's not about how we're flourishing, but it's instead about whether or not we're following the teachings of the Bible.
Here's the logic that is usually used when people argue this: 
The "Logic" of the Moral Life = Good Fruit Argument
When people say that the goal of life is to live a moral life according to godly principles, it can sound good. But here's what they generally mean by that:
I believe that doing X and believing Y is what living a moral life looks like.
I know I am right because I know this is from God.
If evidence, or a line of reasoning, or a new teaching makes people question Y or stop doing X, then it is not of God.
Therefore, it is not good fruit.
Now, here's my big question about this line of reasoning:
Who is at the center of it? 
If I believe that I am right, and that what I believe is from God, and that if you disagree with me you're disagreeing with God, then God is not at the center.
I am.
Here's where we all too frequently go astray:
We equate our interpretation with Scripture with Scripture itself.
We don't even realize we're intrepreting Scripture with our own spin on it. We think we're speaking with God's authority and there's nothing else to it. We equate what we think about the Bible with the mind of Christ Himself.
This is especially common among abusers, or in church circles that are very authoritarian and hierarchical. When the focus is on obeying those in authority, and not using your own judgment, then anytime someone disagrees with authority, it's a sign that they're disagreeing with God and going off the rails, and that's bad fruit.
Ironically, this argument is exactly what Jesus was demolishing in His teaching on judging by the fruit. 
When Jesus spoke about judging by fruit, He was addressing how to tell if a teaching is actually from God or not–in other words, how to tell if your interpretation of Scripture is correct. He was trying to deal with this phenomenon where religious leaders would equate their own opinions and interpretations with the mind of God Himself. 
Let's take a look at the context: 
The Narrow and Wide Gates
13 "Enter through the narrow gate. For wide is the gate and broad is the road that leads to destruction, and many enter through it. 14 But small is the gate and narrow the road that leads to life, and only a few find it.
True and False Prophets
15 "Watch out for false prophets. They come to you in sheep's clothing, but inwardly they are ferocious wolves. 16 By their fruit you will recognize them. Do people pick grapes from thornbushes, or figs from thistles? 17 Likewise, every good tree bears good fruit, but a bad tree bears bad fruit. 18 A good tree cannot bear bad fruit, and a bad tree cannot bear good fruit. 19 Every tree that does not bear good fruit is cut down and thrown into the fire. 20 Thus, by their fruit you will recognize them.
True and False Disciples
21 "Not everyone who says to me, 'Lord, Lord,' will enter the kingdom of heaven, but only the one who does the will of my Father who is in heaven. 22 Many will say to me on that day, 'Lord, Lord, did we not prophesy in your name and in your name drive out demons and in your name perform many miracles?' 23 Then I will tell them plainly, 'I never knew you. Away from me, you evildoers!'
Normally when we look at the "good fruit" passage we focus only on that middle part–verses 15-20. But I want to look at the parts that go before and the parts that go after as well.
Jesus opens the good fruit passage by warning us to look out for false prophets. 
The purpose of the "good fruit" test is to see if those who are claiming to speak for God are actually right.
Just because you claim to speak for God does not mean that you ARE speaking for God. So when people say, "good fruit means living the way I think you should live" (Or, more likely, they say "good fruit means living a moral life", and they assume that their definition of moral life is from God), they are actually speaking for God. And Jesus tells us to watch out and judge the fruit!
Jesus goes on to tell us that many who think they are speaking for God are not.
The very next thing Jesus talks about is those who, at the last days, will be so confused and shocked that Jesus says He never knew them. He says that many people will be teaching and prophesying in Jesus' name, and what they are teaching and prophesying is not from Jesus at all. They are actually evildoers.
This is big, folks. This is harsh. Do we realize what He is saying? This whole passage is about critiquing religious leaders who claim to speak for God.
All of this gives us a different context for the narrow/wide road that Jesus talks about first.
If you ONLY read the passage on the narrow and wide road, it's easy to think that what Jesus is saying is that the whole world is going to hell in a handbasket, and it's only a very few who will believe and call on the name of Christ and be saved.
So "believers" are the ones in the narrow way, and "unbelievers" are the ones in the wide way. This is certainly one way to read the passage–but it is not the only way. (Many Scriptures have multiple meanings).
And, in context, it may not even be the most important way. If you look at who Jesus is actually warning about in the next passages, it's clear that many who think they are believers and who are speaking for God are actually on the wide road, not the narrow road.
This is exactly the situation my reader was writing about. 
Jesus tells us that we need to be wary of religious leaders who claim to speak for Him, and we need to judge by the fruit. 
So how exactly do we judge by the fruit?
What is the criteria that we should use to tell if what someone says is from God or not? Let's look at a few scriptural principles.
Fruit is about results.
It is not just about someone believing the right thing (as James wrote, even the demons believe, and shudder). It is about something GOOD happening in their lives.
Fruit is about godly characteristics that are in abundance in your life.
Let's look at Paul's teaching on fruit. 
Paul defines the fruit of the Spirit in Galatians 5:22-23: "But the fruit of the Spirit is love, joy, peace, patience, kindness, goodness, faithfulness, gentleness and self-control." We know that people who have the Spirit and who follow Jesus should display these things.
Paul also defines the things that are evidence of bad fruit in verses 20-21: "The acts of the flesh are obvious: sexual immorality, impurity and debauchery; idolatry and witchcraft; hatred, discord, jealousy, fits of rage, selfish ambition, dissensions, factions 21 and envy; drunkenness, orgies, and the like. I warn you, as I did before, that those who live like this will not inherit the kingdom of God."
Let's just take an example close to home that we talk about at Bare Marriage quite a lot: Lust and porn use. Jesus said that we can judge a tree by its fruit, and Paul says that the fruit of the flesh, rather than the fruit of the Spirit, is impurity, debauchery, sexual immorality, and orgies. Paul tells us that a fruit of the Spirit is self-control.
Telling people that all men lust, or that porn use isn't that bad because most guys do it, and what really tells us whether you're a Christian or not is if you believe that Jesus died for your sins, and as long as you believe that, everything else is hunky dorey–well, that's not actually what the Bible says.
When pastors dismiss lust and porn use, and blame it instead on women dressing immodestly, they are not demonstrating the fruits of the Spirit. They are demonstrating the acts of the flesh. We need to pay attention.
Fruit is about unity and love.
Jesus also said that people will recognize His followers by their love for one another (John 13:35), and He prayed over His followers that we may have unity.
The fruits of the Christian life is a community marked by love and unity, yet we often define the marks of a Christian community by BELIEFS–especially beliefs about hierarchy and control.
I am not saying that beliefs don't matter or that doctrine doesn't matter. But IF we have the right beliefs, THEN the fruits of unity and love will follow. If our community is marked instead by fear, abuse, and control–or, as Paul wrote in Galatians, jealousy, dissensions, and fits of rage–then it's quite likely the root beliefs are wrong.
Today, much of the evangelical church is defining itself by making sure that the "right" people stay in power, and the right people stay in submission. Men must rule; women must submit. It's fair to ask: Is this yielding good fruit? And if it's not, what does that say about the underlying belief system?
Fruit is about flourishing.
This is one we often forget: Jesus came to give us life, and to give it to us abundantly. He wants us to flourish. Yes, He wants us to demonstrate righteousness and justice in our lives. But that doesn't mean that He doesn't care about our flourishing.
And what does flourishing mean? I think it means wholeness and health. It doesn't mean our circumstances are perfect. But He came to set the captives free, to proclaim the year of the Lord's favour (Luke 4:18-19). When people say that all God cares about is your holiness, they're missing the point. Holiness means following God, and following God should bring us freedom, not bondage.
When we follow God, our emotional health and our relationships should improve, not be made worse.
And that's why we measured marital and sexual satisfaction for The Great Sex Rescue. Those who are following Jesus should flourish, not flounder. If following teachings means your relationships are worse–those teachings are likely not of God.
"A groundbreaking look into what true, sacred biblical sexuality is intended to be. A must-read." - Rachael Denhollander
What if you're NOT the problem with your sex life?
What if the messages that you've been taught have messed things up--and what if there's a way to escape these toxic teachings?
It's time for a Great Sex Rescue.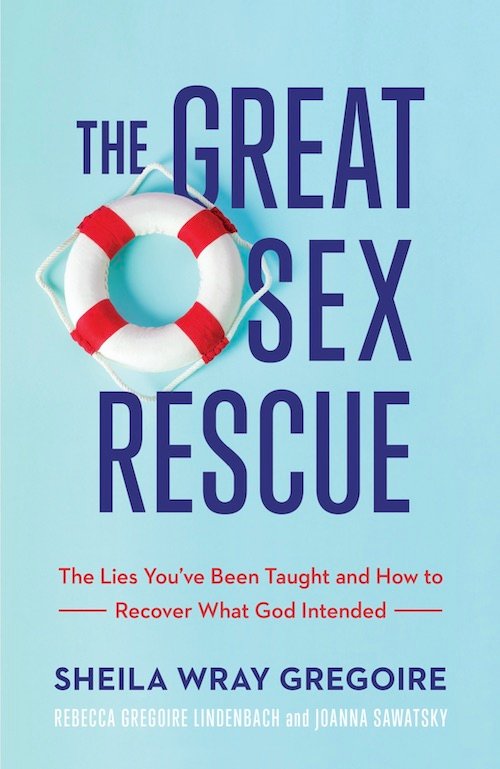 The problem with the church is that we elevate belief over evidence.
We think believing the right things is more important than actually living the kind of life God wants you to–then actually seeing God's will be done on earth, as it is in heaven. And that's largely because we've defined God's will as being about everyone believing what we believe, rather than Jesus' own words about why He came in Luke 4.
Religious leaders have always done this. 
It was a problem in Jesus' day, too, which is why He gave us the good fruit test. Religious leaders will always stress the right "beliefs" over love, because it allows them to have more control over people, and it provides a simple way to tell whether someone is "in" or "out."
But the Bible is messier than that. The Bible tells us that if your beliefs don't lead to good fruit, then your beliefs are off. You don't actually know Christ.
So let's start judging by the fruit.
That's what Jesus told us to do. And let's stop assuming that we speak for God, and instead, in humility, take a long, hard look at the fruits of our beliefs.
And a great way to do that is with our rubric–so sign up below to get access to it!
do you know your favourite book's
healthy sexuality score

?
sign up for our newsletter and SEE HOW EVANGELICAL BEST-SELLERS SCORED AGAINST OUR RUBRIC FOR HEALTHY, BIBLICAL, EVIDENCE-BASED TEACHINGS.
What do you think? Have you been in church settings where the "fruit" has been defined as people believing all the right things? Let's talk in the comments!