Why do people hate our research for The Great Sex Rescue so much?
Well, really hate our research for everything, including our new book She Deserves Better!
Last week, a Twitter storm broke out with me at the center of it. Podcast host Patrick Miller invited Josh Butler, author of a really bad book about sex, on to defend his book. While on the podcast, Butler quoted Shaunti Feldhahn saying that our research for The Great Sex Rescue was flawed–implying my critiques of his book were unfounded.
I asked Patrick if I could defend our research on his podcast, since he allowed an unfounded accusation from one of his friends on his Truth Over Tribe podcast, but Patrick refused, and the internet got pretty enraged at him (I was actually quite humbled at all the support).
Somehow our research was front and center again, and I thought I'd take the time today to answer some common questions about our research–and why our approach matters.
The most common criticism is this:
"But you just surveyed people who agreed with you."
When people say this, it means two things:
They don't know a thing about our research
They don't know a thing about basic statistics
Let me explain: Our primary findings are based on odds ratios–seeing how a particular belief changes the likelihood of a particular outcome. So, for instance, how does belief in the obligation sex message affect vaginismus rates? Orgasm rates? A woman's libido?
We could only perform odds ratio analyses if we had respondents in our survey who believed different things. If everyone believed the same things, we would have nothing to compare!
We had to have people who believed the obligation sex message and people who didn't believe it.
Perhaps Shaunti Feldhahn, whose critique has gone far and wide, doesn't understand this, because all of her surveys that I have examined merely use frequency stats. She doesn't do the higher level statistical analysis we do. She also admits in the first edition of For Women Only that she doesn't understand stats.
In actuality, we had far more conservative/complementarian women in our respondent set than we did women who agree with us. In fact, we had to start promoting our survey link in egalitarian spaces to have something to compare them to.
Thus, the bulk of the people in our survey did not agree with my theology of marriage or sex. 
And more importantly, if they had, we wouldn't have been able to do our research.
How did you get your respondents?
For The Great Sex Rescue, we used a surveying method called "snowballing", where we recruit some people, but then we ask them to recruit others, and so on. That way as many people as possible aren't actually recruited by me, and our outside our circles.
We had over 200 collector links, or unique URLs, that we could trace when we did our survey, so over 200 people were recruiting for us (interestingly, Shaunti Feldhahn, who has been most vocal questioning our methodology, was originally one of these).
This was not a random sample, no, but it didn't need to be. We weren't looking at the general population. We wanted to find information about evangelical married women, so we had to focus on recruiting them.
How did you limit bias?
We used, when possible, "previously validated question sets", or questions that had already been used in other studies to measure something and were found to be a good measure of that thing. So we used previously validated questions for marital satisfaction; sexual satisfaction; self-esteem, etc.
We never asked people if they thought something harmed them. We merely asked if they had believed it, and then we measured the harm based on marital and sexual satisfaction and other outcome variables.
When we measured common evangelical teachings that we thought could do harm, we never said that they were harmful. We shared both beliefs we thought were healthy and those we thought were harmful, and mixed them up so people wouldn't be able to see what we were trying to measure.
Finally, and perhaps most importantly:
Academic circles have accepted our methodology and findings.
We have Health Science Research Ethics Board approval (the Canadian equivalent of the U.S. IRB) from Queen's University.
Our sampling methodology and survey content were deemed worthy of inclusion at the Association of Religion Data Archives, run by major U.S. universities.
And we had such ground-breaking findings on the roots of sexual pain among evangelical women that we were asked to present at the American Physical Therapy Convention last year.
No methodology is perfect, and there is certainly always something to critique. But the broad critiques that are being made are not accurate or fair, especially when you look at our dataset size. Most peer reviewed papers are based on a respondent set of 250-1000. We had 20,000 for The Great Sex Rescue, and 7000 for She Deserves Better. That's almost unheard of except in big government surveys, so this was actually a big deal.
What, exactly, do people disagree with about our research?
When people say that they disagree with our research from The Great Sex Rescue in particular, though, I'm always curious as to what, exactly, they disagree with. We had 6 huge big picture findings. Which ones do they not like?
Our 6 Big Picture Findings from The Great Sex Rescue
We found a 47 point orgasm gap between evangelical men and women, with 95% of men almost always or always reaching orgasm in a given encounter, compared with just 48% of women, which is in line with other studies.
We found an incidence rate of vaginismus, or sexual pain, of 22.7% among evangelical women, with 7% finding penetration impossible.
We found that the obligation sex message–the idea that a woman must give her husband sex when he wants it–is one of the biggest predictors of vaginismus. It also lowers orgasm rates and marital satisfaction.
We found that the belief that "all men struggle with lust; it's every man's battle" lowers a woman's libido and orgasm rates; lowers trust in her husband; lowers marital satisfaction. Some effects hold true even if she was merely taught it but never believed it.
We found that the belief that "a woman should have frequent sex with her husband to keep him from watching porn" lowers orgasm rates and marital satisfaction and increases rates of sexual pain.
We found that the belief that "boys will push your sexual boundaries, so girls need to be the gatekeeper" has effects long-term, making it harder for women to get aroused and making orgasm more challenging.
When people say they don't like our research, what are they upset about?
Do they want to keep the obligation sex message? Do they see women as sin management tools for men, "methadone" for their porn habits? Do they think the orgasm gap & vaginismus rates aren't a big deal?
Or are they just upset because we're holding people accountable for teaching stuff we now know is harmful?
I think when people say we did our survey wrong, they're not actually upset about our findings. They're upset that we're pointing out where harm has been done. So next time you hear someone criticize our research, ask them: What finding do you not like?
"A groundbreaking look into what true, sacred biblical sexuality is intended to be. A must-read." - Rachael Denhollander
What if you're NOT the problem with your sex life?
What if the messages that you've been taught have messed things up--and what if there's a way to escape these toxic teachings?
It's time for a Great Sex Rescue.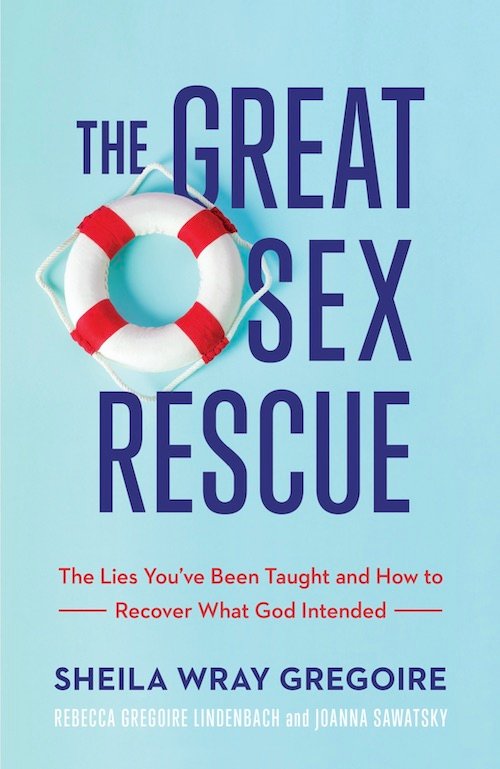 Is our critique of evangelical marriage & sex books merely outrage, or could it be better classified as a public health initiative?
We've also been accused over the last week of merely making money out of outrage. Is that what this is about?
Let me tell you about the drug Thalidomide.
Thalidomide was on sale between 1957-1963, largely as a miracle cure for morning sickness. It was developed as a sedative, but people found it helped with nausea–as well as the cold and flu. They tested it on mice and found no side effects, so it was declared completely safe. The German manufacturer licensed it to be used by many different companies, and so the ingredient was marketed under 37 different brand names.
When doctors started to see problems, there was no central regulating body to report to. Individuals were saying, "there's something wrong here."
However, it took several years, and more than 10,000 babies born with severe congenital anomalies (most commonly missing or deformed limbs) before governments realized there was an issue.
Part of the problem was that not everyone who took it was harmed; many benefited greatly! Convincing people it did harm took time because that harm wasn't universal–and many thought the drug was amazing.
The UK took it off the market but then went the extra mile. Because so many people had it in their medicine cabinets and were handing it out to sisters and friends without thinking about it, the UK government started an ad campaign asking people to get rid of it. They also started the Yellow Flag system, where doctors could report previously unknown side effects to a central place. Drug regulation began in earnest, requiring companies to show that the drug was safe before the drug could be sold.
There's a parallel with marriage and sex advice in the evangelical world.
It has been prematurely declared safe because it didn't hurt some, but the powers that be didn't look at how it affected those who were most vulnerable or ask, "is this advice good for women?"
Yet evangelicalism's sex teachings are actually causing harm.
When I critique books or authors, we can think of it like a Thalidomide campaign.
I can see the harm being done, and I want to prevent it. The only way to do that is to warn people away from the toxic teachings, and the source of those teachings.
When people get upset about that, I picture them like doctors refusing to heed the warnings about Thalidomide. And, yes, that makes me angry, because we should all care when people are being hurt. Many would rather I just be nice & only teach what's healthy, rather than calling out the unhealthy. But just as the UK had to rid the country of Thalidomide–including that which was in medicine cabinets—so we also have to root out the unhealthy teachings for the church to be safe.
If harmful evangelical teachings about sex are still spread and internalized, people will still be hurt. When harm is being done, it must be stopped, even if doing so is messy and doesn't seem "nice."
Become a part of the movement
Join 40,00 others and let's change the evangelical conversation about sex
What do you think? Why are people so quick to criticize our methodology? Do you have any other questions? Let me know in the comments!