"How do I talk to a woman about what she's wearing?"
I've received a number of social media messages from women lately asking how to approach a woman about her clothing choices. In some cases it's been a work situation. In others a ministry situation.
In several cases, the women asking the question have been appointed by others to be the one to deliver the message.
In other cases, the women themselves are uncomfortable on behalf of the teen boys or men around them, but they also want to do this well.
They don't want to cause shame, but what do they say?
Before I give some advice, I'd like to share some other women's stories about modesty and shame.
First, one woman left a comment sharing this:
While I was at a Baptist College, one of the MANY times I got in trouble for dress code was when I wore the exact same dress that a staff member at the college wore. The only difference was that she had a much "straighter" body and I was/am much curvier.
It was one of those shirt-dresses with a collar that buttoned all the way down and tied at the waste (very 1950s-ish, which was the vibe I was going for at the time). We had the same exact dress from the same exact store, just in different colors.
I absolutely tried to contest the demerit, but they stuck to their guns and advised that I needed to do better at dressing more modestly for my specific body type. They agreed that it met the standards of neckline and length, but felt that the tie around the waist made it too "tight" because it accentuated my waist and made me have too much of an hourglass figure.
The double standard across body types was not hidden or even something they tried to shy away from.
It was, in their eyes, perfectly acceptable. In fact, any time I got demerits for dress code, it was almost always because of how the garment fit my body vs the actual garment itself. I think that's why I made such a stink about this, because I was exhausted from wearing things that covered my body but still told that it wasn't modest enough.
They suggested that I bring the dress to the office to have a female staff member check to see if removing the tie around the waist would make it work. The thought process was that removing the tie might not accentuate my figure so much and make it more modest for me specifically. But, I'd have to have it checked and approved by staff first before I could wear it again. Needless to say, I didn't even bother.
We had "dress check" at our Christian high school. Home room was in the gym. After it was over girls walked out to the left and boys to the right. The female staff stood on either side of the left door and male staff on either side of the right doors. The males were looked at to make sure their hair was short, they were clean shaven, and they had a belt. The girls were checked for all things too low, too high, too tight…but the standards were extreme. I was a twig. I hardly ever got in trouble. The thicker and curvier girls were constantly in trouble having to wear oversized polos and long skirts the school provided or having to miss class until their brought them clothes.
So many of my classmates had eating disorders.
Looking back of course they did.
I started feeling self conscious and started to want to be bigger because I kept getting questioned if I had an eating disorder because of my size. Years later I know I have a digestive disorder that kept me small.
Why was that ok?
I was told, "God has blessed you with a beautiful body, but that also means you have a greater responsibility to protect that for your husband."
"That's fine for other girls to wear but God made you differently and you can't wear the same things most girls can."
"If you weren't so pretty this wouldn't be an issue."
This was just from people at church, I didn't even go to a Christian school.
Still deal with all of that several Sunday mornings a year when my insecurities flare and wind up in tears in my closet. And that doesn't even count the months of closet crisis when I was breastfeeding a newborn and dealing with postpartum body, engorged breasts, and a new tiny human (+ toddlers).
So with that as the context, let's address the question:
When should you approach a woman about what she's wearing?
1. Ensure there is an actual, legitimate dress code first.
If you are going to approach a woman about her clothing, it must be because she violated a legitimate clothing code that is universally applied that she should have been expected to know about.
So if she wore shorts to a function and men were upset about how long her legs were, but these men were also wearing shorts, you don't get to say a thing. The problem is not her clothes; it is the men's thoughts.
If she is new to the church, you don't say a thing. She wouldn't know about the dress code.
If she's not in a work or ministry situation, you don't say a thing. You don't get to go around putting dress codes on women when there isn't a mechanism or reason to have a dress code–even if you're worried about her effect on your son (as several of the messages have been about) or even if you're worried about her effect on the young men around her.
If she's in a work or ministry situation but there is no dress code, then you still don't say anything. It is up to the leadership to create a dress code if they want to; it is not up to you to relay a message to a woman about something which has no objective guidelines.
And I want to say, too, that I think dress codes at work or ministry can be appropriate in certain situations. I'm not saying all dress codes are wrong. Some workplaces may not want jeans, or t-shirts, or shorts, or spaghetti straps, or casual clothing, or open toed shoes, or sneakers (except for Casual Fridays or something). Or they may want "business/professional attire" rather than "after work/party attire." Those are valid for businesses to enforce–IF they are universally enforced; they are clearly defined; and they are gender neutral.
2. Any "infraction" of a dress code must be about clothing, not body type
In several cases, women messaging me have explained, "she's really well-endowed, and that's distracting to the men around her." She cannot do anything about being well-endowed. The issue can never, ever be about how her body is affecting the men around her; that's on them.
3. Ask yourself, "is this really her issue that is worth shaming her about?"
If men are being made uncomfortable, why is it necessary to transfer that discomfort and shame onto a woman? Why not ask the men to deal with their discomfort?
4. Ask yourself, "is this a 'me' issue in any way?"
If you're feeling like you really should talk to a woman about what she's wearing, ask yourself, "am I feeling jealous about her body type? Am I feeling insecure about my own appearance? Am I feeling insecure about what my husband or son may do around her and feel really vulnerable?"
In all of those cases, those are YOU issues, not HER issues. Now, they may be really difficult and very real "you" issues, in that you may honestly feel very insecure and very triggered, especially if your husband has had porn use in the past. One woman comments on Facebook a lot about how women should be kind to other women and watch what they wear, because a woman showing curves can cause women married to sex addicts or former sex addicts to feel triggered, and we should care about those women.
But again–this is an issue of the sex addict; it isn't on the woman. It's very true that the woman may feel triggered, but the reason is not because of what the woman is wearing, but because of how her husband is acting and has acted. And because she has so little faith in him, she has to try to control the women around her.
All this is doing is transferring shame from the man to the unsuspecting woman, and it isn't okay.
If you're feeling triggered, that's a sign that you need to see a licensed therapist; it isn't a sign that you need to talk to a woman about her cleavage, or cause shame to that woman.
5. Refuse to give any such message to a woman in about 95% of situations.
If you are in a work situation or ministry situation and are being asked to deliver the message, unless the woman is flagrantly violating a dress code that is universally applied and well known, and unless you are in HR or have a leadership position over her, I would refuse.
Often men will use women in these situations to deliver messages to make it easier on the men who want to transfer the shame and guilt. Don't play that game.
Stand up for her. It is not your responsibility to be a man's message bearer. And do you really want to work or serve in a place that treats a woman like this?
An attractive woman should not be considered a problem. A woman's body should not be considered a problem. Appropriateness in dress matters, absolutely. And if people are worried about appropriate attire at work or ministry, then set a universally applied dress code that focuses on clothing, not bodies, that everybody knows about.
Don't just do it haphazardly, focusing on the well-endowed, attractive young women, or only making it an issue when such a woman comes on the scene. That's not fair or right.
If it's about a dress code, make it about a dress code, not about her body, and not about men's thoughts. Let's get this right.
What do you think? Have you ever been in a work or ministry position where you've been asked to talk to a woman about her clothing? Have you ever felt like you should talk to a woman? Let's talk in the comments!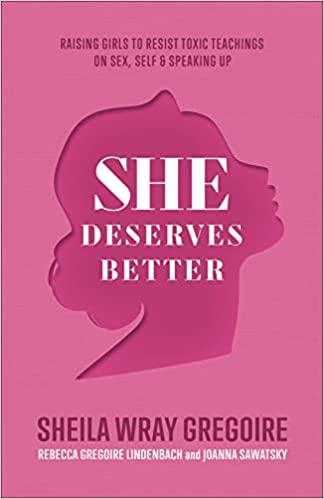 Plus see Chapter 9 in She Deserves Better, with all of our modesty findings! It's FIRE!