What if there's something super simple you could do that could improve your mood and your marriage?
I talked on Monday about rhythms in our lives–how to honor our bodies' rhythms, with the need for work and rest; for feasting and fasting.
And I thought today we could talk about one of the biggest rhythms we have–sleep.
Can we honor the transition time between work and rest?
Here's what happens in many households: You're just desperate from some down time, so after the kids go to bed you collapse in front of the TV, streaming some shows, or playing some video games, until you're exhausted. And then you collapse into bed.
We've got several problems with this.
First, while down time is important, down time that feeds your soul is even MORE important. Down time where you think, pray, process, even work on relationships–that's what really makes us feel like "today has been a good day."
Second, heading to bed right after you've been watching a screen doesn't lead to restful sleep. Turning away from screens an hour before bed can lead to better sleep.
And third, having a set time where you prioritize certain disciplines or habits can make you feel more peaceful and purposeful while also aiding the transition to sleep.
True confession: I'm not very good at this. Keith and I tend to eat dinner later and go to bed earlier (by 10), because we get up quite early. So we don't have a lot of evening time, and if we watch a movie, then by the time it's over it's already time to sleep.
But when I do get into routines where I'm in bed by 9:15, I really appreciate and benefit from it.
So here's what I'm suggesting:
Go to bed before you're tired–and then make use of that time!
Now, a big caveat: If you're absolutely exhausted when the kids go to bed, then you should just go to bed! If you don't have a time in the evening when you're not absolutely exhausted, then it's best to catch up on some sleep as soon as you can and try to see if you can change how you do your daily life so that you do have times when you're not exhausted.
And another big caveat: I know some people are "night owls" and some "morning people", and the morning people may want to go to bed a lot earlier than the night owls. If you're a night owl, try to follow some of this routine anyway. It may help you sleep better, but the important thing is that you're heading to bed and spending some time with your spouse before you head to  sleep.
That transition time before sleep is a great opportunity to spend meaningful time on things that matter to you.
Often we have things that we really want to get done–but the rest of the day is so busy and so packed that if we're just trying to fit things in, it doesn't work. But in the evenings you often have that time. So let's see 8 things you could potentially do with it!
UPDATE: A number of people have told me that this transition period really shouldn't take place in bed because you get better sleep if you associate the bed with sleep. And you get better posture if you're not propped up on pillows in a weird way. So thank you for that! If you want to have your downtime on the couch or a comfy chair, that works too!
1. Read a book.
I want to read at least two big nonfiction books a month, and I don't have a lot of reading time during the day. So what I've done is start reading at least two chapters each night.
Have you ever set a goal to read a certain number of books this year, and then you've never actually met that goal? A great way is to start reading at night–before you're tired!
2. Read the Bible.
Want to do more personal devotions? For many of us, trying to read first thing in the morning is a losing proposition. We're too tired, there's too much to do, and it isn't restful. But reading when there aren't other demands on you can be much easier. And then it sets the stage for a restful night's sleep to meditate on it!
Don't know what to read? Get a Bible reading app, or use the Anglican Lectionary (lots of apps for that too!)
3. Pray.
At one of my last speaking engagements before COVID, a reader of my blog who attended handed me a beautiful hand-crafted set of Anglican prayer beads. I had no idea what to do with them. But I looked it up, and found a whole bunch of different ways you can pray through them, or even incorporate them into your devotions (that's now my favourite way of reading the Bible).
I always struggled with prayer, but this is so purposeful and so meditative that I love it.
You can also get books of prayers (I love this one), or just spend some time being quiet in whatever way works best for you.
4. Journal
Whether it's processing your thoughts as you're working through something big in your life, or just bullet journalling when you write down just a few things that happened today, or even just a journal of the funny things your kids did today to refer to later, taking that few minutes to record the highlights can be a lasting blessing.
5. Plan for the next day
Often one of the reasons we have trouble drifting off to sleep is that we're worried we're going to forget something we need to do tomorrow. Spending some time at the end of the day to go over the appointments or errands you have for tomorrow, to look at your calendar, and to create your to do list can help you feel like, "okay, I've got this all sorted, I don't need to worry now." And it also helps you prepare a bit while you sleep!
Taking a look at your calendar beforehand can also prevent difficulties. Let's say Kid 1 has piano lessons right when Kid 2 has a dentist appointment. Then you can realize–okay, I need to ask my spouse to pick up Kid 1 tomorrow, though that's not normally his/her job!
What about couple activities during the transition time?
Well, all of the things already mentioned can be done alone or together! Some couples can do these things side by side–perhaps even different things side by side. And some may want to do these things together (read a book out loud; read the Bible out loud; go over the logistics for tomorrow, etc.)
But let's turn to things that you can do together as a couple!
6. Share your Most In the Groove/Most Defeated moments
The marriage habit I recommend the most is a variation on the high/low exercise. Instead of sharing your best and worst moment of the day, share the time you felt the most in the groove, like you were doing what you were put on earth to do, and the moment you felt the most defeated. These tap into your most emotional moments, and let you and your spouse in on what's really going on in your heart.
Usually we say things like, "what did you do today?", but that doesn't necessarily help us connect emotionally. It may elicit a list of appointments or errands or accomplishments, but not how you're actually feeling or clue you in on each other's emotional state.
Sharing two emotional snapshots, on the other hand, can help you process things together while pulling the curtain back on what affects your spouse. Especially when couples are struggling to open up emotionally, or when one of you is struggling to learn how to communicate emotionally, this can be such a great tool.
7. Give each other massages
Is there anything yummier than a back massage? Or a foot massage? And it's a great way to relax before sleep, too!
8. Make love
Finally, the big one. Going to bed before you're tired makes it much easier to make love! How many times have you headed to bed intending, and even wanting, to have sex, but then by the time your head hits the pillow you start to drift off and the opportunity's gone? But if you head to bed before you're exhausted, take some transition time to process, think, and talk, then making love is more likely to be an enticing idea!
Plus–and here's the big one–orgasms make you sleep better! And it makes it easier to fall asleep. In fact, one of the effects of the hormonal rush you get at orgasm is that you get really sleepy.
(Incidentally, this is why it's so important for the husband to bring the wife to orgasm first, rather than thinking, "well, let's see if she gets there before I do, and if not, I'll take care of her afterwards." He may have the best of intentions, but his entire body will be telling him, "you want to go to sleep now." And having a super sleepy guy trying to stimulate you will just make her feel she's taking too long and make her feel awkward and it's not likely to work.)
So even if you're a night owl, and you'd normally stay up later, if you do make love and orgasm, your body will likely want to go to sleep anyway. And that's better for you in the long run, to get a good night's sleep!
Note: If you DON'T reach orgasm, sleep can be even more elusive if you try to make love, because you're all keyed up and got no satisfaction. That's why we need to start prioritizing orgasm for women and bridge that orgasm gap! And we've got a course for that too.
The Orgasm Course is Here to Help You Experience Real Passion!
Figure out what's holding you back. Open the floodgates to orgasm.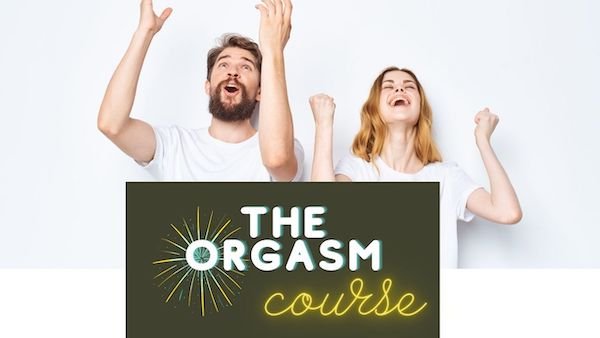 What would happen if you started making it a habit to turn into bed 45 minutes before you normally go to sleep? 
What would happen if you made use of that transition time to care for your mental and spiritual health, and to connect together? 
It's a little switch, but it's one I'm increasingly trying to make. Our world is so busy and we're always rushing and our screens are always on. What if we used our bedrooms as retreats, and paid attention to the things that mattered? 
Breaking habits is hard. But I'm trying. How about you?
What do you think? Do you have a bedtime routine? When do you read/journal, etc.? Let's talk in the comments!