What if you're not a stay-at-home mom?
I'm processing a lot about the book Stained Glass Ceilings by Lisa Swartz that we talked about yesterday on the podcast. In it, one of Lisa's big questions was how different faith expressions handle gender, and she studied two different seminaries–one egalitarian and one complementarian–to answer that question
Our discussion on the podcast was really interesting, but I'm looking over my notes and I have a few more things I'd like to talk about in more depth (I never have time in podcasts to say everything that's on my mind!).
One of Lisa Swartz' big points in her book is that being in an egalitarian space does not mean that women automatically are more supported or have it easier. Sometimes the idea that "we don't do gender here" actually still makes men the standard, and women just have to adapt. So while women can be considered for all positions, they can really only do so if they fit into the male mold. 
In complementarian circles it's even harder, because the man is supposed to be the authority and the leader and provider; he's supposed to earn the money and lead the family, while the wife nurtures the husband and kids and cares for the house.
But what if SHE is the one who is studying at the seminary, rather than him? And many of the male students had wives who were working to support them, so the husband was hardly the provider anymore.
Just a few stories that illustrate the issue:
What if you out-earn your husband?
Lisa shares an interview she did with a male student at Southern Baptist Theological Seminary, talking about the marriage relationship:
I have the burden of knowing what's going on with the household. I'll give you a story to illustrate. [My wife] was in the elevator with some of her coworkers and they were talking about paychecks and stuff. She said, "I don't even know how much I make." And they're like, "What?!" And she said, "My husband takes care of all that." And then they got closer to the bottom and they asked, "Didn't you bring an umbrella today?" She's like, "No, my husband didn't tell me I needed it." So even though she's going to work, there was still a headship there.
Okay, let's leave aside the absolute asinine idea that a woman shouldn't know how much she makes, or that she needs HIM to tell her if it's raining. 
That's infuriating and in and of itself.
But just look at how, if you don't fit the mold because you're the provider, you twist yourself in knots to make sure your relationship still looks like he's the one in charge and she is his subordinate.
It reminds me of the study that showed that women who out-earned their husbands tended to do even a greater share of the housework, to "make up" for the fact that they weren't abiding by typical gender roles.
What if you're not a domestic goddess?
Much of the social supports for the wives of seminary students at SBTS revolved around women's meetings where you learned how to be a good hostess, how to budget, how to meal prep and clean, etc. And many of these meetings were taught by Mary Mohler, the wife of seminary president Al Mohler. 
Apparently she bakes amazing pies, and she's also really good at learning the women's names and organizing these meetings.
But as Lisa Swartz asks:
But here there is a catch: not all women are Mary Mohler. Not all seminary wives have personalities, interests, and gifts that equip them for the scripts she so gracefully embodies…Perhaps even more importantly, not all women who are suited to the kind of leadership and authority Mary Mohler exercises will be married to a man like Al Mohler.
One of the reasons I tend to not enjoy women's ministry events at churches was because I always found the crafts so silly. I didn't want to paint another mason jar or make a Christmas wreath. I would have been much happier just bringing my knitting or, even better still, doing something that helped others, like packing kits for the homeless or something.
But so often these women's meetings at church focused on domestic arts. There's nothing wrong with domestic arts. We all need to be able cook (men need to cook too!), and running a household is a skill. But surely there's more than that to life? And when most events for women that happen at church focus on the domestic arts, what does that tell women about our role in the kingdom, or what being a Christian is like?
Some women may really enjoy this (and there's nothing wrong with that). But when it's the main thing, you have to ask if we've lost the plot somewhere.
Become a part of the movement
Join 40,00 others and let's change the evangelical conversation about sex
How do women combine ministry and family?
In her discussions of women at Asbury, an egalitarian seminary, Lisa Swartz found that women were still in a bind. Just being egalitarian didn't mean life was necessarily easier.
While men's private roles flow much more seamlessly toward their churchly ambitions, as the next section shows, women can easily feel torn between their vocational paths and their personal lives…..
Married men also benefit from the same second shift that burdens women. Lessened domestic responsibility allows them more time and emotional energy to devote to academic work, professional networking, ministry opportunities, and social media presences. Moreover, they are also the recipients of the nurture women provide. The products of feminine domesticity—seasonal decorations, hand-lettered birthday cards, scented candles, and dinner parties—nourish their bodies and souls. While women struggle to imagine how they will combine the responsibilities of marriage and parenthood with ministry and church leadership, men know that family life likely will facilitate, rather than compete with, their vocational aspirations.
When it is still women who tend to do these "domestic arts", then having a career, whether in ministry or in the secular workplace, is simply harder for women. 
And this is doubly true at church, where women have volunteered forever. The thought that you'd rather have a paid position seems selfish for women in a way that it doesn't for a man, Lisa Swartz found:
Men often framed their calling stories in terms of service or sacrifice. Chad, for example, specifically mentioned choosing ministry over a career in lucrative, high-status fields like engineering, medicine, or law. Tyler explained that he left a good job to come to seminary. Women, in contrast, often seemed concerned that their decision to attend seminary might make them look too ambitious.
When women work, women often feel guilty, like they are abandoning their family, in a way that men do not. 
Is there space for single women?
In SBTS, some of the single female students felt that there really wasn't a place for them. Lisa Swartz made a point of noting that the most impressive student she met at Southern was an unmarried female. Yet her career options were limited, and she knew this.
But she also felt like she didn't fit. She was seen as a threat by the wives on campus, because she was a single woman interacting with male students, who often avoided her so as not to show any impropriety.
But she couldn't find female companionship either because the "women's" events were for the wives of seminary students. She wouldn't benefit from classes on how to bake pies or keep your husband sexually satisfied. So where was she to go?
Is there space for working women?
In a similar vein, where do working women network in Christian spaces? At Asbury, there weren't regular women's events like there were at SBTS. And I've found that trend in the churches that I've been in too–while there are often women's Bible studies during the day, there's little for women who work.
Now, often women who work outside the home don't have time for another event, and don't necessarily want one. But it does mean that there are not natural times to build female companionship once a woman works outside the home. She's now on the outside of the typical female space at church.
It's hard to fit in at church if you don't fit the stereotypical mold. 
It reminds me of some of our findings from our study for The Great Sex Rescue: Acting out stereotypical gender roles where he works and she stays home is perfectly fine, but as soon as you believe there's only one way to do things, bad things happen. 
As long as you arrange family life in a way you both genuinely choose, you can choose whatever you want! But if you feel like things have to be a certain way, then you'll tend to experience a lot more frustration and disappointment.
"A groundbreaking look into what true, sacred biblical sexuality is intended to be. A must-read." - Rachael Denhollander
What if you're NOT the problem with your sex life?
What if the messages that you've been taught have messed things up--and what if there's a way to escape these toxic teachings?
It's time for a Great Sex Rescue.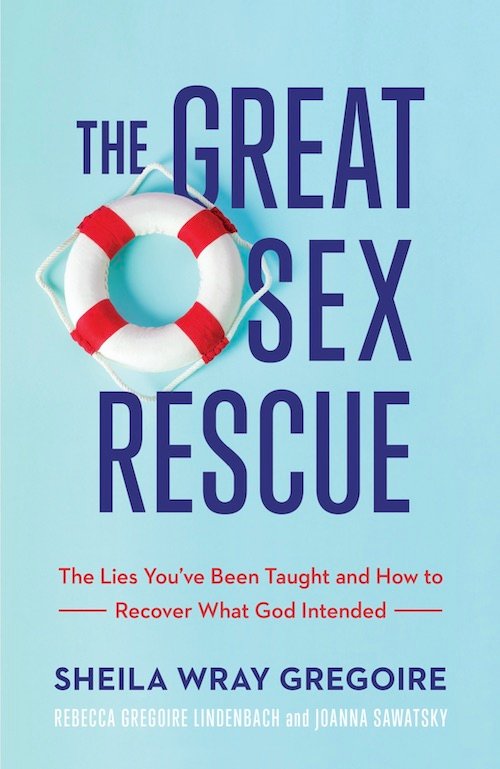 I think the only thing that will start to chip away at this problem is if we stop seeing the home and kids as her responsibility and work as his, and we start seeing the home and kids and income as THEIR responsibility to work out as fits them best. 
So some couples will have stay at home dads; some will have stay at home moms. Some will have one parent work part-time and one work full-time, and it doesn't matter which. Some may have both work full-time.
But then we don't consider the home her responsibility, or expect her to do the nurturing work at church and at home to keep everything going while he's exempt from it. 
Let's remember that men are capable of nurture too, and women are capable of work. The home needs both. And maybe, if we stopped the expectation that one (nurturing) fell primarily on her no matter what, we could develop healthier families.
What do you think? Have you ever felt left out of church spaces because you don't fit the mold? Let's talk in the comments!