I've been fixing terrible quotations from some Christian marriage & sex books!
If you follow me on Instagram or Facebook, you've likely seen these. And I sent them out to my email subscribers last Friday, too! But if you just read the blog, you may have missed them.
But I've been having fun making them, and they're doing quite well on social media! I want to help people recognize when something is harmful, and show what should have been said instead.
Today I'm sending in the edits for our new book The Good Guy's Guide to Great Sex, which is coming out next March. So I've had a HUGE writing deadline for the last few weeks. So I thought that rather than write a big post today, I'd share these with you, plus share some links to some great podcasts I've been on lately!
Here's the Fixed It For You that started it all:
Here's my personal favorite (which was an Emerson Eggerichs one as well):
Here's the one that was shared and liked the most!
And, hey, I'm even fixing myself!
I've done a few others, but that gives you a sense.
I've also been on a ton of podcasts lately (not just our own Bare Marriage podcast!).
I've been talking all about The Great Sex Rescue on about 5 or 6 podcasts a week, so it's been really busy. I try to share most on social media, but I thought I'd give a quick cross-section of the types of things I've been doing today. And if I've been on your podcast, and I'm not mentioning it, I am trying to put them in rotation on social media!
I spoke with Amanda Davidson in this two-part podcast about the things women typically feel in marriage with young kids. So we took this one entirely from the perspective of young moms! And it was a lot of fun. There's also a follow-up episode which you can get to from the link!
Everything is Okay Podcast
This one was very different–because I was talking with three guys! We talked about youth group, the "all men struggle with lust" message, and more! Interesting to talk more from the perspective of husbands about what our survey of 20,000 women showed us, and the insights from The Great Sex Rescue.
Rebecca and I were on this one together–and it was a LONG conversation! But we were talking purity culture and Generation Z/young millennials on this podcast with Justin Khoe and his co-host Morgan. Great fun!
The Great Sex Rescue
Now Available!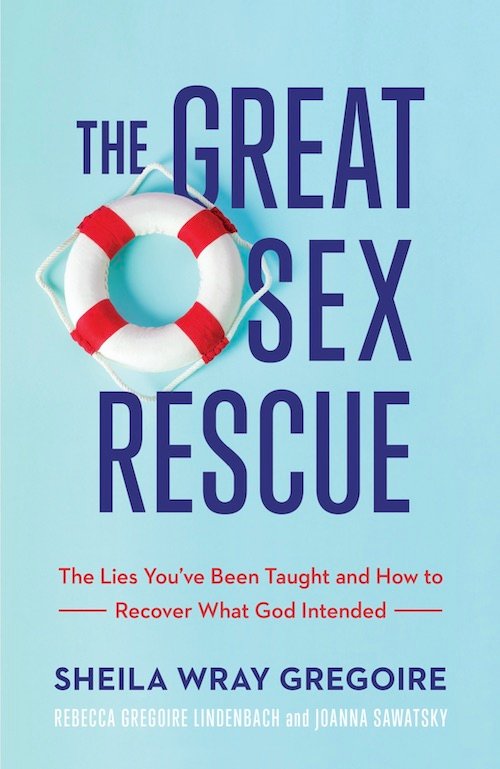 What if you're NOT the problem with your sex life?
What if the things that you've been taught have messed things up–and what if there's a way to escape these messages?
Welcome to the Great Sex Rescue.
So that can catch you up on what I've been doing OUTSIDE of the blog!
If you don't want to miss anything, be sure you're signed up for my emails, and, of course, follow me on social media.
Have you heard me on a podcast lately that you liked? Let me know in the comments! Or do you have a quote you'd like me to fix? Let's talk!

Sheila Wray Gregoire
Founder of Bare Marriage
Sheila is determined to help Christians find biblical, healthy, evidence-based help for their marriages. And in doing so, she's turning the evangelical world on its head, challenging many of the toxic teachings, especially in her newest book The Great Sex Rescue. She's an award-winning author of 8 books and a sought-after speaker. With her humorous, no-nonsense approach, Sheila works with her husband Keith and daughter Rebecca to create podcasts and courses to help couples find true intimacy. Plus she knits. All the time. ENTJ, straight 8
I'm often accused of trying to swing the pendulum to the other extreme. This week, a commenter...
What exactly does "purity culture" refer to? Our recent book She Deserves Better spends about half...
She Deserves Better is officially launched, and we're doing so well! It's selling really, really...