Mark Gungor claims to be the #1 marriage teacher in the U.S. military, and I think it's important to know what he is teaching.
As many of you know, last week an audio recording was published on The Wartburg Watch between pastor, comedian, and marriage teacher Mark Gungor, and a young woman from his congregation whose sexual abuse allegation he mishandled about 5 years ago.
Lexi (the young woman) saw me call Mark out on Twitter in early April for his behavior online, and for the first time since her assault felt emboldened to talk about it. She phoned him the next day and recorded the conversation, and it has now been published.
I wrote on Monday about that conversation; I'm a big part of it because Mark keeps trying to steer the conversation towards how much he's being persecuted by my followers.
In today's podcast, rather than talk about that audio, what we wanted to do was to look at what Mark actually teaches at his marriage retreats. His "Laugh Your Way to a Better Marriage" and "A Tale of Two Brains" are big parts of the Strong Bonds weekends in the military, and we thought it was worth asking if THIS is what the military believes is good for their troops to hear.
After this, I would like to let go of this and move on. However, given how influential Mark Gungor is in a very vulnerable group (military marriages have a 70% divorce rate, apparently), it's worth asking this question. And I hope military chaplains may listen.
So listen in!
Or, as always, you can watch on YouTube:
Main Segment: Is it healthy to portray sex as transactional and the sexes as polar opposites?
Mark's messages can be whittled down to two main things:
Men mostly want sex. That's why they deal with women–to get sex. Women, on the other hand, want connection. For men to get what they want, they need to be nice to the girl. For women to get what they want, they need to give him sex.
Men and women have different brains. Men's brains are boxes. They're compartmentalized. And the biggest box is the "nothing box." Women think about everything all the time.
We analyzed two of his videos for this:
As you listen to the clips in the podcast, listen to how he depicts women–to the voices that he does. Listen to how he refers to women. And listen to how he frames the relationship between the sexes–that women are only good for sex, and men wouldn't have anything to do with us if it weren't for sex.
Is "The Nothing Box" a Thing?
Connor says the nothing box is actually a "privilege" box. As Rebecca said, "It's easy to think about nothing if you don't feel like you have to remember everything."
The reason women's brains have so much in them at all times is a function of mental load. When men carry less mental load for the family, they have a nothing box. When men become more involved with the kids and the family, or when they have very stressful work, they're less likely to have nothing to think about. Thinking about nothing is a luxury.
The question, then, is this: Even if it's true that most men have a nothing box, that does not mean that this is a good thing or that we should be teaching people how to deal with it. 
What if it's a reflection of an unhealthy dynamic in the marriage?
I'd point people to my series on Mental Load here.
How does the military hire Mark?
On Facebook, a woman did some digging about the military contracts.
Many were awarded with no competitive bidding–they just hired Laugh Your Way to a Better Marriage.
She further writes:
And we have a trail of contracts awarded to Gungor for his speaking services and/or published materials made available through the US Army, Navy, and Coast Guard. He has profited well from his brand of … 'humor'. No wonder he feels powerful – he has been validated by the world's biggest government.
Not to drive a wooden stake into a man, but as you can see here, the contracts were awarded to 'strengthen' the modern day warrior force – with the goal of stabilizing relationships, as described in the sole-source solicitation for services. In other words, Gungor had a direct 'tap' into the US DOD for buying his content – there was no competitive bid engaged and his material was unvetted for competence/rigor/performance/validity. His ongoing award of money from US taxpayers was unchallenged.
Contract Description:
"The Army Chief of Chaplains is the proponent for the Army's Strong Bonds Program. It is a preventative skills based relationship building program, led by Army Chaplains designed to assist commanders in building, strengthening, preserving and restoring Army Families. Specialized training for single Soldiers and units being deployed or redeployed is also conducted by Unit Ministry Teams (UMTs). The curriculum identified below is the only authorized material to be utilized by UMTs when conducting Strong Bonds events. Modules from the primary authorized course i.e. Laugh Your Way to a Better
Marriage combined with PREP, PICKS, LINKS and Family Wellness will be used. Interested persons may identify their interest and capability to respond to the requirement or submit proposals.
This notice of intent is not a request for competitive proposals. However, all proposals received within two (2) calendar days after date of publication of this synopsis will be considered by the Government. A determination by the Government not to compete this proposed contract base upon responses to this notice is solely within the discretion of the Government. Information received will normally be considered solely for the purpose of determining whether to conduct a competitive procurement. Requests can be emailed to David.Brown.14@ang.af.mil.
The 108th Wing requires the following items:
LI 001, Laugh Your Way to a Better Marriage DVD Set with Mark Gungor DVD Set includes the following DVDs:
1. The Tale of Two Brains (session 1- 73 min, session 2- 55 min
2. The #1 Key to Incredible Sex (session 1- 39 min, session 2- 35 min)
3. How to Stay Married and Not Kill Anyone (35 min)
4. FAQs with Mark (60 min)
Total running time = 6~ hrs,
LI 002, Laugh Your Way to a Better Marriage Book ISBN-13: 1416536051 ISBN-10: 1416536051,
LI 003, Sex,Dating,Relating DVD Teen Edition By: Mark Gungor Four DVDs, approx. 4.5 hours total
The DVD set Sex, Dating and Relating contains four discs.
DISC 1: Mark explains the basic differences in how men and women are wired and how to better understand and work with those differences.
DISC 2: Mark explains the keys to dating smart and what to avoid during the process of dating in order to steer clear of trouble.
DISC 3: Contains information on sex from nation abstinence speaker Pam Stenzel teaching youth about the consequences of sex outside of marriage as well as Mark explaining more of the emotional impact it can have on people. He also addresses the issue of pornography use and masturbation.
DISC 4: Q & A session with Mark where he answers some of the commonly asked questions regarding sex and dating in his straight-forward manner.
Contracting Office Address:
108th Wing, 3369 Wonnacott Avenue, Room 10, Joint Base McGuire-Dix-Lakehurst, NJ 08641-5406
Point of Contact(s):
David A. Brown
I'm in Canada, not in the U.S., and I have no U.S. military contacts. But since most of my audience is American, I thought you may be interested in what your government is purchasing for their soldiers to learn.
And then…I get emotional.
I recorded part of this podcast on the weekend, right after I heard the audio, and learned that Shaunti Feldhahn, Kevin Leman, and Emerson Eggerichs were all talking with Mark about how to handle me, and were considering writing a joint statement. I was really emotional. I debated not including it in the podcast, but here's the thing. I'm often told how I "should" react to all of this when authors call me out. How I should drop it, or else go to them personally, or "don't put my pearls before swine." And I understand all that, and I try to do that. 
But I don't think you all understand the emotional toll of what it's like behind the scenes. I'm still a person. And I've become so disillusioned with evangelicalism at large this year. These are my people–the evangelical world. And when we conduct high quality research that shows that women are being hurt, what's the response? To attack me, to paint themselves as the victims, and to ignore the women and couples who are hurting.  I'm just really sad.
My birthday was this week, and I guess I thought that for my birthday, I was allowed to just say what I was really thinking. I'll put the mask back on and be better again soon. But sometimes it's a lot, and I wanted to let you know that. 
The Great Sex Rescue
Changing the conversation about sex & marriage in the evangelical church.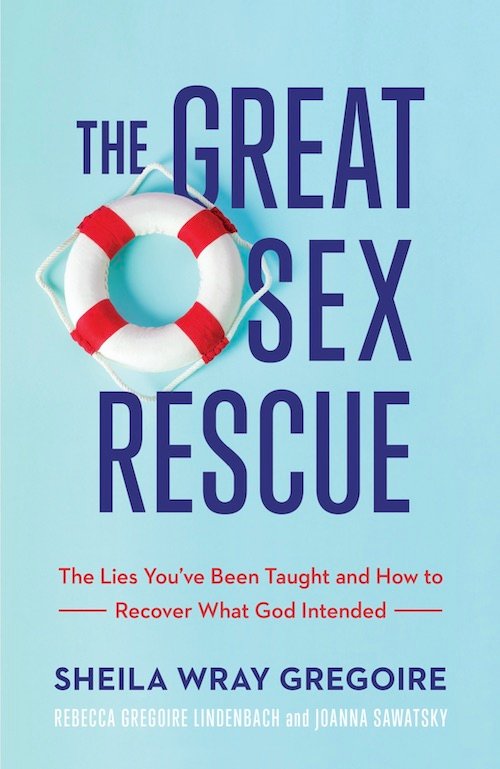 What if you're NOT the problem with your sex life?
What if the things that you've been taught have messed things up–and what if there's a way to escape these messages?
Welcome to the Great Sex Rescue.
Things Mentioned in This Podcast:
Do you think the "nothing box" is about mental load? What do you think of calling women "chicks"? Are gender stereotypes helpful? Let's talk in the comments!