After months of waiting, you can now get The Great Sex Rescue on audiobook!
And it's actually me reading it, too. 
It took a long time for me to be able to record it, because we were in lockdown for quite a while here in Ontario. We came out of lockdown in March for just a few weeks, and so I managed to go up to the recording studio and do it then. I was supposed to record in the fall, but it just hadn't been possible.
It went live on my birthday.
Which is neat, because a lot of things in my writing career have happened on my birthday. I got my acceptance letter for my very first book on May 25, 2001. I got my offer for The Good Girl's Guide to Great Sex on my birthday ten years later. 
And yesterday the audio book went live AND we surpassed 500 reviews on Amazon–and we're still at 90% 5 star ratings, which is amazing. (Keep them coming!). 
When recording the audiobook, the producer was really professional–but he did get emotional at times
When you're recording, you sit in a room by yourself and just read into this microphone. The producer is in another room with all the fancy gear, looking at the manuscript as well. Whenever you make a mistake, or stumble over a word, or cough or something, you need to go back to the last natural break and begin again. So he'd tell me what word to go back to.
That really was the only conversation we'd have for the 3-4 hours a day that I was recording.
But a few times when he told me to go back he'd pause a minute and say, "that's really awful."
Specifically when we were in the coercion chapter for the obligation sex message, and I was talking about the examples of marital rape that are found in our bestsellers, especially Aunt Matilda from The Act of Marriage. (I even dedicated my dedication to Aunt Matilda). If you don't know the story, we talk about it in detail in this podcast. Here's the section, though, that made him quite upset:
But one of the worst examples we found in Christian books comes from The Act of Marriage, which includes an anecdote about when Aunt Matilda warns a young virgin bride off of sex (warning: graphic illustrations to follow):
Apparently her aunt, whose marriage was arranged by her par- ents in the old country, found herself petrified of sex on her wed- ding night. When her embarrassed and clumsy farmer husband, who was twenty years older, brought her to their wedding bed, he "stripped me naked and raped me in my own bed. I fought and screamed to no avail." . . . Her conclusion to her niece was, "As far as I'm concerned, marriage is just legalized rape." As much as one might feel compassion for poor Aunt Matilda and her equally unhappy spouse, we can hardly envision more unhealthy concepts to pump into the impressionable young mind of a bride-to-be.
In The Act of Marriage, telling someone sex is bad is worse than being a rapist. Matilda is the antagonist; her rapist is portrayed as "embarrassed," "clumsy," and, appallingly, "equally unhappy" as the woman he stripped naked and raped while she fought and screamed. There is a shocking callousness displayed toward Aunt Matilda, while the moral or legal ramifications of marital rape are never mentioned.
When Christian resources fail to discuss marital rape appropriately, it leaves women without the words to describe what is hap- pening to them. While Erika was taking a shower on her wedding night, her husband barged in and attacked her. "We hadn't had sex before we were married, and I wasn't ready yet. I remember freaking out in my mind, crying and praying, 'What is going on?' and 'What is this? I can't live with this for the rest of my life.'" The "this" that she couldn't name was repeated many times over the next few years. And it wasn't until her divorce lawyer showed concern that Erika realized that "this" was rape.
But as difficult as he found the coercion chapters and really the lust and duty chapters altogether, the time he actually got emotional and teared up was the final chapter where we were sharing our hearts for the book and how all of this got started, and were talking about how Focus on the Family had ignored the hundreds of stories of abuse we had sent them.
He was quite overtaken.
He really appreciated the book and said he enjoyed listening to it and recording with me. But he was also quite overcome by some of the horrible things we had to share–and was so happy that we were pointing to a better way.
There is a better way. The dam is breaking, and the bad stuff is being called out. The Great Sex Rescue does this, but so do a bunch of other books that have been written lately–The Making of Biblical Womanhood (I'll have Beth Allison Barr on the podcast soon): A Church Called Tov; Jesus and John Wayne (Kristin Du Mez is coming on next week!). The evangelical church has too often put power before people, and that affects how they teach about marriage and sex. We're righting that wrong, and the freedom so many have experienced is amazing. I'm humbled. I'm excited. And I hope you feel it too!
The Great Sex Rescue
Changing the conversation about sex & marriage in the evangelical church.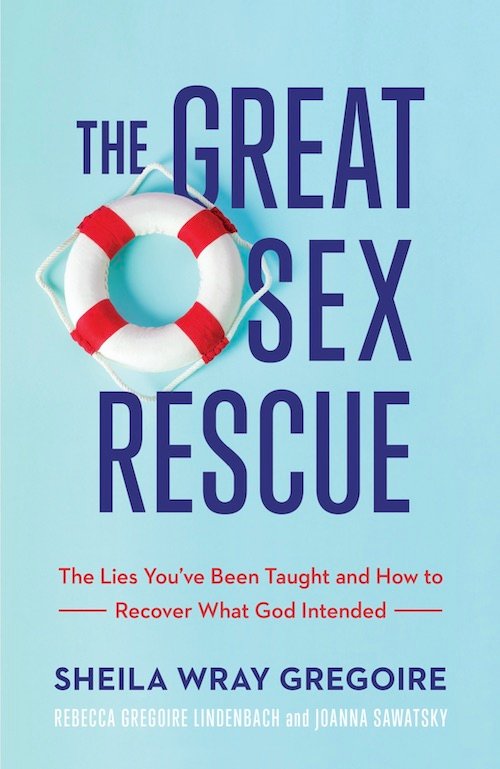 What if you're NOT the problem with your sex life?
What if the things that you've been taught have messed things up–and what if there's a way to escape these messages?
Welcome to the Great Sex Rescue.
And thanks for all the birthday wishes yesterday on Facebook! I really appreciate it!

Sheila Wray Gregoire
Founder of Bare Marriage
Sheila is determined to help Christians find biblical, healthy, evidence-based help for their marriages. And in doing so, she's turning the evangelical world on its head, challenging many of the toxic teachings, especially in her newest book The Great Sex Rescue. She's an award-winning author of 8 books and a sought-after speaker. With her humorous, no-nonsense approach, Sheila works with her husband Keith and daughter Rebecca to create podcasts and courses to help couples find true intimacy. Plus she knits. All the time. ENTJ, straight 8
When we're trying to get out of the pit our sex life is in--sometimes we're the one who needs to...
We need to deal with our double standards of sexual expectations in marriage. This month we're...
Christian leaders should not be trying to convince women to send nude photos. This doesn't seem...