Let's talk expectations for childbirth, sex, orgasm, and more!
This week was more of a fun podcast. As you'll see from the two interviews we did, we were enjoying ourselves immensely talking about how to make different aspects of our lives awesome. 
And to start with our pelvic floor series, we invited Jenn Riedy, a childbirth educator and doula, on to talk about what you should expect at childbirth and how to prepare for the recovery! And then I had my friend Dan Purcell on to talk about International Lovemaking Day–and Rebecca and I talked about whether you should really want to orgasm (that would be a  yes). 
Listen in!
Or, as always, you can watch on YouTube:
Timeline of the Podcast
1:20 Birthing Coach Jenn Riedy joins us!
4:45 The importance of partner's education
6:30 Every woman can do labour her own way
8:45 Sex during pregnancy
12:45 Postpartum recovery
28:00 Interview with Dan Purcell: How a conservative Christian couple created a Sex app
37:15 RQ: But sex is pleasurable without orgasm?
38:10 Arousal non-concordance
41:30 The nuanced way we talk about women's sexuality
50:10 Encouragement!
Main Segment: What to Expect at Labour and for Recovery
Jenn has been helping moms to enjoy healthier pregnancies and births through education and hands on support since she founded Knitted in the Womb in 2001, after the birth of her first child. 
Jenn's passion to learn more about the topic and learn how to help other women/couples has only increased in the past few years and with the births of her next five children. In 2001 and 2002 Jenn became a doula and certified childbirth education instructor.
Jenn Riedy is a doula and childbirth educator, and I feel like I know Jenn well from our interactions online! She's a wonderful support to me, and she also is a wonderful support to new moms in the Lehigh Valley in Pennsylvania. But with COVID she's been moving childbirth classes online!
I love her list of the timeline of recovery from childbirth, and what you can expect yourself to be able to do when. I hope all of us can stick to that schedule!
Did You Know International Lovemaking Day is Next Wednesday, June 9? (Yes, that's 6/9)
Dan Purcell, from the Intimately Us app, joined me to talk about his vision for helping couples grow closer and boost marriages by adding more passion to their lives. 
I've met Dan when I spoke at his Get Your Marriage On event in Utah last November, and really enjoyed getting to know Dan and his wife Emily. 
To celebrate International Lovemaking Day, the premium features of Intimately Us will be available in the free version for June 9 and June 10! So check it out!
Reader Question: I think you emphasize orgasm too much, Sheila!
A woman wrote in saying that you can have pleasure without having orgasm, and that I'm putting too much pressure on people. She says:
One thing that I wanted to bring up is the equation that pleasure in sex equals orgasm. You talk a lot about how sex is much more than a physical experience, but orgasm is a physical experience. I have had sex with my husband without orgasming, but have thoroughly enjoyed it because of the connection and intimacy that we experienced. While I do agree that orgasm is helpful, amazing, to having a pleasurable experience during sex, it is so much more than that.
Also, another thing that rubs me a little the wrong way with this is the fact that rape victims, both men and women, can disassociate with their bodies and orgasm during rape. The idea that someone orgasmed during rape has been used to argue that the person consented to, or even enjoyed it.
Now I might be reading it the wrong way, but simple statements like "Sex can't be pleasurable – she can't experience an orgasm – …"
Great question, and we try to tackle that (and we talk about arousal non-concordance, too!). If you're having issues with orgasm, please check out The Orgasm Course as well!
The Orgasm Course is Here to Help You Experience Real Passion!
Figure out what's holding you back. Open the floodgates to orgasm.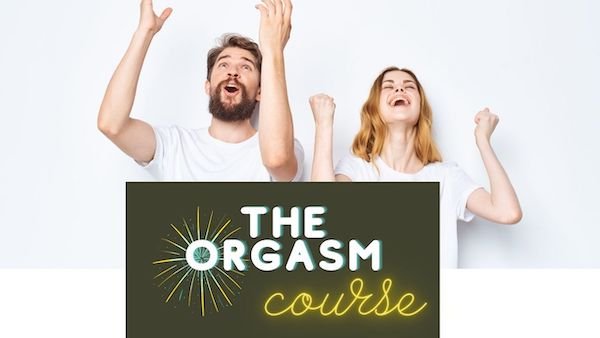 Sheila Wray Gregoire
Founder of Bare Marriage
Sheila is determined to help Christians find biblical, healthy, evidence-based help for their marriages. And in doing so, she's turning the evangelical world on its head, challenging many of the toxic teachings, especially in her newest book The Great Sex Rescue. She's an award-winning author of 8 books and a sought-after speaker. With her humorous, no-nonsense approach, Sheila works with her husband Keith and daughter Rebecca to create podcasts and courses to help couples find true intimacy. Plus she knits. All the time. ENTJ, straight 8