I was blown away by your messages of encouragement yesterday, here and on Facebook.
Thank you so much!
I got up this morning with something I wanted to write that I've been thinking about, but you all told me to rest, so I think I'll leave it and write about it when I'm home!
Instead today I thought I'd share some of my more popular Instagram posts–my "Fixed it For Yous." These are all quotes that we looked at in The Great Sex Rescue (I have a whole spreadsheet of problematic quotes from best-sellers), and I just fix them!
The next two go together–they're a "set".
And then I post some quotes from our book, too, to counteract the negativity!
I have a lot of fun with these. And, full disclosure, the idea for "Fixed it for You" was Rebecca's. Most of the good ideas are hers!
Anyway, make sure you're following me on Instagram to see more!
And, again, thank  you for all your encouragement yesterday. It meant so much. 
The Great Sex Rescue
Changing the conversation about sex & marriage in the evangelical church.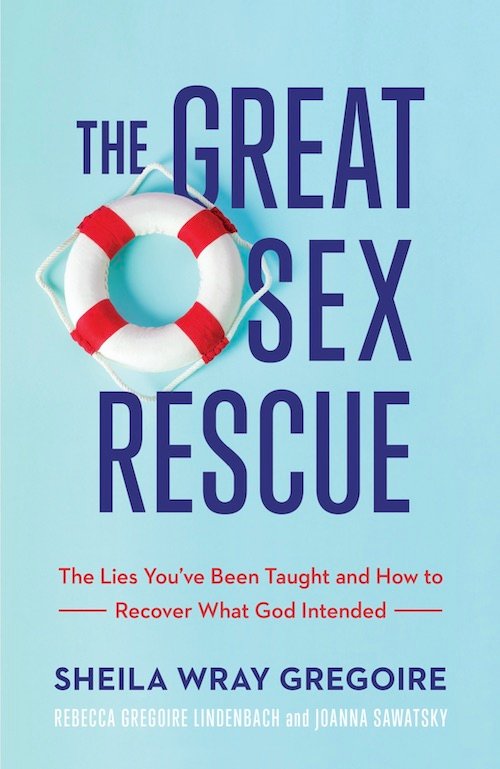 What if you're NOT the problem with your sex life?
What if the things that you've been taught have messed things up–and what if there's a way to escape these messages?
Welcome to the Great Sex Rescue.

Sheila Wray Gregoire
Founder of To Love, Honor and Vacuum
Sheila is determined to help Christians find biblical, healthy, evidence-based help for their marriages. And in doing so, she's turning the evangelical world on its head, challenging many of the toxic teachings, especially in her newest book The Great Sex Rescue. She's an award-winning author of 8 books and a sought-after speaker. With her humorous, no-nonsense approach, Sheila works with her husband Keith and daughter Rebecca to create podcasts and courses to help couples find true intimacy. Plus she knits. All the time. ENTJ, straight 8
Dads shouldn't need their adult daughters to give them adulation and affection. That's called...
Let's talk about the echoes of menstruation. Yesterday on the podcast, we were discussing how...
This has been a week of great thrills and great disappointments. Thankfully, the thrills were...