Did you know that it's only recently that medical textbooks have started getting the clitoris right?
For years, the clitoris was shown as smaller than it actually is, and often the nerves and rooots were omitted. 
The penis, on the other hand, tended to be shown in great detail. 
In recent years women have been speaking up, demanding that medical students be taught proper information on the clitoris, because without knowledge of the roots of the clitoris, many women have experienced a cut off in sensation becasue surgeons have cut in the wrong place. And with clitoral pain and infections being so common, when doctors don't know what something is supposed to look like, they often downplay the problem.
Dr. Jessica Pin explains the problem this way:
…throughout OB/GYN literature (update: slowly improving, but still often omitted, as in Comprehensive Gynecology, c. 2021), the innervation and vasculature of the clitoris are omitted. There are many more just like these. If you're thinking detailed anatomy must be included elsewhere in these texts, you are mistaken. It is simply missing.
Jessica's on a mission to get clitoral neural anatomy (the nerves and vasculature) of the clitoris included in OB/GYN textbooks, because it's still almost entirely left out.
So if you don't know what your clitoris looks like, you're not alone!
In one survey that we recently did, we found that women were more likely to report knowing the word "scrotum" when they graduated high school than they were knowing the word "clitoris". We just don't know our own bodies, because it's not talked about.
 A perfect example is the history of the G-spot.
Ernst Grafenberg first wrote about the role of the urethral area in female orgasm in the 1950s, and the G-spot was named after him.
Think about that–the 1950s. We knew about the atomic bomb before this.
People described the G-spot as a quarter-sized slightly raised area of the vagina that was a bit knobbly. The only problem? When researchers tried to find it, they couldn't, and roughly five years ago a variety of articles came out saying the G-spot didn't exist.
Women went nuts, because many were sure it did–and that's how they had orgasms.
But now we know what's really going on. It's simply clitoral roots! The clitoris is not ONLY a knob of flesh between the folds in a woman's genitalia. It has roots that extend upward, and those roots cover the front wall of the vagina. They get stimulated when you stimulate the front wall or when you engage those muscles and tilt your pelvis forward during sex.
Why didn't we know this? Because medical textbooks didn't include the actual anatomy of the clitoris.
Researchers in France have started using a lifesize model of the clitoris, which looks kind of like a wishbone. There's not a stock image I can use, but you can see one here! The nerves from the clitoris are actually quite large, and it's important that doctors know where they are, and that women understand how our bodies work.
Speaking of women, did you know that testosterone is not what causes libido in women?
There was an interesting–to put it mildly–discussion on Facebook last Friday about the whole lust debate, with some men saying that I was being insensitive claiming that all men don't lust, and that I needed to show more compassion to men.
They said I didn't understand what it's like to have so much testosterone going through your veins. And I've heard that argument from other Christian authors as well–men have ten times the amount of testosterone as women, so we will never understand their sex drives. 
And that would be true–if it was testosterone alone that gave women libido. 
But it's not. For women, it's a cocktail of hormones in the right balance (which is why it's important to keep our hormones in balance and to work towards wellness). For us, it's a combination of estrogen and a number of other hormones that keeps our libido humming. Testosterone is one of those, but it isn't the only one.
If we had high levels of testosterone but not enough estrogen or progesterone, we'd have a lot of problems.
And if it were testosterone alone that caused high libidos, then we'd find that women could never have a higher libido than a man, because pretty much all women will have lower amounts of testosterone than men.
But we know that's not true. Our survey for The Great Sex Rescue found that 58% of men had the higher libido, yes, but so did 19% of women. And in 23% of marriages, libido is shared.
The Great Sex Rescue
Changing the conversation about sex & marriage in the evangelical church.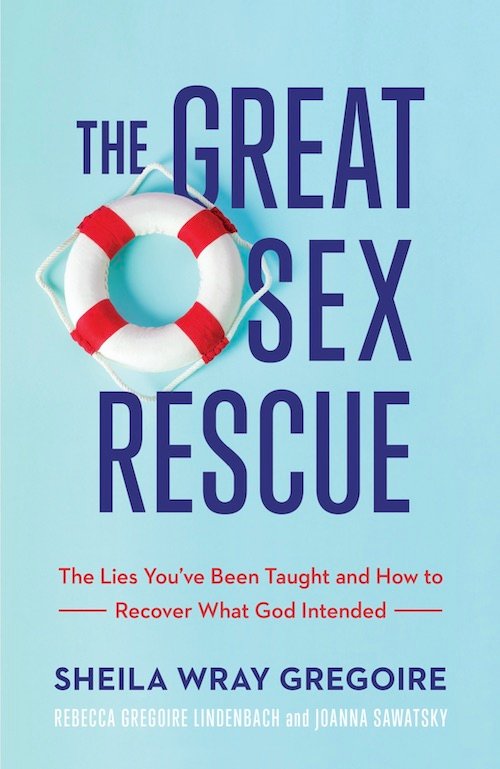 What if you're NOT the problem with your sex life?
What if the things that you've been taught have messed things up–and what if there's a way to escape these messages?
Welcome to the Great Sex Rescue.
It is not only testosterone that impacts libido in women, so to tell a woman that she can never understand what men go through with their libido because we don't have as much testosterone is simply not true. Men and women have different hormonal makeups, and women's hormonal makeups can ALSO boost libido. But there's a big misunderstanding about this, as that Facebook debate showed, and as many Christian marriage books show.
Basically, I think the problem is that we start with men's sexuality as being the standard, and then we judge women when they don't work like men. In The Orgasm Course we talked about this at length, and it's a big reason many women feel broken. We assume that because he enjoys intercourse, we should just as much–and we judge ourselves when we don't orgasm that way (or orgasm at all). We assume that because he doesn't need foreplay, we are selfish for wanting it (even though 60% of women who CAN orgasm regularly don't do so through intercourse alone).
Women don't have broken bodies; they just have women's bodies. And we work differently–but we're not substandard, and our bodies still matter. 
That's also why I'm a big fan of Femallay's Vaginal Melts.
When we hear about women losing lubrication at menopause, or having a more difficult time after they've had a baby, or at certain times of the month, we often turn towards personal lubricants–the kind that you buy at a drug store that he puts on his penis so intercourse is more comfortable.
Lubricants are meant to make sex comfortable and easier; vaginal melts do so much more.
They're not only focused on intercourse; they're focused on everything a woman needs. They help promote elasticity; they moisturize the vagina, which is important when it starts thinning with age. They help your body, not just make it so that you can have sex with your husband.
So many products for women are focused on ensuring we can still have sex, as if the main points of our bodies is sex.
While sex is a huge part of marriage, and a very important part, it is not the only thing.
Our bodies are still our bodies, and promoting vaginal health impacts prolapse; stops dryness and discomfort; stops itchiness; and so much more.
The Melts are vaginal suppositories that nourish you. They come in different flavours (or no flavour!) to make sex fun. But they're focused on you!
And you can even buy samples to see which ones you like best!
We've been talking about sexual confidence throughout October and November.
And as we come to a close on this series, I hope that we can show tremendous grace to ourselves. That's really been my goal for this series–to help you show grace and compassion to yourself. If you don't feel sexually confident, maybe there's a reason. If you dont' know how your body works, maybe there's a reason. If you feel like you're "less than" a man, maybe there's a reason. If you went for help for sexual pain, and your doctor didn't even know what it was or minimized it, maybe there's a reason.
We don't need to berate ourselves for these things. We can just understand, "oh, this is why I find this so frustrating!" And then we can show compassion to ourselves and move on, telling ourselves, "I was never taught properly about all of this, but now that can change. We can walk forward knowing that my body is great, just the way it was made. And I'm important too!"
That's such an important step in confidence, and if that's been a struggle, I hope you feel closer to being able to say that!
Did you know the word "scrotum" before you knew "clitoris"? Have you had trouble finding the clitoris or getting proper medical help for sexual issues? Let's talk in the comments!
Other Posts in the Sexual Confidence Series:
Let's Talk Vulvas! Feeling confident about your genitals
You may also enjoy:

Sheila Wray Gregoire
Founder of To Love, Honor and Vacuum
Sheila is determined to help Christians find biblical, healthy, evidence-based help for their marriages. And in doing so, she's turning the evangelical world on its head, challenging many of the toxic teachings, especially in her newest book The Great Sex Rescue. She's an award-winning author of 8 books and a sought-after speaker. With her humorous, no-nonsense approach, Sheila works with her husband Keith and daughter Rebecca to create podcasts and courses to help couples find true intimacy. Plus she knits. All the time. ENTJ, straight 8
Dads shouldn't need their adult daughters to give them adulation and affection. That's called...
Let's talk about the echoes of menstruation. Yesterday on the podcast, we were discussing how...
This has been a week of great thrills and great disappointments. Thankfully, the thrills were...