Yesterday I had the great privilege of speaking at Colorado Christian University's Chapel..
It was my first post-COVID (since COVID? COVID's not really over) speaking engagement in person.
I've done several via Zoom–some MOPS groups, a counseling group, several university classes–but I haven't gone anywhere in person. I haven't even been out of the country!
Before I spoke, the group of about 1000 students who were gathered were singing worship songs. At one point I turned around and looked at the crowd and really teared up.
The Great Sex Rescue has been out for over a year now, and it's caused controversy, and it's caused joy, and it's caused relief and validation and so many emotions. We're still being blacklisted by the biggest in evangelical Christianity, but pastors and counselors are recommending it like crazy.
And as I turned around, I realized that the first people I'd be speaking to aren't my normal target audience at all. Most weren't even married yet.
But they were the ones who were going to change the world.
I began with an apology.
I told the group that my generation, and the Boomer generation before me, had failed them. We had taught terrible things about marriage and sex in the evangelical world, and then we hadn't spoken up as those terrible things got passed around.
The focus of my talk was really about how male sexuality and the objectification of women had been seen as one and the same.
We don't believe in the transforming power of Christ anymore. We think that men were made to sin sexually, and women were there to be the sin managers.
In fact, I created this graphic to show what I meant:
Jesus saves women, and then women in turn stand between men and Jesus, becoming "methadone" for their husbands' sex addictions (Every Man's Battle). As Gary Thomas suggested, we send boudoir or naked photos to our husbands so that "neurologically, he's less likely to be drawn to other women." (Married Sex, p. 126).
Nowhere in Scripture does it say that we have to be shinier than sin to defeat sin.
And I went on to explain how once we devalue the power of the cross in one area of life, we do it in others too, showing how little Christian books think of men. 
Then, of course, I shared how this hurt women, too.
We have heard so much about misogyny in the church, but it's time we also started addressing misandry.
We think so little of men. We excuse so much.
And it should never have been that way. Men don't need to be in constant slavery to lust, and they're not helpless without a woman.
I told them that Ecclesiastes 3:5 said that there was a time to scatter stones, and a time to gather them together.
Right now is the scattering; God is breaking down walls. Giants are falling. The church is being shaken.
But it will be up to their generation to gather those stones together and build something new about marriage and sex on a healthy foundation.
Later, in the evening, I held a smaller event of about 150 people where I talked about our findings regarding purity culture.
And I ended up doing an hour long Q&A, answering everything from masturbation to fetishes to sex before marriage.
"A groundbreaking look into what true, sacred biblical sexuality is intended to be. A must-read." - Rachael Denhollander
What if you're NOT the problem with your sex life?
What if the messages that you've been taught have messed things up--and what if there's a way to escape these toxic teachings?
It's time for a Great Sex Rescue.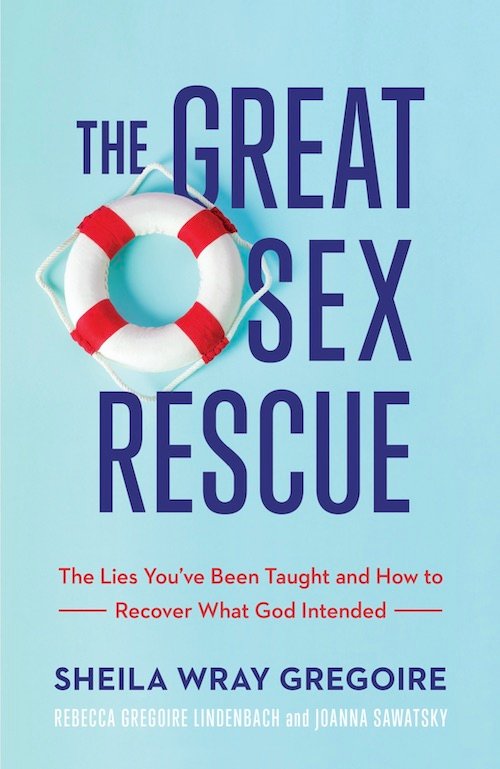 I really enjoy speaking to university students, and I hope I get the chance to go to other campuses.
I'd love to do some guest lectures in some counseling courses. I'd love to talk about the importance of research done right. And, of course, I'd love to talk about our findings in general.
So if you work at a university and you'd like to bring me in,  shoot me an email!  And I would be happy even just to Zoom into some classrooms too.
Let's get the word out and start changing the world for the next generation!
We're also starting to book for next year.
We'll be going down the eastern U.S. in late October/early November; heading to the south and to Florida in January; and then travelling through the middle driving back to Canada in late March/early April. So let us know if you'd like us to make your church or group or school a stop!
Are you in the Denver area?
I've got an informal meet-n-greet tonight at 7:30 in the Great Hall at the Anschutz Student Center at Colorado Christian University!
I'd love to meet some of you in real life, and I'll be hanging around answering questions and chatting with whoever comes by!
Become a part of the movement
Join 40,00 others and let's change the evangelical conversation about sex