God created life with natural rhythms.
But I feel like much of the effort of modern life is to obliterate those rhythms.
Two things got me thinking about this lately, and I'd like to tell you about them and then explore this further.
Exhibit A: I had COVID.
Thankfully, I did not have a serious case, and I was over the worst of it within about four days. When I started to feel better I got up and tried to do what I wanted to do, and about a week later I crashed again. I felt worse last Wednesday-Saturday than I had the previous Sunday-Tuesday.
I was just so dang tired. I'd record one podcast and then I'd have to be in bed. I didn't even want to sleep, but my body was simply exhausted.
And I realized that I wasn't going to be able to get back to normal unless I honoured what my body needed. So I started just going to bed when I felt like i needed it, and I'm feeling a bit better today. But this was something I couldn't just push through.
Exhibit B: Gary Thomas was once again setting the expectation that women will give sexual favors postpartum or on their periods.
I posted about this on Facebook, but in a larger post about obligation sex (Gary was arguing that some were too extreme, alluding to me, and was wanting to find the middle ground), a commenter said:
Obligated should go both ways. I think it's fair to say a woman should be orgasming 85% of the time compared to her husband's 100% and most likely she will feel like giving during her periods or postpartum times or just not in the mood times. 
And Gary agreed with her! (I've got more here on that). 
Here's how I explained the issue: 
Can we please stop normalizing the expectation that women will give sexual favors when postpartum or on their periods?
In a bigger conversation around obligation sex on his page, Gary Thomas agrees with this commenter, who is arguing that:
Because the husband makes sex ALMOST as good for her as it is for him when it is being done for mutual enjoyment, then she should be happy to give him sexual favors when she's uncomfortable.
Now, some women really enjoy giving sexual favours at this time–and if that's you, all the power to you. Have fun! But this is not the norm, nor should it be expected to be.
God designed our bodies with rhythms, and it is not too much to ask men to honour those rhythms, especially when she just pushed out his child (or had major surgery to deliver his child).
Can we please make the conversation around her period and postpartum experience to be how he can make life easier for her when she is in pain, experiencing postpartum depression, not able to walk, cramping, nauseous, exhausted, or experiencing not enough milk supply or oversupply, rather than turning the conversation to making sure that he experiences enough ejaculations?
Saying, "as long as you give her enough orgasms, you can collect on yours" is not an improvement.
We seem to have forgotten that God did not make our bodies so that we would have the same energy levels, the same desires, the same experiences all the time. 
Instead, He created us to have rhythms. And that means that sometimes we won't be able to experience what we do at other times. 
A wonderful Facebook commenter said this, and it got me thinking even more:
My response, as a midwife who deals in all those things, would be that while [desires] are natural, it is also natural for our bodies to go through cycles of rest and recovery. It's the same reason all humans sleep, and why plants stop growing in winter.
God designed our bodies–designed all of nature–to require different things at different times.
We should always have marital intimacy, but intimacy does not always mean sex. The postpartum period is a time for the family to bond, for the husband to care for (nurture, protect, serve) the wife, and for the mother to recover from an arduous journey. Just because it is natural doesn't mean it's insignificant, or that no rest is necessary. It means that she's in a different season for the time being, and men need to honor that not only as husbands who are instructed to love their wives sacrificially, but also as believers in the Creator's divine order and design.
Honouring rhythms of life means foregoing things when it's appropriate or best.
Resting means we don't get work done. Working really hard at times means that we may need more rest later. We need different things at different times.
But much of modern life is dedicated to making sure we're able to do the SAME things all the time. Electricity meant that we stopped going to bed with the sun. The internet meant that we stopped going to bed when the good TV shows were over.
We've lost much of the rhythms of rest.
In modern life, women aren't supposed to slow down on our periods. I've read stories that one of the reasons women don't get help for heart attacks as quickly is because we're so used to functioning with pain, and for many women period pain is worse than a heart attack, so we don't realize how serious it is! When I think of the times I had horrible cramps and migraines and I had to get up on a stage and speak anyway–and I did it!–because that's just what women do.
But our bodies were designed with rhythms when rest from sex, or even rest from strenuous activities, was best.
Our hormones even exist on a rhythm! The first part of the month women are high energy. After ovulation we're more internally focused. Before our periods we get a burst of creative energy. Then we're more contemplative. Imagine if we could organize our lives around those natural rhythms, doing the things that work best with our bodies!
Joanna, our co-author for The Great Sex Rescue, said something quite profound to me a few years ago. The concept of feasting in the Bible as a spiritual discipline–which it was!–only makes sense if you're not feasting all the time.
Getting together as a community to have an amazing meal (or meals) and eat the bounty and celebrate only makes sense if you're not gorging yourself on three desserts everyday normally. We've lost the spiritual discipline of feasting as a celebration largely because many of us live our lives feasting!
Spiritual disciplines means that there will be times of feasting and fasting; of resting and of hard work.
That is how God made us. That is how He set up Israel to function, with feasting times and fasting times.
He allowed women to have breaks when postpartum or on their periods. He saved a day for rest, when there would be absolutely no work, not even for the servants. Think about that! Rest and work; feast and fast.
Why is it, then, that it seems assumed that men must never, ever be asked to forego sex?
Not even a woman's postpartum healing should prevent a man from getting ejaculation.
(And to put a further wrench in it, Gary Thomas implies in his book Married Sex that women get physically aroused giving hand jobs postpartum, as we detail in this podcast on postpartum sex advice in the evangelical world).
Perhaps part of the reason that men can't let go of the obligation sex message, and that so many evangelical teachers explain that women should want to concentrate on their husband's sexual release even when these women are in pain, nauseous, cramping, can't walk, or exhausted, is that the idea of having to forego sex for even a small amount of time seems impossible to them.
But if that is so, then they have created sex as an idol. And they have forgotten that self-control is a fruit of the Spirit. And that it actually does us good to honour the rhythms that God has set up for us!
In the history of the Christian church, it was actually assumed that people would abstain from sex at various points in the church calendar. Protestants got rid of that (though not all branches of Protestantism), but throughout history, the norm was that men knew that sex would be off the table quite frequently. It was not assumed that life would be constant sex.
Yet Kevin Leman tells women that unless you're willing to give sex every 48-72 hours for the rest of your life (even during your period, apparently, according to his anecdotes), then you shouldn't marry.
"A groundbreaking look into what true, sacred biblical sexuality is intended to be. A must-read." - Rachael Denhollander
What if you're NOT the problem with your sex life?
What if the messages that you've been taught have messed things up--and what if there's a way to escape these toxic teachings?
It's time for a Great Sex Rescue.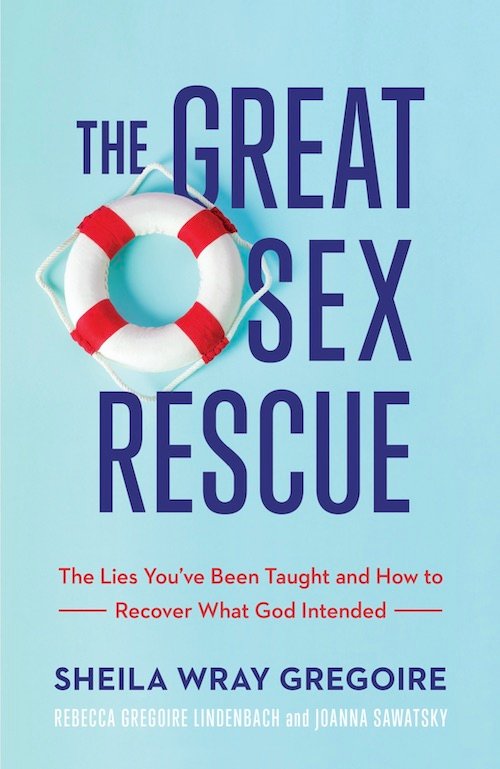 Every Sunday night we have family dinner at my house.
I cook a super big dinner, and I always have chocolate for dessert. My 2 1/2 year old grandson doesn't get a lot of sweets (though he eats tons of fruit!), and so having chocolate cake at Mimi and Papa's house every Sunday night is a super big deal.
We all sit around the table, with the baby in the high chair, and we all just talk. Four generations of my family. And it's lovely.
But we don't do it every night because it would be too much. This makes it special.
Honouring rhythms makes celebrations more special.
We need to honour our bodies' needs for rest; for the right kind of food; for bursts of hard work; for feasting; for fasting. We need to honour the way that God made us.
And that means that it should not be expected that men should get sexual release all the time, no matter what is going on, or else they are being deprived. We need to stop centering the marriage on his desire for ejaculation, and instead see how we can foster intimacy to meet with the rhythms of life. And that may mean that sometimes we're feasting, and sometimes we're fasting.
And that should be okay–because that's how God made us.
What do you think? Have you forgotten rhythms in your life, or do you practice them? What does it look like? Let's talk in the comments!