Are we making sex more difficult than it needs to be?
This is the last post in our research deep dive series that we've been doing this month, as we've looked at what some new peer reviewed studies say about libido, how we see lust, and more.
I want to end on something that multiple studies have shown, including ours, that I think often gets lost in the shuffle.
The biggest predictor of sexual satisfaction in marriage is not how many hot things you do, but how high your marital satisfaction is.
And as we talk about in The Great Sex Rescue, we teased out which causes what, and it does look like a great marriage influences sexual satisfaction far more than orgasm rates influence marital satisfaction. Yes, the causation goes both ways, but a great sex life cannot create a great marriage when there are other issues, while a great marriage often leads to a great sex life.
When Rebecca was doing our thorough literature review as we were writing The Great Sex Rescue, looking at what other studies said about the biggest contributing factors to women reaching orgasm, do you know what one consistent one was? Kissing during sex.
Feeling like you are emotionally connected during sex leads to better sex. 
So hear me out on this one, because this can sound different from what we often hear.
But the key to great sex is not trying a different position every night; it's not becoming more acrobatic; it's not dressing up or playing games or having a suitcase full of toys you lug around.
The key to great sex is not being hotter but being closer. 
I'm not saying other play or other positions are wrong–but I think we can make sex sound like so much work! Unless it's going to be an hours long affair with multiple changes of clothing with lingerie and multiple positions etc etc etc then we're missing out.
Again, nothing wrong with all of these things. Play is great! Play is fun! Sex is play, and adding more laughter to the bedroom is awesome (and I've got some Sexy Dares to help you do that!). 
But here's what it comes down to:
Healthy play results from a safe, fun marriage. It doesn't create one.
And it also isn't the main thing! The main thing is a fulfilling sex life, and while some people may find it super fun to swing from the chandeliers, you do not need to.
So often when people want to fix a dead sex life, they're told to role play, or get toys, or try new things.
Nope. Back the truck up.
If you want to fix a dead sex life, some of those fixes may result in more orgasms (though not necessarily), but it will not fix the underlying problem and could even exacerbate it.
The underlying problem is usually the lack of connection.
But let's back the truck up even further. 
What if the reason that we misdiagnose the problem is because we misunderstand sex?
We talk about sex as if it's a commodity–something your marriage has, that you get (or take). 
Think about how we talk about sex:
I need more sex
I need sex
How do I get more sex?
How to have hot sex
What if instead we see sex as an experience that flows out of our relationship? An integrated part of our relationship? So it's not something separate that we get, but it's something that grows? (Rebecca hates it when I use the word "grows" anywhere near something to do with sex, but you know what I mean!)
I was thinking of all of this when I published another Fixed it For You on Instagram last night:
Look at how the insinuation is that the reason that he is happy he married her is because she knows how to give a good handjob. And note the normalization of bragging to other men about what your wife is like in bed.
In this ethos, sex isn't something you experience that is an expression of how you feel about each other and something that flows out of what is happening in your relationship, but instead the foundation of what creates that relationship.
It's something outside of  your relationship, rather than your relationship embodied.
There's so much wrong with this quote from Gary Thomas, and Rebecca will be addressing some more of it in our weekly email that goes out this afternoon (if you're not signed up for our emails yet, you need to!).
But what I want to hammer home today is this:
Research shows that what we often think of as "vanilla" sex can actually be a beautiful and fulfilling expression of your relationship.
"A groundbreaking look into what true, sacred biblical sexuality is intended to be. A must-read." - Rachael Denhollander
What if you're NOT the problem with your sex life?
What if the messages that you've been taught have messed things up--and what if there's a way to escape these toxic teachings?
It's time for a Great Sex Rescue.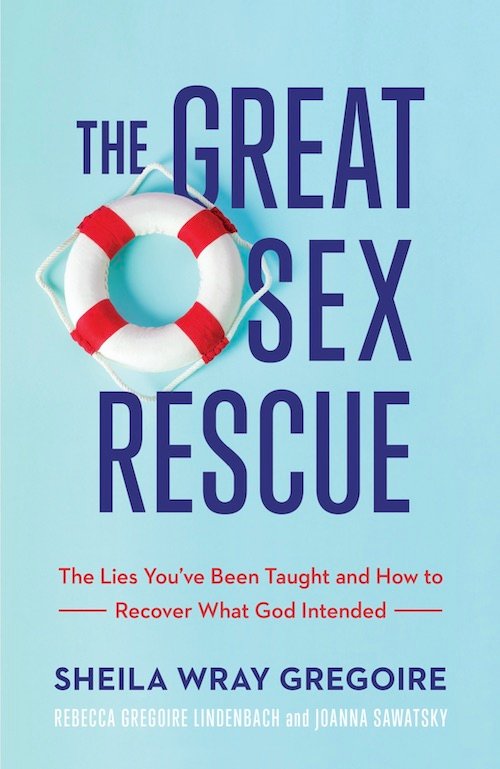 The constant quest for hotter and hotter, I think, is partly from a pornographic view of sex. When we have that way of seeing sex, we don't necessarily experience the arousal rush that comes from connection. We see sex as depersonalized, not as personalized, and so getting turned on just with your partner is harder.
In this mindset, for sex to be hot, it has to be an entity of itself, not something that flows from relationship.
Porn is all about conquest and taking; it's not about intimacy. And so intimacy, in this mindset, becomes a turn-off, not a turn-on.
But when we have an integrated view of sex, where it is something that flows from everything we are, then it isn't swinging from the chandelier or becoming an expert in hand jobs that makes sex hot; it's simply bringing each other pleasure while truly "knowing" each other.
And if what you both find works is one thing, that's okay to do that one thing! If you guys are more playful and want to try different positions, that's great too! As long as sex flows from your relationship, rather than something outside of your relationship that you see as a "thing."
I'm hoping that makes some sense, because we're going to start next month's series on Getting out of the Pit you may have dug for yourself on exactly this.
Until we see sex as something that flows from relationship; until we have a paradigm shift about what sex is; we will never dig out of the pit.
Many of us are driving our spouses farther apart because we're making sex seem ugly, threatening, and cheap, rather than something that shows how you feel about each other.
Instead of honoring each other through sex, we're depersonalizing and objectifying the other.
That's what dug the pit, and you can't get out of it without addressing the cause. So stay tuned for that next week!
But for today, let's remember: connection is the aphrodisiac, not gymnastics. and that's okay. 
What do you think? How do we find the balance between hot and close? Let's talk in the comments!