Is there a way forward after obligation sex?
If obligation sex has been the norm in your marriage, and if it's been affecting your libido and your marriage, what do you actually do about it? How do you recover from it?
This month on the blog we've been looking at obligation sex, because I wanted to have one place where I could point people specifically dealing with this problem. It's one of the most common damaging dynamics that we found when we surveyed 20,000 women for our book The Great Sex Rescue, and I'm often asked for my take on it. 
We've talked about the problems with it, but I want to turn now in our series to what to actually do about it. 
You need to reclaim sexual autonomy.
The opposite of obligation sex is sexual autonomy–giving people choice over what happens to their bodies. 
That can make people nervous, because there's an assumption that if you don't insist on obligation sex, then women won't have sex at all. But actually, it is only sexual autonomy that allows libido to grow. Sexual desire is related to autonomy. When you're able to ask yourself, "what do I want?" and "what feels good?", then desire can build. But if  you tell people, "you have to do this no matter what you want," then desire gets snuffed out.
Last year I wrote a longer series on how to recover from sexual problems in general, and I wrote about how to reclaim sexual autonomy. Rather than rewrite that post, I'd like to summarize it and then point you to it. Then, at the end of this post I'd like to share an example of obligation sex dynamics, and why the way forward requires sexual autonomy.
Recovering sexual autonomy requires 8 things:
The 8 Steps to Recovering Sexual Autonomy
Take a sex fast.
Commit to having sex only when you want to.
Decide that sex needs to include your pleasure.
Stop giving "sexual favors".
Think of yourself during sex, not your husband.
Speak up when you don't like something.
Speak up when you want something.
Stop if you change your mind.
Some of these steps may be temporary–it's just as you're recovering from obligation sex. And some should likely be lifelong! But until she feels sexual autonomy, desire will not be able to build. 
Can sex ever become more mutual?
That would hopefully be the goal! It's great to have give-and-take in your sex life, where sometimes sex is something special you serve up for him when he's stressed and you want to have a gift and have some fun; and sometimes it's something that's served up for you, but usually it's totally mutual.
It certainly is the goal that you'll both be giving in your sex life, where sometimes you may think, "I'm not that in to sex tonight, but he totally is, so I'm going to throw myself into it because then I can get there too and we'll both feel amazing!"
It certainly is the goal that you may be willing to try other positions one day.
But here's the thing: If you want to get to that mutual, intimate sex life where you both feel free to suggest things, where you both feel excited about sex, where you both feel close during sex, you can't get there until you've told your body and mind a new story about sex. Your body and mind need to know that sex is for you too. It's not just for him.
This is not a selfish ask. For years, likely he has been the main focus. If he acts like it is, then that is also a sign that you may never feel safe sexually, and it's worth talking that through with a licensed counselor.
An example of why this is the only way forward
Last week on the blog we had an interesting story shared in the comments by a man who had been the recipient of obligation sex for twenty years. In a series of comments, he explained how he's trying to change now, and he's listening to podcasts with his wife, but she has declared that she was basically raped in the past and she doesn't want to rebuild the sex life.
In the course of the comments, several other commenters were able to ask some important questions. And several left some really good comments that I'd like to share here (because sometimes my commenters are so insighful!)
I share these not really to highlight this particular man's marriage (which is why I'm not sharing his part of the conversation), but rather because I think many of you may just appreciate these words spoken over you–because many of you are in the same place.
I mean this in a way meant to help. You seem to keep placing the majority of responsibility of this on your wife and the materials she has encountered in th past year as you promote your own hurts.
She said she feels you raped her. Please let that sink in.
I hear you are hurting but please don't minimize her hurt- it does not matter so much right now if you did- what matters is that she has not felt safe with you.
This likely started early on, when you said she wanted to see a counselor… you tiptoed around it but it sounds like you were not willing at that time, is that correct? She was being open and vulnerable and putting trust in you at that point, and your actions at that time showed her you were not a safe person and her wants didnt matter.
When she role-played and you said you wanted to be with her not a character, she probably took that as you criticizing how she was in bed. When sex changed, did you pursue counselling at that time? It seems like there were several points at which you could have proven yourself trustworthy and saf and unfortunately you missed them.
Not trying to hit you while you're down but please realize allowing her to go through almost 20 years of abuse (silent treatment, cajoling, and using bible verses to try to coerce her into having sex are emotionally and spiritually abusive so it is an appropriate term) has taken its toll on her mind, heart, and body. You demonstrated to her you werent safe and your relationship wasn't worth the work since you were getting sex. Now that the sex is missing but everything else is great, you want to work on it.
That likely speaks to her as you only caring about getting sex.
I'm also confused as you started off saying "my wife and I will be getting a divorce now at her insistence" which sounds like she is demanding a divorce. Later you say "She wanted to have a permanent platonic marriage for the rest of our lives and I couldn't agree to that." That sounds like you ended the marriage but are trying to pin it all on her.
You claim a special connection when you "make love." Can you understand that for her, it has not been "making love" if she has not been mentally or emotinally present? *She* has not experienced making love: she has participated in sex. Even orgasmic sex does not mean there was a loving connection there. And if you felt closer to her when she was disassociating, she probably feels there was never any real closeness, that you never really knew her.
I'm sorry again youre gonig hrough this and I don't want to hit you while down, but I see a lot of the side-stepping here my husband did when going through similar, and we did not start making improvements until he owned up to what he had done instead of nit-picky arguing about where I might be wrong. I needed to feel that he heard and accepted that I was deeply hurting: and that my hurt was more important to him than his pride or his orgasms.
Whatever way this turns out, I hope you seek counselling from a professional for your own. There's a lot to work through here for everyone. Praying for healing.
I think the determining factor whether rape has occurred in those gray areas, is not to debate the specifics of the situation (did he mope when she said no so she gave in), but rather to look at the effects in the woman's body. Does she carry trauma from the event? If her body is telling her it was a violation, then it was.
(NOTE: I think the big point here is that women's bodies often experience something as trauma that may not reach the legal threshold of rape. But that's why, if you want to actually move forward and heal, it's best to stop arguing about whether or not it was rape, and start recognizing that her body experienced it that way, and you need to address and acknowledge that trauma if you're going to heal.)
You are trying to make sense of how on one hand, your wife could, in certain seasons, desire sex, then in other seasons (most of the last 20 years) really have an aversion to it, and at the end of it all, say that you coerced her and even raped her.
Is it possible her "mixed messages" come from the mixed feelings I described previously? She knew she had betrayed her own values before marriage, and lied about it – and a key element of her lack of integrity, her lack of moral "wholeness" in following her own values, was you. Her feelings for you, her desire for you, her fear of losing you if she said no to premarital activity, your failure to protect her from situations where you might both compromise your values… let's put it this way:
There is something in your life that brings up shameful memories and feelings of guilt.
You have to live with this thing, so you try different approaches to forget the feelings, or override the old memories with new ones. I think her enthusiastic embrace of sex while trying to conceive says a lot: in the world you grew up in, having children was a moral good. She could feel morally good about sex, because it was for a "higher cause". Kind of like getting to eat a lot of the foods you enjoy when you're pregnant because it's "for the baby". Or getting to immerse yourself in a childish hobby you really love because it's "for the kids." She was free to enjoy sex because she could put away the guilty feelings for a while. But having children couldn't heal the original guilt. And so there's this thing in her sexual experience that always nags at her, and eventually she admits to herself, after years of trying to sublimate the feelings or correct them through teaching that told her the solution was to erase herself, that she hates the thing that made her feel guilty all these years.
From your description, it sounds like your wife is a sexual person who didn't have much trouble experiencing physical pleasure.
The wound lies in the fact that she first experienced it while feeling disrespected
(ie, you valued getting pleasure from her body more than you valued her reputation or integrity) , unsafe (what if her hypocrisy were discovered, and of course, you can't hide it from God), and very, very bad and conflicted about herself. It was amplified and not healed by the fact that you showed lack of consideration and maturity in other ways during the first 13ish years of marriage. This just deepened the feelings of being disrespected and not valued, and I'm sure getting the religious message that the solution was to erase herself and "serve you" just infected the wound.
I don't know what the solution is, but for her own sake, I hope that she can find peace. Again, I don't know your true situation, but transferring her self-hatred and blame to hatred of you isn't going to heal her wound. Divorcing you won't really heal it, either. But maybe in some way she feels like she is taking back control of the things that got out of her control (partly through her lack of self control, but perhaps more through yours, and including feelings of being disrespected and unvalued as a moral person). She has been trying for years to live in a state of moral confusion and conflicting feelings, and you becoming a more decent and mature human doesn't really solve that original wound or help her to find resolution or peace. My suspicion is that she is very, very angry: at herself still, but also at you, and even more at the hypocritical religious system that set you both up, and the deity that the system described.
Women's anger is something that conservative Christianity is not really equipped to deal with.
She has done all this work (courses, podcasts, etc)- but she can't fake peace, joy, or forgiveness anymore, so she is embracing what feels genuine, which is her anger and rage. I feel like I am rambling, but hopefully my ramble my give you some insight into what has happened in your wife's heart. 20 years is a long time.
Women's anger is a real issue that needs to be understood.
As the last commenter pointed out, there likely is a LOT of anger that's been building up in this marriage–anger at what happened before marriage when her boundaries weren't respected, and anger at what has happened since.
Getting through obligation sex is often very messy, because for years women have often been trying to keep this anger under wraps and not express it, because it's so intense and so scary.
But this anger often needs to be acknowledged and worked through. Obligation sex is a huge boundary violation; when our boundaries are violated again and again and again, we're going to be angry. Yet we're not supposed to be angry. We're not supposed to express it. We're supposed to be good wives.
And many women try so hard for a decade or two before they can't do it anymore, and it can feel like she became a different person overnight.
But she didn't. It's just that she's not spending so much emotional energy trying ot deny what she's really feeling anymore. 
Getting through obligation sex often means dealing with women's anger, and sometimes that is best done with a licensed counselor if it becomes really intense. But I would say to the husbands on the other side of this: please don't try to defend yourself and get into arguments about whether or not it really was rape. It actually doesn't matter all that much. What does matter is that her boundaries were violated and she was hurt. And the way through is not to convince her she doesn't have a right to be hurt; it's to let that hurt out, so that you can build real intimacy on a foundation of truth, not lies.
In working through obligation sex, remember: She has lost more than he has.
This may seem counterintuitive, but I often hear from men whose wives have said, "no more sex until we deal with this terrible dynamic in our marriage," and these men feel as if sex is being stolen from them.
They feel like they are the main ones hurting, because SHE isn't hurting from not having sex–after all, she's the one saying no! If she wanted sex she could have it! So it must be HIM who is hurting the most.
But what is being taken from him? Individual sexual encounters now.
What has been taken from her? Her entire sexuality. 
Women have sexuality, too. They have sexual desire (and the better sex feels when they first start to have sex, the higher their libido long-term!). Women are capable of multiple orgasms. They have no refractory period. Women were made for sex to feel amazing and for them to have a high libido.
Yet somehow she now finds living without sex to be preferable to living with sex. Think about how intense her hurt must be. People often discount this hurt because they figure, "women don't like sex anyway." But women do like sex. If a woman doesn't like sex, it's because something has been stolen from her, not because she is somehow defective.
And even if the husband isn't solely responsible for her sexuality being taken from her (prior abuse; our pornified culture; our terrible evangelical resources can do that too), he did play a part by benefiting from obligation sex at her expense.
Think of all the years of healthy sexuality that has been taken from her! She has lost more, and the route forward requires admitting that. 
The Orgasm Course is Here to Help You Experience Real Passion!
Figure out what's holding you back. Open the floodgates to orgasm.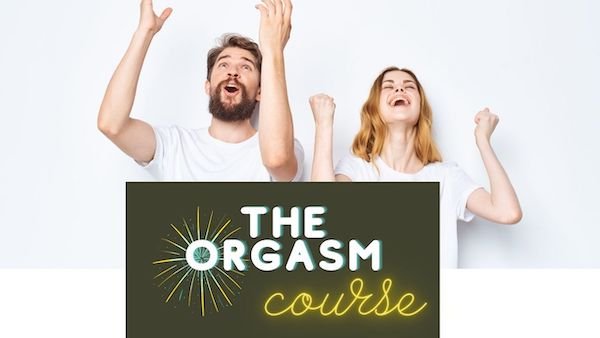 I do believe that you can work through obligation sex.
I have seen it, again and again.
But I haven't seen it when people take short-cuts. The way through obligation sex means establishing her sexual autonomy and admitting the truth about your sexual dynamics. Intimacy is based on authenticity and vulnerability; if we aren't willing to tell the truth, we'll never have real intimacy. And then desire will never grow.
So I know this is tough. I know this is hard. But please try. She deserves so much better than obligation sex. She deserves a great sex life–and so does he. So do the work, and see what happens.
What would be your advice for how to move forward? What do you think we can do with women's anger? Have you felt this? Let's talk in the comments!
The Obligation Sex Series
Previous Posts on Obligation Sex
Previous Podcasts on Obligation Sex
Plus please see our Great Sex Rescue Toolkit for handy downloads about the effects of obligation sex that you can give to your pastor, counselor, small group leader--anyone who teaches it!
And see chapters 9 and 10 in The Great Sex Rescue for all our charts, stats, and commentary!