Marital rape is the story in all too many Christian marriages.
When we analyzed the top 13 evangelical books for our book The Great Sex Rescue, there was one word that was missing from all of them: Consent. While several books did do a good job at talking about the importance of not raping your spouse (Boundaries in Marriage and The Gift of Sex), no book that we looked at had a robust discussion of what consent and coercion looked like in marriage.
Yet when we asked our survey takers who left their emails if any of them had stories of marital rape to share, a full 20% who answered our query did.
And in our focus groups, we heard horrifying story after story of marital rape.
Not all marital rape dynamics are the same.
I'm going to distinguish between two different dynamics that we've seen in readers' stories:
My Hypothesis About the Two Kinds of Marital Rape
In my work, I have seen two different dynamics around sexual coercion in marriage:
Rape where the husband is exercising control and truly doesn't care and is abusive.
Coercion where the husband may not have completely realized the dynamics that were present.
The first instance is illustrated by Tim LaHaye's story in The Act of Marriage of Aunt Matilda, who is the actual antagonist (the bad person) in the story that he's telling:
Apparently her aunt, whose marriage was arranged by her parents in the old country, found herself petrified of sex on her wedding night. When her embarrassed and clumsy farmer husband, who was twenty years older, brought her to their wedding bed, he "stripped me naked and raped me in my own bed. I fought and screamed to no avail." . . . Her conclusion to her niece was, "As far as I'm concerned, marriage is just legalized rape." As much as one might feel compassion for poor Aunt Matilda and her equally unhappy spouse, we can hardly envision more unhealthy concepts to pump into the impressionable young mind of a bride-to-be.
Please notice that Tim LaHaye called the rapist, who held his wife down while she was kicking and screaming, and did this throughout their marriage, "equally unhappy" as his rape victim. 
This anecdote is from the fourth edition of their book. And nobody at Zondervan (the publisher, who still, to this day, has this wording in its book and has not taken it out) thought, "hmmmm….maybe it's not a good idea to call a rapist equally unhappy as his rape victim!"
No, they thought that was okay. Which is why I dedicated The Great Sex Rescue to Aunt Matilda, and all others like her. The evangelical world has failed women by making marital rape normal. And I'm incensed and so angry.
When writing our book we developed a 12 point rubric of healthy sexuality teaching. And the marker that evangelical books as a whole scored the worst on was the concept of consent, coercion, and obligation. It is absolutely atrocious. There is very scant teaching that women's autonomy matters, and that men can't just take what they want. There is lots of teaching, on the other hand, that men own women's bodies and that men are entitled to them. (And you can read lots of evidence in The Great Sex Rescue!)
"A groundbreaking look into what true, sacred biblical sexuality is intended to be. A must-read." - Rachael Denhollander
What if you're NOT the problem with your sex life?
What if the messages that you've been taught have messed things up--and what if there's a way to escape these toxic teachings?
It's time for a Great Sex Rescue.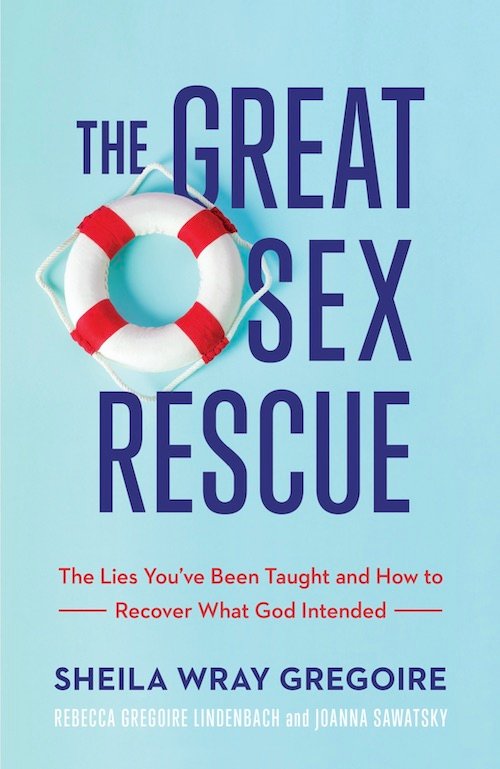 do you know your favourite book's
healthy sexuality score

?
sign up for our newsletter and SEE HOW EVANGELICAL BEST-SELLERS SCORED AGAINST OUR RUBRIC FOR HEALTHY, BIBLICAL, EVIDENCE-BASED TEACHINGS.
What do you think of the distinction between the two types of rape? Do you think it's possible for there to be marital coercion without him realizing it? Let's talk in the comments!